Alaska State Parks Volunteer and Internship Positions
These positions offer housing as well as a subsistence payment. Several of these positions can fulfill college internship requirements. For more general information and instructions on how to apply, see the General Information page. For more information on specific positions, go to:


Position Descriptions: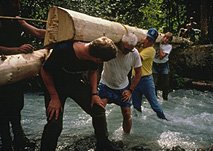 ⚫ Backcountry Ranger Assistant
⚫ Boating Safety Instructor
⚫ Interpretive Park Caretaker
⚫ Museum Assistant
⚫ Natural History Interpreter
⚫ Naturalist for School Programs
⚫ Park Caretaker
⚫ Ranger and Park Assistant
⚫ Ranger Station Host/Maintenance
⚫ Trail Crew
⚫ Winter Caretaker
⚫ Winter Park Caretakers
⚫ Winter Park Caretakers/Camphost

Position Listing and Status (open or filled)
⚫ Summer
⚫ Winter


---
Volunteer Internship Positions
Every position is a volunteer position and open to all applicants. Some of the volunteer positions additionally qualify for internships. Volunteer internship positions are made available to students or graduates seeking supervised practical training toward college credit. Intern positions are listed by title, job area and job description.


Internship Position Descriptions:
Archaeological Assistant
Office of History and Archaeology
Backcountry Ranger Assistant
Shuyak Island State Park
Wickesham State Historic Site Juneau
Natural History Interpreter
Kodiak District
Ketchikan Area State Park
Eagle River Nature Center
Alaska Public Lands Information Center - Fairbanks
Alaska Public Lands Information Center - Anchorage
Park Caretaker
Kachemak Bay State Park
Ranger and Park Assistant
Eklutna Lake State Recreation Area
Harding Lake State Recreation Area, Birch Lake State Recreation Site
and Salcha River State Recreation Site
Chena River State Recreation Area
Ranger Station Host/Maintenance
Kachemak Bay State Park Station Attendant
Trail Crew
Kachemak Bay State Park
Eagle River Nature Center
Winter Natural History Interpreter
Eagle River Nature Center