Disabled Veteran's Annual Camping Pass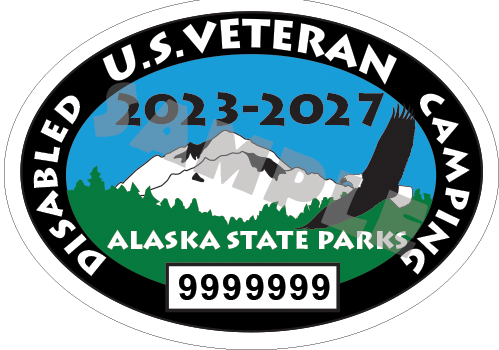 Per AS 41.21.026 (d), Disabled Veterans (DAV) may receive one Alaska State Park Camping Pass free of charge. The DAV Camping Pass is valid in all developed Alaska State Park campgrounds, and can be obtained from the offices below. If you cannot physically go to one of these locations, please call one of the Public Information Centers and work with them to submit the proper paperwork and obtain your pass. The 2023 -2027 DAV Camping pass is available and can be used for camping in individual electric or non-electric campsites (DOES NOT INCLUDE GROUP CAMPING AREAS) and is subject to all other park rules and stay limits.

Passes must be properly displayed on vehicle and the veteran must be physically present in the campsite each night for the pass to be honored. Second vehicles that can fit within the same defined parking space or site are exempted from paying additional camping fees. DAV passes can only be used for one site at a time. There is no DAV pass for boat launch or day use, nor can the DAV camping pass be used to purchase a boat launch or day use pass.
To receive a free DAV camping pass, an eligible disabled veteran must present proof of a service-connected disability at either the Anchorage or Fairbanks DNR Public Information Centers (see below).
The Disabled Veteran camping pass is non-transferable. If the qualified DAV's vehicle is sold, the decal must be removed. Or, if the windshield is broken and must be replaced, the individual is requested to scrape as much of the decal off as possible and return the remains to any area office. In either of these cases, a replacement decal will be issued for $10 upon receipt of the removed decal. If the decal is lost or if no remains of a previous decal can be produced, and the DNR has record of the owner's previous issuance of the DAV decal, a one-time replacement decal may be purchased for $100.
For further information, please contact the Anchorage or Fairbanks Public Information Center.
ANCHORAGE
550 W 7th Ave, Suite 1360
Anchorage, AK 99501-3557
phone: 907-269-8400
TDD: 907-269-8411
fax: 907-269-8901

FAIRBANKS
3700 Airport Way
Fairbanks, AK 99709-4699
phone: 907-451-2705
TDD: 907-451-2770
fax: 907-451-2706
Return to Alaska State Parks Fee page.