Mat-Su Region
Matanuska Lakes State Recreation Area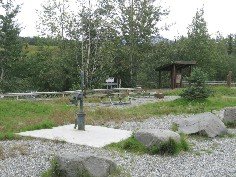 Facilities
★ ADA Facility - Yes* Only Matanuska Lake and Kepler Lake*
★ 6 Acres
★ 9 RV Sites (see fee page)
★ 8 Campsites (see fee page)
★ Camping Limit - 7 days
★ Day Parking (see fee page)
★ Toilets
★ Water
★ Historical Sites - ♿
★ Picnic sites (6)
★ Picnic Shelter - ($60 per 4 hours)
★ Engine Restrictions - Only electric motors are allowed on Matanuska, Kepler, Canoe, Irene, and Long Lakes.

Useful Information
Activities
★ Camping
★ Fishing
★ Hiking
★ Biking
June 26, 2023: NOTICE
The walk-in canoe launch at Matanuska Lakes SRA will be under construction from June 28 - July 1. Closures may occur when heavy equipment is in use. Please plan accordingly.

Matanuska Lakes State Recreation Area (formerly Kepler-Bradley) is a popular fishing, hiking and biking park. This popular state park comprises several trout and grayling filled stocked lakes by the Alaska Department of Fish and Game, including Matanuska, Canoe, Irene and Long Lakes. Matanuska Lakes SRA is within easy driving distance of Anchorage located just north of the Glenn Highway at milepost 36.4, west of Palmer. The lakes are located in depressions (old glacial crevasses) in between moraine ridges (eskers) formed by glaciers 30,000 years ago. Trails from the park connect to the Mat-Su Borough Crevasse Moraine Trail System, The University of Alaska – Fairbanks Farm, and the University of Alaska – Anchorage College campus.

Fishing, camping, hiking, biking and horseback riding are the dominant activities.

Address:
Matanuska Lakes
4376 S. Glenn Highway
Palmer, AK

Driving Directions:
Take the Glenn Highway to Mile 36.4, turn north into Matanuska Lake. You enter the park immediately. There is no Kepler Drive; Glenn Highway Mile 36.4 is the driveway into the campground.