Mat-Su Region
Matanuska Lakes State Recreation
Area Bike Trails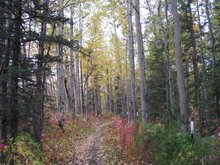 Facilities
★ ADA Facility - Yes* (Summer time only, restrooms and water access)
★ 349 Acres
★ Campsites at main trailhead access(see fee page)
★ Day Use Fee (see fee page)
★ Toilets - (♿ Canoe Lake, Long Lake)

Activities
★ Camping
★ Biking
★ Fishing
Matanuska Greenbelt:
The Matanuska Greenbelt is a large tract of public lands squeezed between the Palmer-Wasilla Highway, Glenn Highway, Parks Highway, and Trunk Road. The lands are owned by Matanuska-Susitna Borough (Crevasse-Moraine Trails = MSB CMT), UAA Matanuska-Susitna College, UAF Matanuska Experiment Farm, and Alaska State Parks (Matanuska Lakes State Recreation Area = MLSRA). The area is known for its challenging trails as well as agriculture and history. There are over 30 miles of trails accessible to the public, and the area boasts some of the nicest off-road biking in the Valley. It has also become extremely popular for geocachers.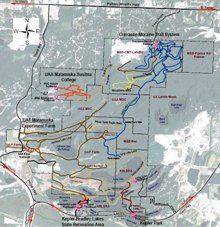 Click here for maps

To enhance trail users' knowledge of the area and encourage safe, responsible use in the area, the Matanuska Greenbelt Trail Association (land managers, volunteers, and trail users) started working on a map and signage program for the area. An initial map was released in mid-2009 and several updates since then. Most of the 50+mi of double and single track trail have now been signed. This was largely done with financial support from donors and Mat-Su Borough Bed Taxes. Work is now starting on trailhead signs and other signs in the area.

The complete area is non-motorized although there may be authorized vehicles (tractors) working the farm lands. Individual agency lands may have rules specific to them and not other areas of the Greenbelt. Please respect the desires of the agencies (such as staying off planted agricultural fields) so public use can continue to be enhanced on these trails.

For more information on the Greenbelt, or how you can get involved in project or special events, see http://www.matanuska-greenbelt.org.

Address:
Mile 36.4 Glenn Highway

Driving Directions:
Take the Glenn Highway to Mile 36.4. There isn't a street name on the entry road, but there are signs that indicate where to turn.