Southeast Region
Oliver Inlet State Marine Park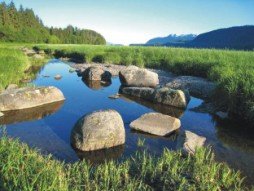 Facilities
★ ADA Facility - No
★ 560 Acres
★ Toilets
★ Cabins (see fee page)


Activities
★ Public-Use Cabin
★ Fishing
★ Trails
The Seymour Canal Public-Use Cabin is located on saltwater at the tip of Seymour Canal on Admiralty Island. Seymour Canal has the greatest known concentration of nesting bald eagles in the world. Seals, sea lions, and whales utilize the canal throughout the year. Trumpeter and whistling swans and other migrating waterfowl rest along the canal. The Seymour Canal area is noted for having one of the largest brown bear populations in Southeast Alaska. Please use caution.

The average temperatures in this area are 55 to 70 during the summer and spring. High humidity and a high average rainfall make for a wet environment. Bring appropriate clothing and come prepared for unpredictable changes in weather.

Location:
The tip of Seymour Canal on Admiralty Island

Driving Directions:
No Road Access, Boat or Float Plane.