Northern Region
Harding Lake State Recreation Area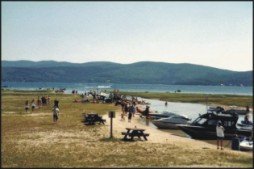 Facilities
★ ADA Faciliy - Yes
★ 325 Acres
★ 18 Campsites - Walk In Sites Available (see fee page)
★ No RV size limit
★ Camping Limit - 15 days
★ Toilets - ♿
★ Water - ♿
★ Picnic sites - ♿
★ Picnic shelter - ♿
★ Dump station (see fee page)
★ Boat launch (see fee page)

Activities
★ Baseball
★ Camping
★ Canoeing
★ Fishing
★ Horseshoes
★ Jet skiing
★ Trails
★ Volleyball
Harding Lake State Recreation Area, 45 miles south of Fairbanks on the Richardson Highway, is one of the longest standing park facilities in the Alaska State Park system, having been established in 1967. All together there are over 90 campsites, including five walk-in group campsites. The park also has numerous picnic sites and two picnic shelters. In addition, areas have been set aside for activities such as baseball, volleyball and horseshoes (bring your own equipment). Hiking along nature trails is another activity available at Harding Lake SRA.

A boat launch facility gives access to the lake for those having canoes, motorized boats, jet skis or other watercraft. A straight canal leads from the boat launch toward the center of the lake. There is fishing for lake trout, arctic char and burbot. Pike fishing is closed.

The main campground, consisting of 78 vehicle and five walk-in sites, is located in a spruce/birch forest. Many vehicle sites are large enough to accommodate large motor homes or trailers. There is a limit of six people and two vehicles per campsite. Some sites are adjacent to others, allowing groups to park together. Each site has a fire ring and picnic table. Firewood can also be purchased at the campground. Please use existing fire rings and picnic tables. Sanitary dump station, free if camping at Harding, $5 fee if dumping without camping.

Additional camping space is now also available for self-contained units week days at the Lakefront day use area and additional camping for up to 10 camp units is available in the Camp Lot camping area, which is located close to the lake. Also, the game field parking lot can hold a maximum of 12 camping units.

Please be sure to check the sport fishing limits and regulations for the season. These are determined by the Department of Fish and Game.

Harding Lake also has a picnic shelter available for reservation. The covered picnic shelter at Harding Lake State Recreation Area has 4 picnic tables and can seat aproximately 40 people. Renters have access to water, refuse service, and bathrooms.

Make a reservation for the picnic shelter

Address:
Mile 321.4 Richardson Highway

Driving Directions:
From Fairbanks, take the Richardson Hwy South.Turn left onto Salcha Drive, turn left again onto Salcha Drive, this will take you right into the park.