Mat-Su Region
South Rolly Lake Campground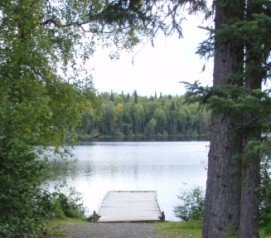 Facilities
★ ADA Facility - No
★ 98 Campsites (see fee page)
★ No RV size limit
★ Camping Limit - 15 days
★ Toilets
★ Water
★ Picnic sites (12)
★ Picnic Shelter (1)
★ SmallBoat Launch

Useful Information
Activities
★ Camping
★ Fishing
★ Boating
★ Day Use
★ Trails
The recreation area combination of lakes, wetlands, and forests create an ideal habitat for many mammals and birds. Perhaps most noticeable to the summer visitor are water dwellers, especially beaver and waterfowl. Beavers are active in lakes and ponds throughout the park and visitors can see evidence of their work. These animals are vital to maintaining crucial water levels in the ecosystem; their dams and lodges must not be disturbed.

Address:
6.5 Nancy Lake Parkway

Driving Directions:
Nancy Lake State Recreation Area is a ninety minute drive north of Anchorage along the Parks Highway. To enter the recreation area, turn west onto Nancy Lake Parkway at Mile 67.3 of the Parks Highway. From there, the Nancy Lake Parkway travels 6.5 miles southwest to South Rolly Lake.