Mat-Su Region
Rocky Lake State Recreation Site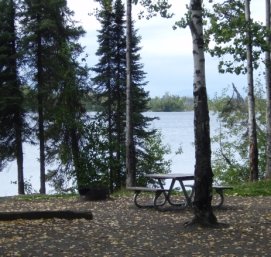 Facilities
★ ADA Facility - No
★ 49 Acres
★ 10 Campsites (see fee page)
★ RV Size Limit - 30 ft
★ Camping Limit - 7 days
★ Daily Parking Fee (see fee page)
★ Toilets
★ Water
★ Picnic sites
★ Boat Launch (see fee page)
★ Engine Restrictions: No Jet Boats, jet engines, or jet skis are allowed on Rocky Lake.

Activities
★ Camping
★ Fishing
★ Boating
NOTICE: Reservations at Rocky Lake SRS are currently unavailable and will not be available until further notice. Alaska State Parks is currently working with procurement to obtain a new concessionaire to manage the facility. If you have questions, please contact the DNR Public Information Center at 907-269-8400.

Address:
Rocky Lake
14806 W Rocky Street
Big Lake, AK

Driving Directions:
From Mile 52.3 Parks Highway, take Big Lake Road 3.3 miles to Beaver Lake Road. Follow signs to Rocky Lake.