Mat-Su Region
Liberty Falls State Recreation Site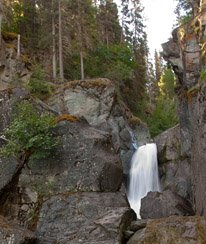 Facilities
★ ADA Facility - Yes
★ 10 Acres
★ 10 Campsites (see fee page)
★ Camping Limit - 15 days
★ No RV size limit - 8 ton limit
★ Day Parking (see fee page)
★ Toilets - ♿
★ Water
★ Picnic sites (1)

Activities
★ Camping
★ Hiking
The park is being operated by a private concession contract, Taral Enterprises. For current information, call (907) 823-2265.

Liberty Falls State Recreational Site is located near Chitina in the Copper River Valley. The site is located just off the road and adjacent to the cascading Liberty Falls and Creek. As one of the most picturesque camping facilities on the Edgerton Highway, the campground combines privacy, easy road access, and a beautiful canyon setting by the falls.

Address:
Mile 23.5 Edgerton Highway

Driving Directions:
Mile 82.5 Richardson Highway . Take the Edgerston Highway east to Mile 23.5.