Mat-Su Region
Hatcher Pass East Management Area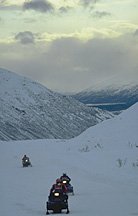 The 300,000 acre Hatcher Pass Management Area primarily consists of mountainous terrain in the Talkeetna Mountain Range that climb from the 1000 ft. valley floor to summits higher than 6,000 ft. The area includes more than 30 prominent summits and associated glaciers. It can be accessed on paved roads and is only an hour and 20 minutes away from Anchorage, and 20 minutes from either Palmer and Wasilla. The Palmer-Fishhook road north of Palmer from Mile 49.5 Glenn Highway leads to the east side of Hatcher Pass while the Willow-Fishhook Road off the Parks Highway leads to the west entrance. Hatcher Pass offers access to extraordinary mountaineering terrain, beautiful mountain scenery, gold panning, berry picking, hiking, biking and horseback riding in the summer. It also offers mountain skiing, snowboarding, sledding, snowshoeing and snowmobiling in the winter. Hatcher Pass has a rich history of gold prospecting, claims and active mining, and includes Independence Mine State Historical Park.

Hatcher Pass Road Conditions: please note that only the Palmer-Fishhook Road from the Palmer side to Independence Mine State Historical Park is paved. This road is open year-round except for the last mile to Independence Mine in winter months. Four-wheel-drive is recommended during the winter which is basically October 1 through May 31. The Hatcher Pass Road from Mile 17.5 to Mile 32.5 is a rough, gravel, narrow and steep road that is not maintained nor open in the winter. Generally, the road over the Hatcher Pass summit is open only from about July 1 through September 15, depending on snow conditions. In the summer, the road is open to highway vehicles but expect slow passage. Use of RV's or large vehicles in not recommended due to the steep grades, rough roads and tight hairpin corners.

Address:
Hatcher Pass Road

Driving Directions:
Glenn Highway Milepost 49.5, north on Palmer-Fishhook Road to Hatcher Pass (also called Hatcher Pass Road in the Hatcher Pass Management Area) 13.7 miles on the right; or George Parks Highway Milepost 36.1, north on Trunk Road to Palmer-Fishhook Road, turn left (north) to Hatcher Pass (also called Hatcher Pass Road in the Hatcher Pass Management Area) 13.7 miles on the right.