Mat-Su Region
Big Lake North State Recreation Site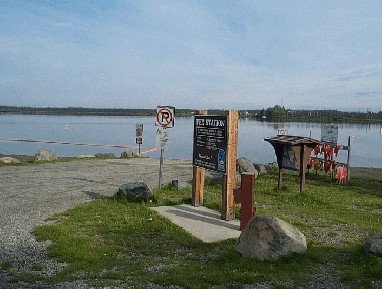 Facilities
★ ADA Facility - Yes
★ 19 Acres
★ 60 Campsites (see fee page)
★ Walk in campsites
★ No RV size limit
★ Camping Limit - 7 days
★ Daily Parking Fee - (see fee page)
★ Toilets - ♿
★ Water - ♿
★ 24 Picnic sites
★ 4 Picnic Shelters ($60 per 4-hours)
★ Boat Launch (see fee page)
★ NO alcoholic beverages are allowed

Activities
★ Camping
★ Fishing
★ Boating
★ Waterskiing
★ Jet skiing
★ Swimming
All campsites are first-come, first-served.

Big Lake North State Recreational Site is 13 miles west of Wasilla. Boating and fishing are extremely popular on the lake during the summer months. Big Lake is known as Alaska's Year-Round Playground resulting in large weekend and seasonal population increases as the area teems with people who have come to enjoy the many recreational opportunities. Big Lake summer activities include world class fishing, watersports, and wildlife viewing. Winter activities include snowmobiling, dog mushing, ice fishing and world-renowned cross country skiing!

Address:
Big Lake North
16905 W Northshore Drive
Big Lake, AK

Driving Directions:
From mile 52.3 Parks Highway, take the Big Lake Road 3.6 miles to the roundabout, take North Shore Drive 1.4 miles to end of road.