Kenai Region
Ninilchik State Recreation Area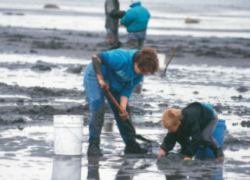 Ninilchik, whose name means "peaceful settlement by a river", is located on the west side of the Kenai Peninsula, about 40 miles south of Soldotna. It was settled in the early 1800's by Russian colonists. They subsided on fishing, hunting, trapping and gardening. When Alaska was sold to the United States, many of these settlers decided to stay on. Some of the old buildings still exist in the Ninilchik village and many descendants of the old families still live here.

Today, Ninilchik has become a popular staging area for world class salmon and halibut fishing. Mt. Iliamna and Mt. Redoubt, both active volcanoes, greet visitors to the area. While your are in Ninilchik, be sure to see the experience the historical Ninilchik Village and the Russian Orthodox Church.

Make sure you visit the Kenai Peninsula State Fair which is held in Ninilchik every August.

Ninichik River SRA has a picnic shelter and scenic overlook area, both of which are reservable by morning and afternoon time blocks.

The picnic shelter is a 10' x 10' covered picnic area with picnic tables that can accommodate up to 30 people.
Make a reservation for the Picnic Shelter

The scenic overlook area is a 10' x 10' picnic area with two picnic tables that can also accommodate up to 30 people.
Make a reservation for the Scenic Overlook Area

Address:
135 Sterling Highway

Driving Directions:
Take the Seward Hwy South, at the cut-off bear right onto the Sterling Hwy. Located at milepost 135 of the Sterling Hwy.