Chugach State Park
Potter Section House State Historic Site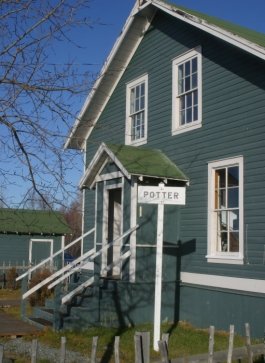 Potter Section House Historic Site features a restored house and outbuildings that were once part of a railroad section camp that maintained 10 miles of railroad track. Chugach State Park Headquarters is in the house. The railroad car is the Kenai Visitor Center.

Beyond the foothills at Anchorage's edge lies the third largest state park in America, a half-million acres of some of the most accessible hiking, skiing, camping, wildlife viewing, snow machining, rafting, and climbing in Alaska. Those of us lucky enough to live here feel the influence of Chugach State Park almost daily. The mountainous backdrop to Anchorage reminds us that, although we live in an urban setting, we really reside in the middle of a vast wilderness. The Chugach foothills are a beacon for changing weather, and resident wildlife have been known to wander into town.

Address:
115 Seward Highway

Driving Directions:
Take the Seward Hwy. South, just pass Potters Marsh. Located at milepost 115 of the Seward Hwy.