Park Condition Reports
Last Update: May 20, 2022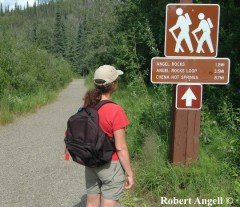 PARK CLOSING/OPENING DATES
TRAIL REPORTS & PARK CONDITIONS
---
Latest News Releases
---
Director's Orders Regarding Various State Park Fees
Parking, Camping, Boat Launch, Historic Site Access, Programs, Sanitation, and Firewood
Fees for Public Use Cabins
Fees for Reserved Use of Park Facilities
Fees for Special Use Permits
Fees for Non-Competitive Commercial Use Permits
---
Big Lakes and Rocky Lake campgrounds to open by end of May


May 10, 2022 (Palmer, AK) – The Department of Natural Resources (DNR) will open Big Lake North, Big Lake South, and Rocky Lake Campgrounds - and will be managing the campgrounds on a first-come, first-served basis. DNR staff is planning to have these areas open by the end of May. DNR is looking for two campground hosts to assist as volunteers to manage the campgrounds. A paid Alaska Conservation Corps (ACC) position is also available.

These campgrounds have been managed by a concessionaire, not DNR, for more than a decade. DNR staff will be assessing sites over the next few weeks to make necessary repairs to provide access to the campgrounds and boat launches for Alaskans and park visitors.

"We will do our best to open these campgrounds but will need the public to be aware of the changes to the areas, and adjust their plans as needed," said Stuart Leidner, Superintendent of the Mat-Su Region of Division of Parks and Outdoor Recreation, within DNR.

For campers in these areas, it is important to know that there may not always be staff on site, and for emergencies, it is crucial to call 911. The first-come, first-served approach is also new, so reserving sites ahead of time is not an option for 2022, and campers should plan accordingly.

If anyone is interested in a campground host or ACC position, the first step is to look at the positions on the website to see if it is a good fit, then go through the application process through the Mat-Su Finger Lake office. For ACC positions: http://dnr.alaska.gov/parks/misc/jobs.htm

For more information on campground host positions: http://dnr.alaska.gov/parks/vip/hostlist.htm

CONTACT: Stuart Leidner, 907-745-3975, stuart.leidner@alaska.gov

---
Mat-Su partner receives Helmsley grant for Independence Mine work


April 8, 2022 (Palmer, AK) – Independence Mine State Historical Park will receive some much-needed historic restoration and preservation work over the next three years. The Mat-Su Trails and Parks Foundation (MSTPF) is pleased to announce the receipt of a $1.3 million dollar grant from The Leona M. and Harry B. Helmsley Charitable Trust to partner with the Department of Natural Resources – Division of Parks and Outdoor Recreation (DPOR).

"For the past six months, we have been partnering with the National Park Service, State Historical Preservation Office and DPOR to submit an application to the Helmsley Charitable Trust," said Wes Hoskins, Executive Director for MSTPF.

This opportunity is the result of a walking tour that was coordinated by DPOR Director Ricky Gease with a board member from the Helmsley Charitable Trust. As a result of discussions stemming from this tour, MSTPF was invited to submit an application for funding.

"Independence Mine State Historical Park has been a draw for tourists from all over the world, and there is so much potential for providing a more profound visitor experience," stated Director Gease. "We rely on partnerships with many non-profit and friend groups across the state supporting our operations and this is a shining example of how that partnership with MSTPF and the support of the Helmsley Charitable Trust will make an incredible difference for preserving this historic site," said Gease.

Grant funding will be managed by the MSTPF to coordinate with private contractors and consultants with oversight from the State Historic Preservation Office to make repairs and upgrades to four primary buildings: the Managers House, Bunk House 1 & 2, and the Mess Hall. Over the next three years, work will be focused on exterior areas in need of repair, starting with an in-depth assessment and developing a complete scope of work for contractors to complete.

"This is a rare opportunity for the state to partner with MSTPF on a project of this scope," said Stuart Leidner Superintendent of the Mat Su Region, "We are grateful to the Helmsley Charitable Trust for supporting this project and look forward to sharing progress on this historic restoration project as it moves forward. The high level of these facility improvements have simply been out of reach for us with current funding. With MSTPF's willingness to partner with us, we can make a real impact on this piece of our history," stated Leidner.

CONTACT: Stuart Leidner, 907-745-3975, stuart.leidner@alaska.gov

---
Bings Landing boat launch on Kenai River to be temporarily closed


March 30, 2022 (Sterling, AK) – The Bing's Landing boat launch on the Kenai River will be closed for maintenance from April 4th – 22nd, 2022.

This closure is necessary while Alaska State Parks Design & Construction works with a contractor to replace the existing boat ramp with new planks that will be extended further into the water. Federal Aid in Sport Fish Restoration Act and State of Alaska funds will pay for the improvements at this popular boat launch within the Kenai River Special Management Area.

"We appreciate your patience and cooperation while we work to get this popular boat launch ready for the summer season and are very appreciative of the funding support we received for this necessary improvement," said Kenai/Prince William Sound Superintendent, Jack Blackwell.

CONTACT: Kenai/Prince William Sound Superintendent Jack Blackwell, 907-262-5581, jack.blackwell@alaska.gov

---
Kenai Peninsula state parks recruiting for advisory board members


February 1, 2022 (Soldotna, AK) – Alaska State Parks is currently accepting applications for vacancies on three Kenai Peninsula state park advisory boards. The Kenai River Special Management Area, Kachemak Bay State Park, and Seward State Parks advisory boards are seeking volunteers to serve three-year terms, beginning July 2022.

"We are looking for a variety of recreation enthusiasts and public land advocates interested in advising parks staff and helping the parks teams manage communication with the public." said Jack Blackwell, superintendent of the Division of Parks and Outdoor Recreation, Kenai Peninsula/Prince William Sound Region.

The advisory boards are the primary method that Alaska State Parks incorporates public involvement with park management. Volunteers that serve on these advisory boards help park managers better understand concerns from local communities and stakeholders. Those selected will serve from July 2022 through June 2025. The board typically meets once a month between September and May.

To apply for a position on an advisory board, fill out the Alaska State Parks Advisory Board Application provided at http://dnr.alaska.gov/parks/misc/boards.htm. Applications are being accepted through March 31, 2022.

For more information, please contact the Kenai Peninsula/Prince William Sound Region State Park office at 907-262-5581.

CONTACT: Jack Blackwell, 907-262-5581, jack.blackwell@alaska.gov

---
Alaska State Parks to waive parking fees day after Thanksgiving


November 22, 2021 (Anchorage, AK) – Alaska State Parks will waive parking fees at all park facilities on Friday, Nov. 26 to encourage Alaskans to get outside during the Thanksgiving holiday weekend.

"We want people to get outside as we delve into the darker, colder months. While we've been offering free parking the day after Thanksgiving for years, it usually coincides with our launch of the next years' annual parking decal, but this year we will start sales of the annual parking in early December," said Ricky Gease, director of the Division of Parks and Outdoor Recreation.

Gease noted that annual day-use parking decals can also make recreating in the state's 154 different facilities easier and more cost-effective all year long. Day-use parking decals are $60 per vehicle, and boat launch decals are $150. The funds go to maintain state parks.

Alaska State Parks 2022 Day-Use parking decal stickers will be available online at the division's website by Dec. 3, and will be available at locations throughout Alaska by mid-December. They will be available in-person in Anchorage at REI, The Hoarding Marmot, and Paramount Cycles, and in Fairbanks at REI, Beaver Sports, and the Alaska Public Lands Information Center. On the Kenai Peninsula, they are available at the Homer Chamber of Commerce, Soldotna Chamber of Commerce, and the Sportsman's Warehouse in Soldotna. The decals are also sold at the Seward Chamber of Commerce and the Discover Kodiak Visitor Center.

For information and online decal sales, see http://dnr.alaska.gov/parks/asp/fees.htm. For information on 2021/22 Disabled Veteran camping passes, contact the Anchorage Public Information Center at (907) 269-8400 or by email at dnr.pic@alaska.gov.

Day-use decals are popular holiday gifts, and bulk sales may be arranged by calling the division's Business Development office at (907) 269-8738.

Gease encouraged park visitors to share their outdoor activities on social media this weekend and throughout the holiday season by using the hashtags #OptOutside, #alaskastateparks, and #akstateparks.

CONTACT: Wendy Sailors, (907) 269-8738, wendy.sailors@alaska.gov

---
Albert Loop Trail reopened at Eagle River Nature Center


November 12, 2021 (Anchorage, AK) - The Albert Loop Trail located near Eagle River Nature Center in Chugach State Park has reopened for public use, effective immediately.

As in most recent years, Alaska State Parks had closed the trail to hikers from late summer and winter freeze-up, to reduce the potential for encounters between humans and the bears who gather to fish in the Eagle River. Significant portions of the trail parallel, or are near the river.

Even though the trail has been reopened, bear encounters are still possible and trail users should take appropriate precautions. Be prepared to encounter a bear and know how to recognize bear behavior and respond appropriately to an encounter. For more information on bear safety, see: http://dnr.alaska.gov/parks/safety/bears.htm

CONTACT: Ben Corwin, (907) 345-5014, csp@alaska.gov

---
Alaska State Parks Kenai staff join to remove beetle-killed trees


November 5, 2021 (Kenai, AK) - Visitors to two of Alaska State Parks' most popular Kenai Peninsula recreation areas will have safer, more enjoyable experiences next summer, thanks to an all-hands tree-thinning and road improvement project in October.

Beetle-killed trees remain a hazard to visitors in the Kenai River Special Management Area and Captain Cook State Recreation Area, which together draw thousands of fishermen and campers for summer sport and personal-use fisheries. In October, $40,000 in federal funds helped pay for crews to remove trees to reduce hazards and improve access, said Jack Blackwell, Kenai area supervisor for Alaska State Parks.

"For example, we widened the cleared area alongside the road into the Bing's Landing boat launch out of concern that if there was a wildfire and folks needed to get off the river fast, or emergency crews needed to get onto it, we wanted to have a wide road with cleared shoulders, instead of a narrow, choked road," Blackwell said. "The work also helps reduce the risk or severity of wildfires by reducing fuel loads, so it's a win all around."

The funding allowed four seasonal trail maintenance or campground staffers working in Seward, Homer and Kasilof this summer to extend their season to the end of October. The skilled chainsaw operators worked one day each week to fell trees, burn limbs and slash, and leave stacks of 6-8-foot logs. Members of the public interested in obtaining the logs for firewood should contact the Alaska State Parks Kenai area office.

Blackwell said the seasonal workers were joined in the project by State Parks administrative, permitting and maintenance staff, plus two Department of Fish and Game staffers who work on the Kenai.

"Last Friday we had a dozen people working on this effort," Blackwell said. "In addition to the clear public benefits, one of the side benefits of this kind of work is that it builds morale and cohesion by having everyone involved in taking on a project like this, and accomplishing it together." The crew will conduct its final day's work on Tuesday at The Pillars boat launch.

Blackwell said his crew's tree clearing efforts complement work done at Morgan's Landing by the Division of Forestry, which is engaged in a major effort to reduce fuel loads near the campground to help reduce the risk of wildland fire and provide defensible space near the campground and residential area.

The funds State Parks used for its work were part of about $2 million in U.S. Forest Service beetle kill mitigation funds obtained by Sen. Lisa Murkowski.

CONTACT: Jack Blackwell, (907) 262-5581, jack.blackwell@alaska.gov

---
Risk of human-bear conflicts closes Eagle River's Albert Loop Trail


August 11, 2021 (Anchorage, AK) - Bears returning to feed on salmon near the Eagle River Nature Center have prompted Alaska State Parks managers to close the Albert Loop Trail and nearby areas, effective Thursday, Aug. 12 at 9 p.m.

The popular trail features several bridges across Eagle River and associated side channels, and winds past a few beaver dams. Black and brown bears use the bridges and dams as fishing platforms, increasing the risk of human-bear conflict, said Ben Corwin, Chugach State Park Superintendent with the Division of Parks and Outdoor Recreation.

"Park managers have closed the trail each season since 1997, to reduce the potential for conflict and to protect the safety and well-being of both humans and bears," Corwin said.

The closure does not affect the Iditarod/Crow Pass trail, the Dew Mound Trail, or the Rodak Loop or its viewing platforms, all of which are accessible from the Eagle River Nature Center trailhead. The Albert Loop trail will likely be reopened at freeze-up when most bears go into hibernation.

Those recreating in Chugach State Park are encouraged to take appropriate bear-aware precautions and be prepared to encounter bears and other wild animals.

CONTACT: Ben Corwin, (907) 345-5014, csp@alaska.gov

---
Bird to Gird trail maintenance continues through grant and volunteers


May 28, 2021 (Anchorage, AK) - Hikers and bicyclists who enjoy Chugach State Park's popular "Bird to Gird" trail will be pleased to know that the trail will be in great shape soon after the Memorial Day weekend.

Alaska State Parks awarded Alaska Trails $42,339 through a Recreational Trail Program (RTP) grant from the Division of Parks and Outdoor Recreation and the Federal Highway Administration in 2020 to clear brush, make the trail more accessible, fill in cracks and paint the center line. Snowline Alaska was able to complete the work of sealing cracks and repainting in 2020.

However, concerns over the COVID-19 pandemic delayed the brushing work last year, recent increases in vaccination rates and lessening of COVID concerns is opening the way for the work to get done this spring, said Ricky Gease, director of the parks division.

"We know many Alaskans are eager to get back on the trail after the long winter and social distancing of the pandemic," Gease said. "The Bird to Gird trail is very attractive to hikers and bikers, and we are glad to cooperate with Alaska Trails and their dedicated volunteers to return this recreational pathway to a safe and welcoming condition."

While the grant will pay for a contractor to use mechanical brushing equipment to do most of the work, the machines cannot reach all of the hard-to-reach segments, Gease said.

"Alaska Trails is excited to make this amazing trail safer and more fun," said Steve Cleary, executive director of Alaska Trails. "We are grateful for the opportunity to partner with Chugach State Park on this project and we hope to make it annual occurrence to keep this trail in great shape."

With the trail restored to good condition following the pandemic, Alaska State Parks will resume the responsibility for continued maintenance, Gease said.

For more information about hiking, camping and other outdoor recreation opportunities through Alaska State Parks, go to: http://dnr.alaska.gov/parks/

CONTACT:Wendy Sailors, Division of Parks and Outdoor Recreation, (907) 269-8738
Steve Cleary, Alaska Trails, (907) 717-9351

---
Extra $1 million available for Recreational Trail Program grants


March 1, 2021 (Anchorage, AK) - Recreational trail construction and maintenance efforts in Alaska could be bolstered by an additional $1 million this year, according to the Division of Parks and Outdoor Recreation (DPOR).

Under its Recreational Trails Program (RTP), the division typically offers grants of about $1.2 million a year for trail work in Alaska, said Director Ricky Gease. Each $1 a grant recipient provides is matched by $9 from the Federal Highway Administration (FWHA). Eligible applicants include non-profits; educational institutions; Native corporations or tribal governments; and local, state and federal government agencies.

With additional FWHA money recently becoming available to the state, the division is currently accepting a second round of applications in 2021 for grants totaling approximately $1 million.

"This grant money will be doubly helpful in light of the COVID-19 pandemic," Gease said. "Not only will it stimulate our economy with an additional $1 million dollars in spending, it will also support the trails so many Alaskans are using for relief from isolation and social distancing."

The division is especially interested in using this year's additional money to fund grants of up to $300,000 for projects supporting motorized uses, and up to $150,000 for non-motorized uses, Gease said. However, under the grant rules, projects supporting trail safety and education will not be eligible for this second round of grants.

Grant applications must be delivered to the division by 4 p.m., on Friday, April 30. Application packages are available at: http://dnr.alaska.gov/parks/grants/trails.htm.

FY2021 Second Round Program Schedule
March 1 - The current application becomes available online at http://dnr.alaska.gov/parks/grants/trails.htm.
March 30 - Deadline for mandatory public notice of the grants.
April 30 - Applications are due.
May 17 - Qualified applications are sent to the Outdoor Recreational Trails Advisory Board (ORTAB) for review.
June 8-9 - ORTAB meets to do scoring of qualified applications.
June - Applications recommended for award are forwarded to FHWA for review.
June through August - Award and grant agreements are signed and implemented.
CONTACT: Samantha Hudson, 907-269-8706, samantha.hudson@alaska.gov

---
Nominees sought for Kenai River and K-Bay citizen advisory boards


February 1, 2021 (Soldotna, AK) - The Kenai Peninsula/Prince William Sound Region is seeking applications for vacancies on the citizen advisory boards (CABs) for the Kenai River Special Management Area and Kachemak Bay State Park.

Citizen advisory boards in each region provide state park managers with recommendations on management issues affecting their parks. The new board members selected for these CABs will serve from July 2021 to June 2024. The boards typically meet once a month from September to May.

For more information on the Kenai River Special Management Area Advisory board, see: https://dnr.alaska.gov/parks/krsma/krsmaindex.htm. For more information on Kachemak Bay State Park citizen advisory board, see: https://dnr.alaska.gov/parks/misc/kbayadvisoryboard.html

To apply for a position on either CAB, fill out the Alaska State Park Advisory Board Application at https://dnr.alaska.gov/parks/misc/advisboardapp.pdf. Applications will be accepted through March 31.

For additional information, please contact the Kenai/Prince William Sound Region state park office at 907-262-5581.

CONTACT: Jack Blackwell, 907-262-5581, jack.blackwell@alaska.gov

---
New Alaska State Parks reservations website launches today


January 5, 2021 (Anchorage, AK) - A new Alaska State Parks reservations website offering improved customer service, including an Alaska-staffed call center offering telephone support to customers, is scheduled to go live today.

The new website - https://alaskastateparks.reserveamerica.com/ - deals only with Alaska camping and public use cabin (PUC) facilities, is supported by a call center staffed by Alaska-based employees, and should be significantly easier for Alaskans and visitors to navigate, said Wendy Sailors, development specialist with the Division of Parks and Outdoor Recreation.

"After four years of working with the last system, we put our reservations system contract out for bid this fall," Sailors said. "We received several responses, and we're super excited with the quality of the winning proposal by Aspira that will allow for a much better experience for Alaska State Park campers and PUC users."

Until 2016, those seeking reservations for Alaska State Parks camp sites or PUCs had to call parks offices or state public information centers. Although the division eased its workload and modernized services by contracting with Reserve America for the last four years, the company's nation-wide, one-size-fits-all web-based services had some issues that caused frustration for many of those booking Alaska's unique facilities.

The division recently signed a new five-year contract with Aspira, a global online reservation company which absorbed Reserve America in 2017. Users of the new, Alaska-specific reservation system will see significant improvements in service:

- The new reservations website is designed to deal only with Alaska state camping sites, public use cabins, gift certificates and other services.
- Customer support will be provided by five Alaska-based reservations agents, staffing a call center that will operate 7 a.m. - 7 p.m. AST, seven days a week. The call center phone number is (844) 351-9733.
- Transaction fees will be standardized to a flat $5 for all reservations, plus $3 for cancellations and $4 for changes.
- The popular Serenity Falls Hut in Chugach State Park will be available to reserve online by the end of January.

Sailors said the Alaska-specific website and call center will make it easier to learn about Alaska-specific camping and PUC opportunities, or to get help with special requests or questions outside of normal business hours.

"For example, you can call in for a quick reminder of the cabin access code you got months earlier in an email, but can't quite put your hands on as you're heading outside for a weekend camping or PUC trip," she said.

Those with existing Reserve America accounts may continue to use them for camping or PUC reservations in Alaska or in other states. Reservations already made through the Reserve America website will be retained, and will remain accessible through the new website.

CONTACT: Wendy Sailors,(907) 269-8738, wendy.sailors@alaska.gov

---