Arts in the Parks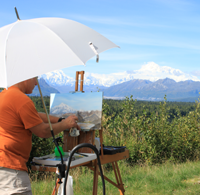 Arts in the Parks is a family-oriented initiative that highlights the scenic attributes of Alaska's beautiful State Park system. With 125 park units totaling more than 3 million acres, Alaska State Parks provide visitors with unparalleled year-round opportunities to explore a wide variety of recreational, historical, and cultural experiences. One of the primary objectives of this art-based program is to bring a creative focus to the outdoors by hosting events in park units throughout the state. Events are open to the public and include art-themed activities for children and adults.

2012 Arts in the Parks Photo Album
2011 Arts in the Parks Photo Album
To learn more about the Arts in the Parks program, or to share ideas for future events contact David Griffin at (907) 269-8696, or email david.griffin@alaska.gov.
Eagle Beach State Recreation Area "Arts in the Parks"
Young and old artists enjoy Arts in the Parks, May 19 at Eagle Beach. Look for the painted salmon to show up in the Eagle Beach SRA area this summer.