Arts in the Parks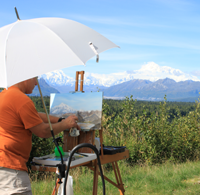 Arts in the Parks is a family-oriented initiative that highlights the scenic attributes of Alaska's beautiful State Park system. With 125 park units totaling more than 3 million acres, Alaska State Parks provide visitors with unparalleled year-round opportunities to explore a wide variety of recreational, historical, and cultural experiences. One of the primary objectives of this art-based program is to bring a creative focus to the outdoors by hosting events in park units throughout the state. Events are open to the public and include art-themed activities for children and adults.

2012 Arts in the Parks Photo Album
2011 Arts in the Parks Photo Album
To learn more about the Arts in the Parks program, or to share ideas for future events contact David Griffin at (907) 269-8696, or email david.griffin@alaska.gov.
Artist in Residence Pilot Program - Ernest Gruening Cabin 2015

The Artist-In-Residence pilot program provides an exceptional way for artists to share the scenic beauty and recreational resources of Alaska State Parks through the talents of artists.

A residence at the Ernest Gruening Cabin will offer artists an opportunity to pursue their artistic discipline while being immersed in the captivating landscape of Ernest Gruening State Historical Park. Selected artists stay in the Ernest Gruening Cabin for up to two weeks from June through September.

Artwork created as a result of this program will characterize scenic attributes of Alaska State Parks for present and future generations, thereby fulfilling one of the main purposes of the program. The artwork will also provide park visitors and the general public a unique way to experience parks through the eyes and ears of the contributing artists.

The application period for 2015 has closed. The next round of applications will be accepted in spring 2016 – please check back in the future for details. Additional information about the program can be found in the Artist In Residence Pilot Program Application.

To learn more about the program, please contact David Griffin at (907) 269-8696, or by e-mail at david.griffin@alaska.gov.
2015 Artist Profiles
Click name to view profile
June 15th - 30th: Constance Baltuck
July 2nd - 12th: Kurt Jacobson
July 15th - 25th: Dianne Anderson / Mark Vinsel
August 10th - 20th: Nancy Angelini Crawford
September 1st - 14th: Jim Leach
September 15th - 30th: Puanani Maunu
Eagle Beach State Recreation Area "Arts in the Parks"
Young and old artists enjoy Arts in the Parks, May 19 at Eagle Beach. Look for the painted salmon to show up in the Eagle Beach SRA area this summer.