Kenai River Special Management Area Advisory Board
Kenai River Special Management Area explained.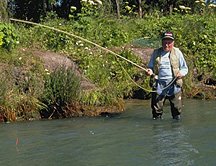 The Kenai River Special Management Area (KRSMA) consists of more than 105 linear miles of rivers and lakes, including Kenai Lake, Skilak Lake, and the Kenai River from river mile 82 downstream to four miles above the river's mouth on Cook Inlet. Adjacent to these waters are fifteen state park sub-units and land owned by cities, the borough and the federal government, as well as private and native lands.
The popularity of the Kenai River, one of the most heavily used fresh-water fisheries in Alaska, puts a strain on its resources. In response to increasing threats to the river system's health, the legislature established the Kenai River Special Management Area in 1984 as a unit of the state park system.
A comprehensive management plan for the area, developed by agencies and a public advisory board, guides the cooperative efforts of the land managers. The plan's goal is to protect the natural resources and fish and wildlife habitat, manage the river's recreational and commercial uses, and provided public facilities.
What is the Kenai River Special Management Area Advisory Board?
The Kenai River Special Management Area Advisory Board was originally created in 1985 under the authority of A.S. 41.21.510. The original Board was charged with developing a comprehensive management plan for the Kenai River. The original Comprehensive Plan was completed and the Board disbanded in 1986. In 1988, a new Board was appointed to help advise the Department of Natural Resources on implementation of the Plan. In 1997, the Board worked to update the Kenai River Comprehensive Management Plan, and it was adopted in December 1997. In May 2004, the Alaska Legislature passed a bill that changed the composition of the board from what the law had directed in the original 1984 KRSMA statute.
---
The Kenai River Special Management Area Advisory Board meets the second Thursday of each month from September to May. The meetings are held at the Donald R. Gilman River Center, 514 Funny River Road, Soldotna and begin at 5:30 p.m. For copies of the latest agenda and minutes please contact the Kenai Area Office at 907-262-5581.

UPCOMING MEETING:
Kenai River Special Management Area Citizen Advisory Board Meeting will be held Thursday November 9, 2023 at 5:30pm at the Kenai Peninsula Borough River Center. This will be a hybrid meeting. You may join in person or join with the information below.

If you have any questions concerning the meeting please contact Tom Anthony, tom.anthony@alaska.gov (907)-262-5581

November 9, 2023 Meeting Agenda

Join Meeting Online (MS Teams)
Meeting ID: 256 292 466 311
Passcode: jEsDPE

Join with a video conferencing device
260748889@t.plcm.vc
Video Conference ID: 112 294 263 8
Alternate VTC instructions

Or call in (audio only)
+1 907-202-7104,,520242360# United States, Anchorage
Phone Conference ID: 520 242 360#


Meeting Recordings

April 13, 2023 Meeting:
Previous Meeting Recordings
February 9, 2023
January 12, 2023
December 8, 2022
November 11, 2022
May 12, 2022
November 18, 2021
September 9, 2021


KRSMA Board Meeting Minutes:
2022
January 13, 2022
February 9, 2022
April 14, 2022

2021
January 14, 2021
February 11, 2021
March 11, 2021
April 8, 2021
May 13, 2021
October 14, 2021
November 18, 2021
December - No meeting

2020
January 9, 2020
February - No Meeting
March 12, 2020
April - No Meeting
May - No Meeting
June - No Meeting
July - No Meeting
August - No Meeting
September - No Meeting
October 8, 2020
November 12, 2020
December 10, 2020


Archived minutes are available upon request from state park staff at Morgan's Landing 907-262-5581 or the Donald E. Gilman River Center 907-714-2471.
---
KRSMA Board Members
2022-2023 Board Members

KRSMA Resolutions
Resolutions


---
Kenai River Recreation Study - Major Findings and Implications - October 2010

2009 Kenai River Recreation Use Study

U.S. Army Corps of Engineers Boat Waves on Johnson Lake and Kenai River 2001 (PDF)

Kenai River SMA Comprehensive Management Plan: December 1997

Kenai River Guide Academy

Kenai River Commercial Guide Permit

Map of the River

Kenai River Special Management Area brochure

1982-2011 Commercial Operator Trends


Contact information

Kenai Area Office (located at Morgan's
Landing)
PO Box 1247
Soldotna, Alaska 99669
(907) 262-5581