Southeast Region
Halibut Point State Recreation Site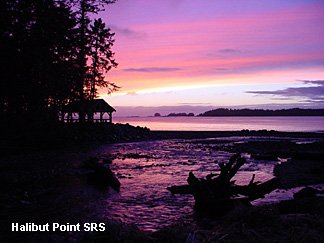 Facilities
★ ADA Facility - Yes
★ 40 Acres
★ Toilets - ♿
★ Water
★ Picnic sites
★ Picnic shelter


Activities
★ Day use
★ Fishing
★ Historical features
★ Trails
Halibut Point State Recreational Site is located along the ocean, four miles north of downtown Sitka, Halibut Point State Recreational Site is a popular day use recreational area for local residents and visitors. Three covered picnic shelters and a number of picnic sites are located in this park. In addition, a half mile hiking trail provides an opportunity to walk through the coastal spruce and hemlock forest. The ocean beach offers people a chance to beach comb and explore the inter-tidal zone.

Notice about picnic pavilions
There is no vehicle access to the picnic pavilions. Please plan accordingly.
Main Pavilion - Approximately 275 feet from the main parking lot.
South Pavilion - Approximately 500 feet from the parking lot
North Pavilon - (Currently closed due to damage from fallen tree) Approximately 350 feet from the North parking lot and 425 feet from main parking lot.
Far North Pavilion - approximately 150 feet from North parking lot.

Address:
4.4 Halibut Point Road

Driving Directions:
Mile 4.4 Halibut Point Road, Sitka, Alaska.