Northern Region
Rosehip Campground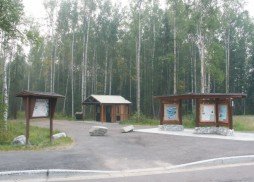 Facilities
★ ADA Faciliy - No
★ 37 Campsites (see fee page)
★ No RV size limit
★ Camping Limit - 15 days
★ Toilets
★ Water
★ Boat Launch

Useful Information
Activities
★ Camping
★ Fishing
★ Hiking
★ Trails
More than ever, Chena River State Recreation Area is a park for all seasons. Are you interested in a day of hiking and rock-climbing at Granite Tors? Or would you prefer to harness up the dog team and escape into the snowy horizon, or perhaps ride a 4-wheeler along a forest trail? With 397 square miles of forests, rivers, and alpine tundra, the recreation area has something to offer everyone. The variety of activities draws more than 150,000 people to the Chena River State Recreation Area every year.

Campgrounds in the area can accommodate all sorts of outdoor enthusiasts, from tent campers to those with deluxe recreational vehicles. Three developed campgrounds exist in the recreation area: Rosehip Campground is at milepost 27 of Chena Hot Springs Road.

Rosehip Campground has a Picnic Shelters Availalbe for Rental:
Reserve the Picnic Shelter

There is also a walk-in group camping area:
Reserve the Group Camping Area

Address:
Mile 27 Chena Hot Springs Road

Driving Directions:
Parks Highway or Richardson Highway to Steese Highway. Turn on Chena Hot Spring Road. Campground located at Mile 27.