Northern Region
Chena River State Recreation Site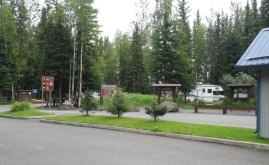 Facilities
★ ADA Facility - Yes
★ 29 Acres
★ Toilets - ♿
★ Water - ♿
★ Picnic sites (30) - ♿
★ Picnic shelters - ♿
★ Boat launch (See fee page)

Activities
★ Fishing
★ Trails
★ Picnicking
★ Day Use
The Chena River State Recreation Site has been partially re-opened as of August 26, 2022. Visitors can enjoy the day use areas, which include the pavilion and boat launch, which will be open daily from 7am-11pm.

*Please note: Visitors should be aware that this is only a partial re-opening of the location and that the campgrounds and the dump station will remain closed at this time.

Facilities include picnic sites along the river, drinking water, restrooms with flush toilets, boat launch, and river-side walking trails. For group use by reservation, there is a play field with a shelter.

PLEASE NOTE: There is state park called Chena River State Recreation Area, not to be confused with this park, Chena River State Recreation Site. Chena River State Recreation Area is over a quarter million acres, approximately 30 miles northeast of Fairbanks.

Address:
3530 Geraghty Ave, Fairbanks, AK

Driving Directions:
Fairbanks Int. Airport along Airport Way turn left (north) onto Washington Drive then left on Geraghty Ave. The park is along the river on the right.