Mat-Su Region
Alaska Veteran's Memorial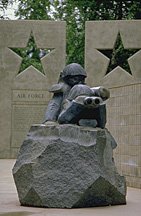 "We dedicate this place to the remembrance of the veterans of Alaska who have served their country at home and throughout the world. We honor their heroism and dedication."
Facilities
★ Historic Features - ♿
★ Visitor Center
★ Toilets - ♿
★ Water - ♿
★ Picnic Sites
★ Trails
★ No Parking Fee

Useful Information
Activities
★ Memorial and historical features
★ Hiking trails
★ Viewing Denali
★ Picnicking
Winter Closure ~ The Alaska Veteran's Memorial is closed for the winter season. We will re-open with an official ceremony hosted by the Alaskan Veterans Motorcycle Club on Sunday May 26th, at their annual Memorial Day event.

The Alaska Veteran's Memorial is located within Denali State Park at mile 147.1 between Anchorage and Fairbanks.

The memorial consists of five 20-foot tall concrete panels, one each to represent the Army, Air Force, Navy, Marines and Coast Guard, arranged in a semi-circle. A statue of two Alaska Territorial Guards, carved by Canadian sculptor George Pratt, greet you at the entrance. On each panel is a short history of that branch's contribution to Alaska.

The Denali State park is 325,240 acres, almost one-half the size of Rhode Island. The park provides visitors with a great variety of recreational opportunities, ranging from roadside camping to wilderness exploration.

The visitor center at the Memorial is usually open daily from Memorial Day through Labor Day.

Address:
Milepost 147.1 Parks Highway

Driving Directions:
Located along Alaska Route 3 (the George Parks Highway), approximately 240 miles north of Anchorage, 187.6 miles south of Fairbanks, and 73.9 miles south of Healy. In Talkeetna, approximately 100 miles north of Anchorage.