Kenai Region
Johnson Lake State Recreation Area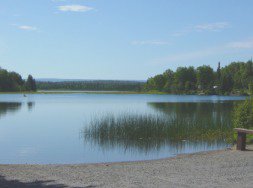 Facilities
★ ADA Facility - Yes
★ 332 Acres
★ 51 Campsites (see fee page)
★ 35' RV size limit
★ Camping limit - 15 days
★ Daily Parking Fee - (see fee page)
★ Toilets - ♿
★ Water - ♿
★ Picnic sites
★ Picnic Shelters - ♿
★ Boat Launch


Activities
★ Camping
★ Canoeing
★ Fishing
★ Walking
The town of Kasilof is located fifteen miles south of Soldotna along the Sterling Highway on the Kenai Peninsula. It is a popular summer recreational destination. Camping, wildlife viewing, scenic views, and fishing at the Kasilof River and at Johnson Lake are some of the reasons why.

Moose, black and brown bear, lynx, squirrels, hares and other creatures are plentiful in all of these areas. Enjoy and respect them for this is their home. Please help them by not feeding them and keeping a clean camp.

Johnson Lake State Recreation Area is a nice, wooded, 332 acre area surrounding Johnson Lake. Camping, fishing for rainbow trout, canoeing and walking are popular activities. There are 48 campsites, 16 day use parking sites, and a group picnic area (groups of over 12 people require reservations).

Some campsites are available via online reservation. Check campsite availability

Address:
110 Sterling Highway

Driving Directions:
Mile 110 Sterling Highway to Johnson Lake Loop Road.