Woody Island State Recreation Site
Tangirnami Cabin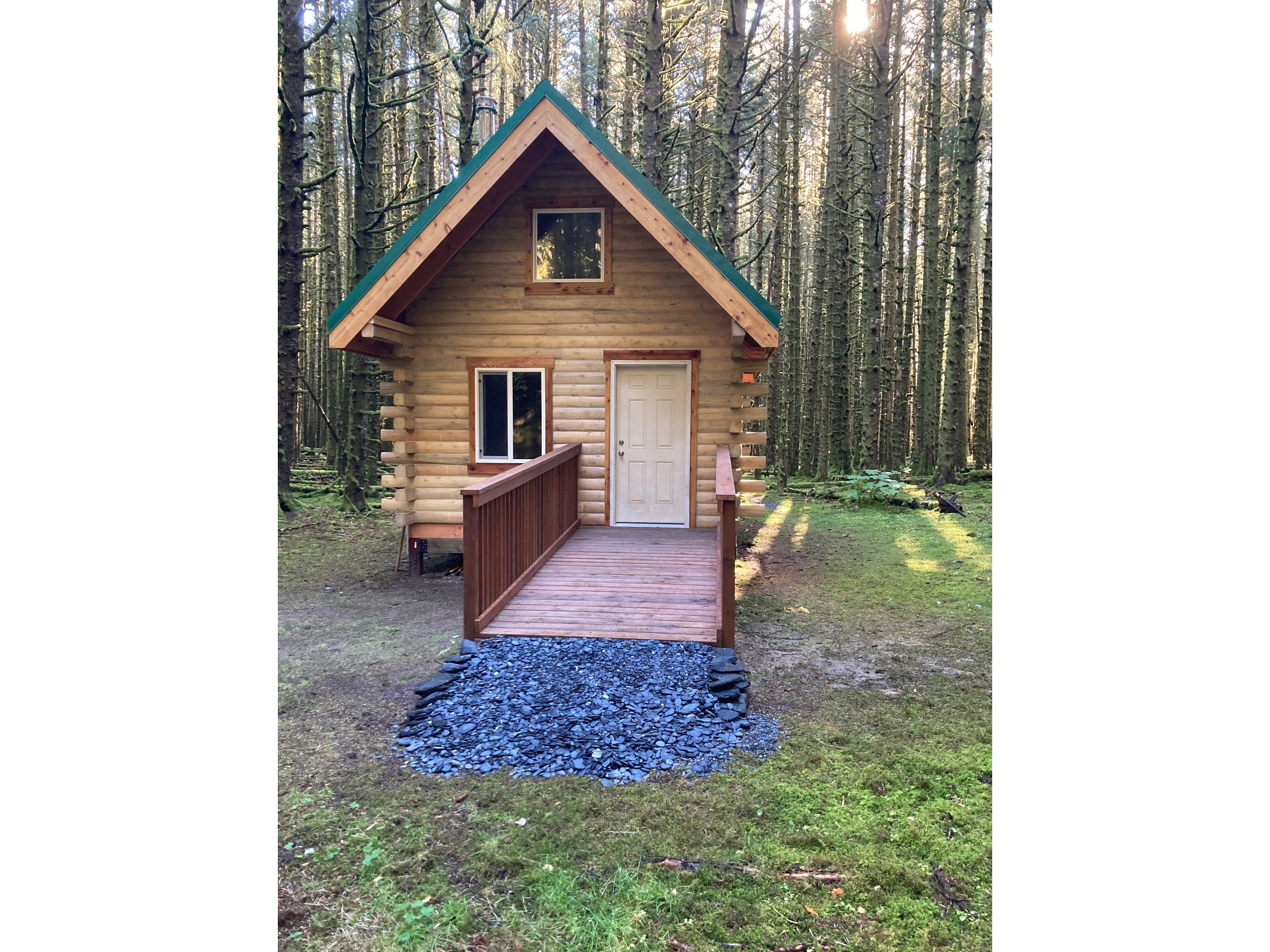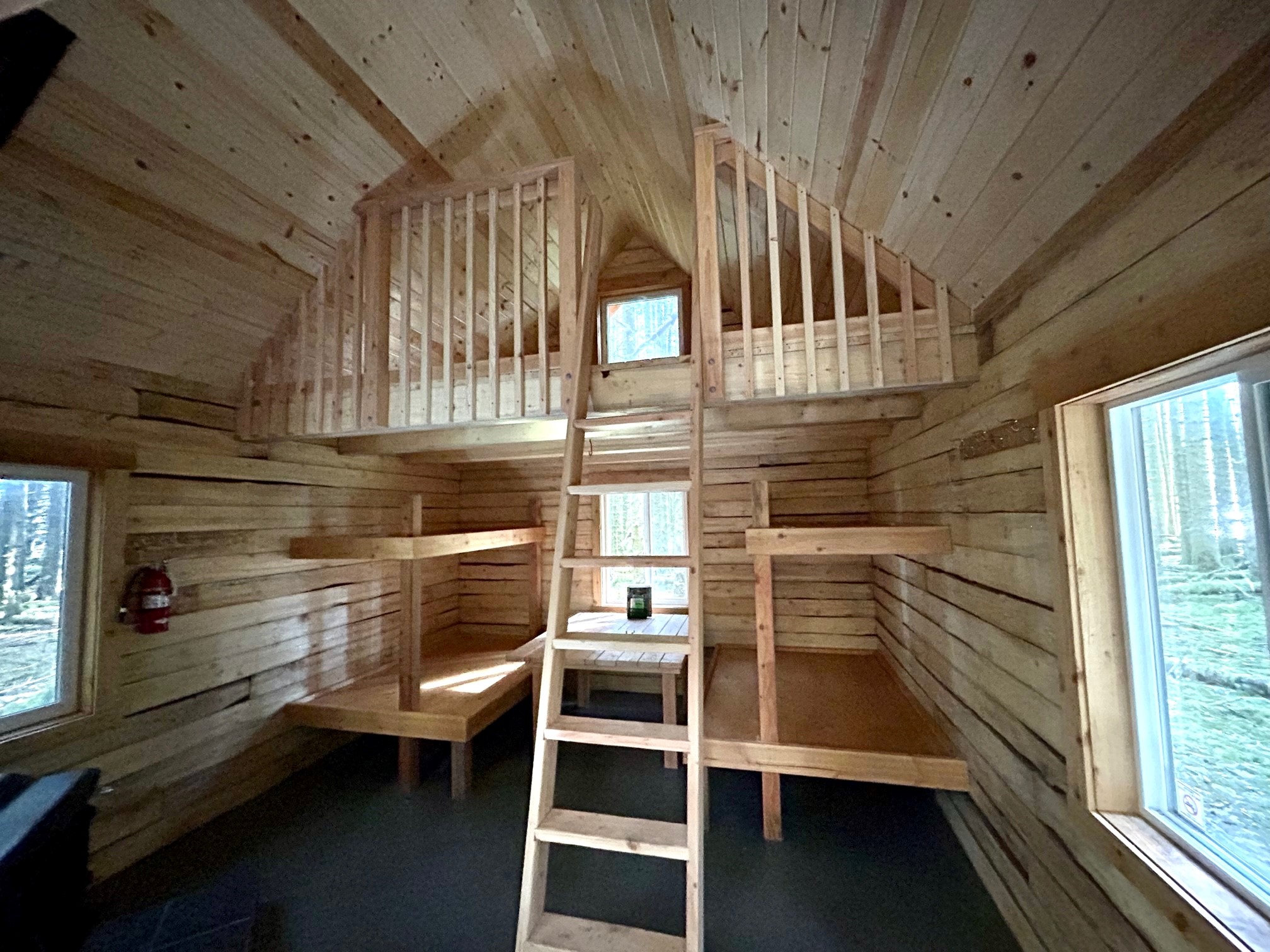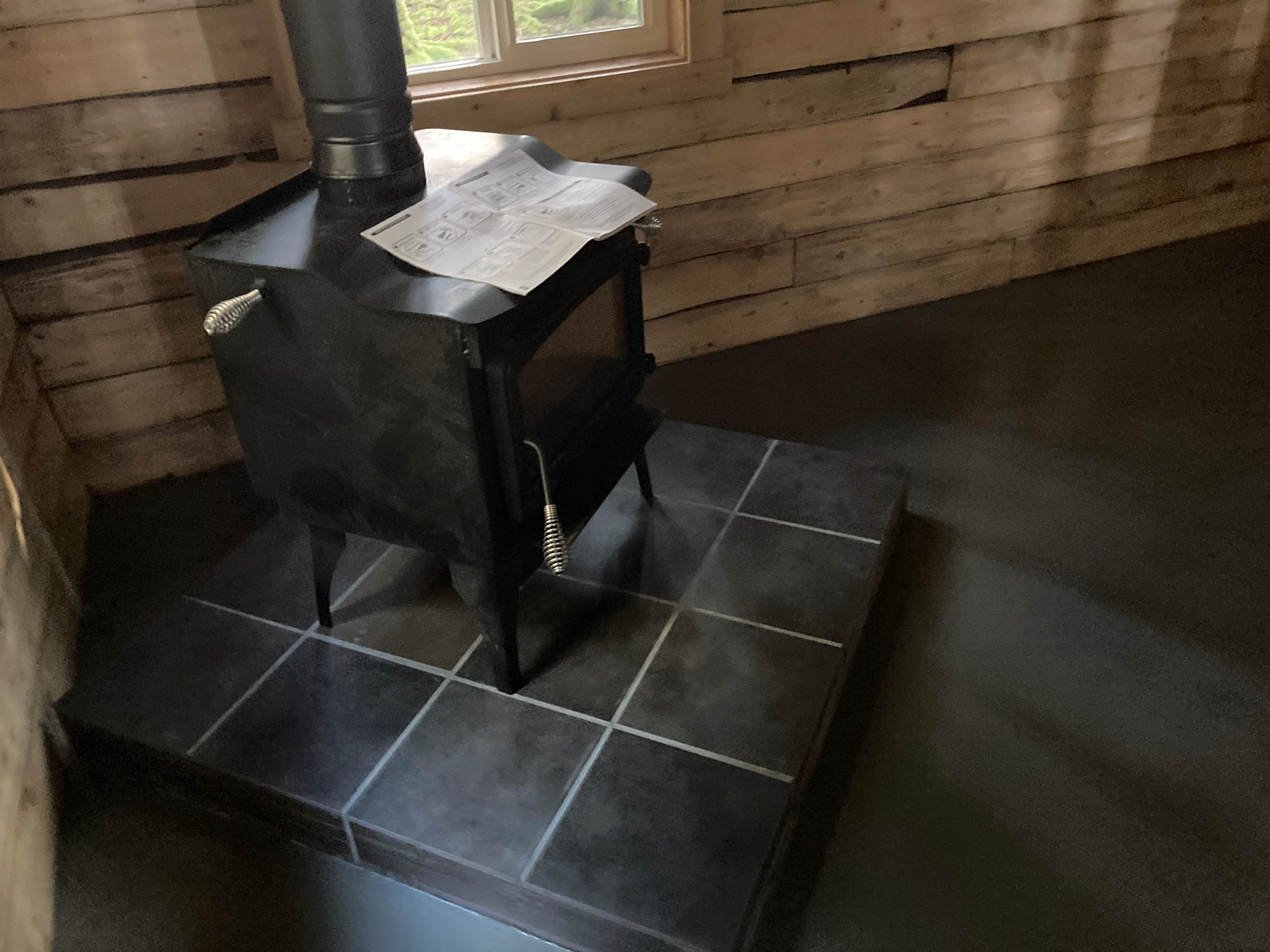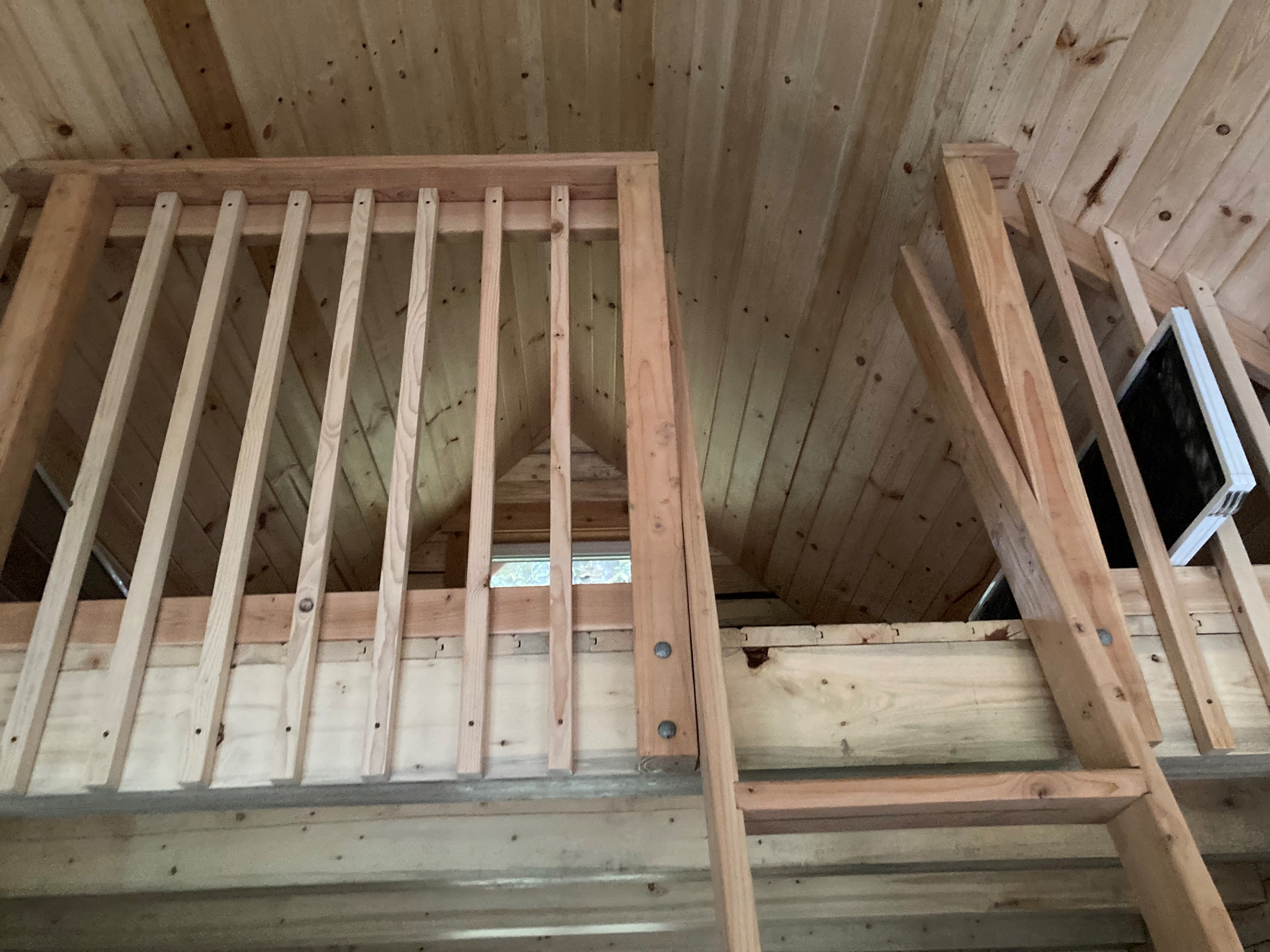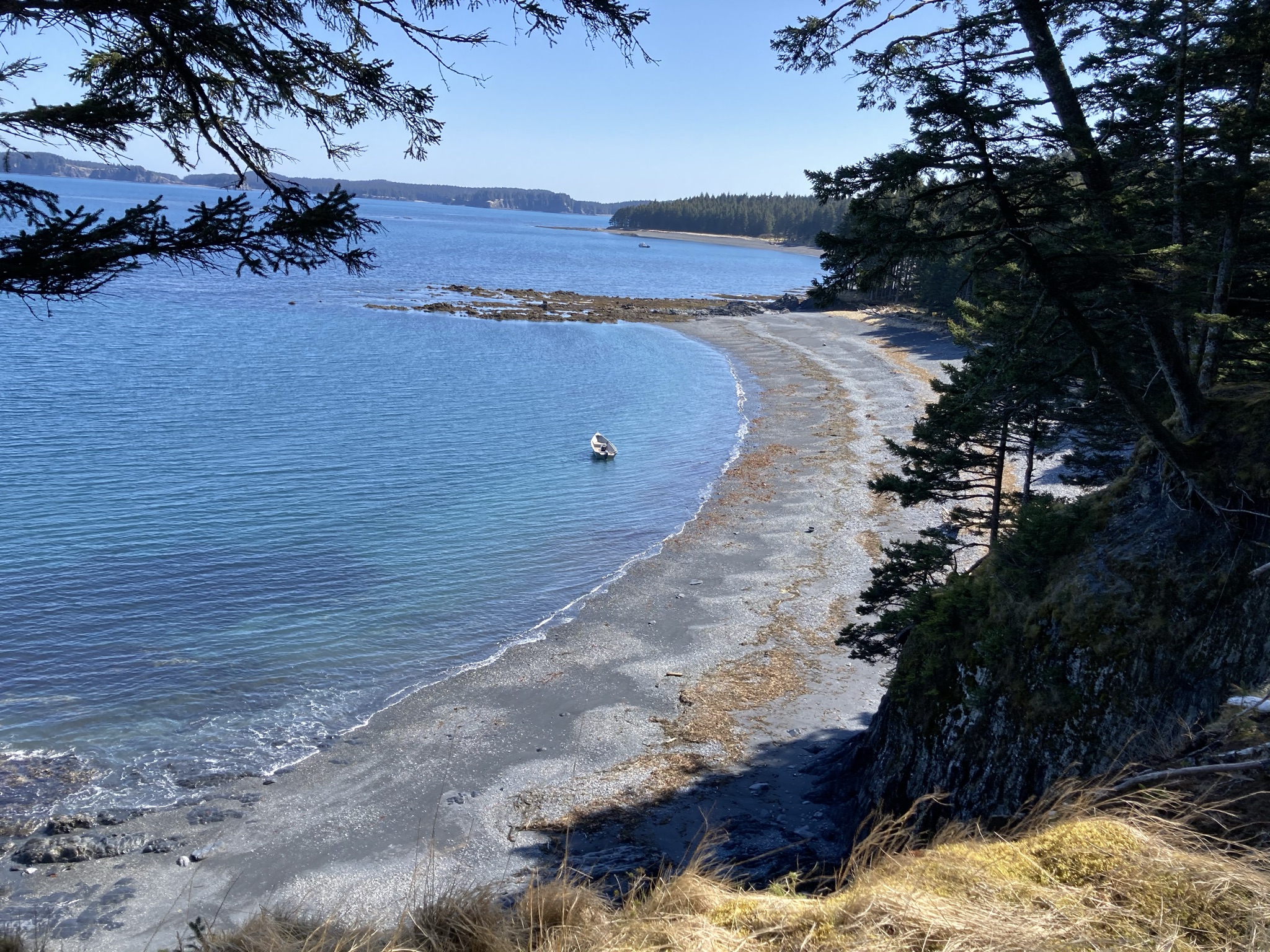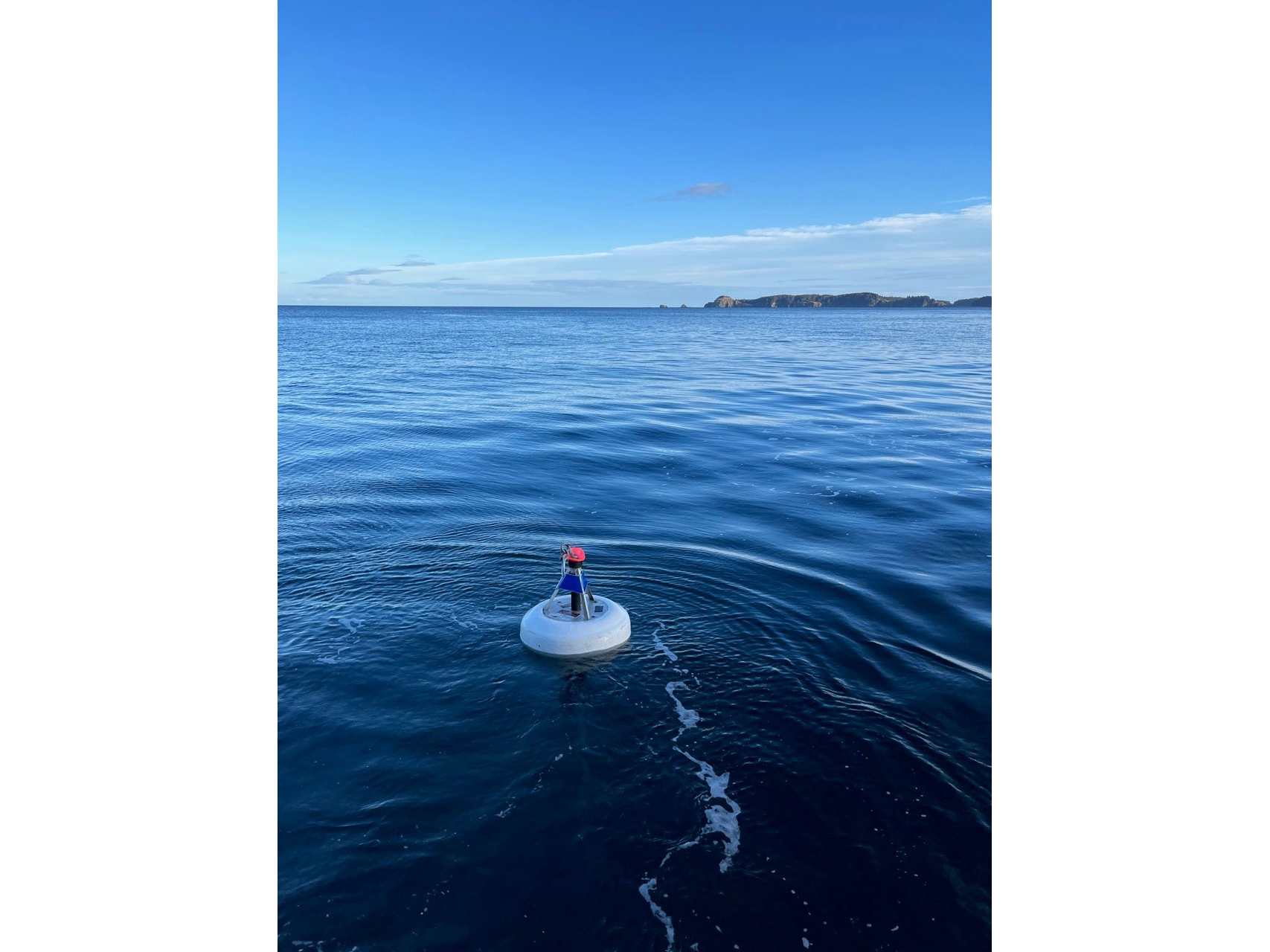 Cabin Specifications
★ Minimum Occupancy: 1 Guest
★ Maximum Occupancy: 8 Guests
★ Site Access Method: Summer - Float Plane, Kayak, or Boat-in
★ Stay Limit: 5 Consecutive Nights
★ Check-in/out Time: 12:00pm
★ Pets Allowed: Yes**
★ Fees: (see fee page)
★ Cabin Dimensions: 14' x 16'
★ Heating Method: Woodstove


Amenities
★ Fire Ring
★ Axe and maul for wood splitting
★ Picnic Table
★ Outhouse
★ Wooden Bunks
★ Benches
★ Loft
★ Dining Table


Woody Island State Recreation Site is located on the northern end of Woody Island. The cabin is located on a spit between Long Lake and a Northeast facing ocean beach, approximately 100 yards from both the beach and the lake.

The cabin has 4 bunks, a loft, and is heated by wood stove. Wood is not provided, but dead and down wood and driftwood may be collected from the area.

The area is popular for hiking, wildlife viewing, photography, fishing, waterfowl hunting, kayaking, and camping. Waterfowl are sometimes abundant on both Long Lake and Crab Lagoon. Long Lake is stocked with Rainbow trout. Halibut and Pacific cod are often caught in near shore waters. A few Sitka Blacktail deer may be found on the island but are not as abundant as other areas of Kodiak. Kodiak bears do occasionally swim to the island and can be present but are uncommon and sometimes aren't seen on Woody Island for years at a time.

Tangirami means "at Woody Island" in Alutiiq. This cabin name was selected by the Citizens Advisory Board in consultation with local tribes and the Alutiiq Museum.

Location and Access:
The cabin area is accessible by kayak, pack raft, small boat, and floatplane. It is an approximately 5-mile boat ride from the City of Kodiak boat harbor, which requires going around kelp beds that extend offshore from crab lagoon. If kayaks or pack rafts are launched at Mission Beach, it's an approximately 2-mile paddle to the cabin site. Paddling distance can be reduced to about 1 mile by landing at Salt Lake on Woody Island and hiking to the cabin.

Beach access and suitability for small boat anchoring is fair. Boaters should be mindful of kelp beds around Woody Island and reefs on either side of the beach approach. Beach landing and anchoring is always contingent on weather conditions, tide, boat type, and boater skill and experience. Some boats choose to anchor off a longer beach to the Southeast of the cabin.

Generally, winds from the Northeast will make for rougher beach conditions. Beach landings can be made at high or low tide, but rising tides are best for loading or unloading a boat when possible. The cabin is located on a spit between Long Lake and a Northeast facing ocean beach. The cabin is approximately 100 yards from both the beach and the lake. Two buoys and a sign are on a tree visible from the ocean to mark the access beach.

In 2023 a mooring buoy was installed at Woody Island State Recreation Site just offshore of the Tangirnami Public Use Cabin to allow for easier access to cabin by boat users. The mooring buoy is connected by 40 feet of galvanized 5/8" chain to a 24"x24"x14" concrete block weighing around 700 pounds. The mooring block location is approximately 11 feet deep at mean low water (1.1-foot tide) and approximately 18 feet at mean high water (7.9-foot tide). This mooring buoy is meant to serve one recreational vessel up to 25' in length in ordinary sea conditions. This mooring is in the proximity of two reefs and is not intended for use as a storm anchor. Those intending to use the mooring should understand the wind, tides, and marine weather forecast. The user must analyze their surroundings for novel hazards and analyze their location on the nautical chart for hazards in case the mooring has moved from its intended location.

The safety of the vessel is the responsibility of the user, who must possess and apply both the knowledge and equipment necessary to safely moor to this facility. The State of Alaska makes no expressed or implied warranties (including warranties of merchantability and fitness) with respect to the character, function, or capabilities of this product or its appropriateness for any user's purposes. In no event will the State of Alaska be liable for any incidental, indirect, special, consequential, or other damages suffered by the user or any other person or entity whether from use of the product, any failure thereof or otherwise, and in no event will the State of Alaska's liability to you or anyone else exceed the fee paid for the product.

N57° 47' 25" W152° 19' 41"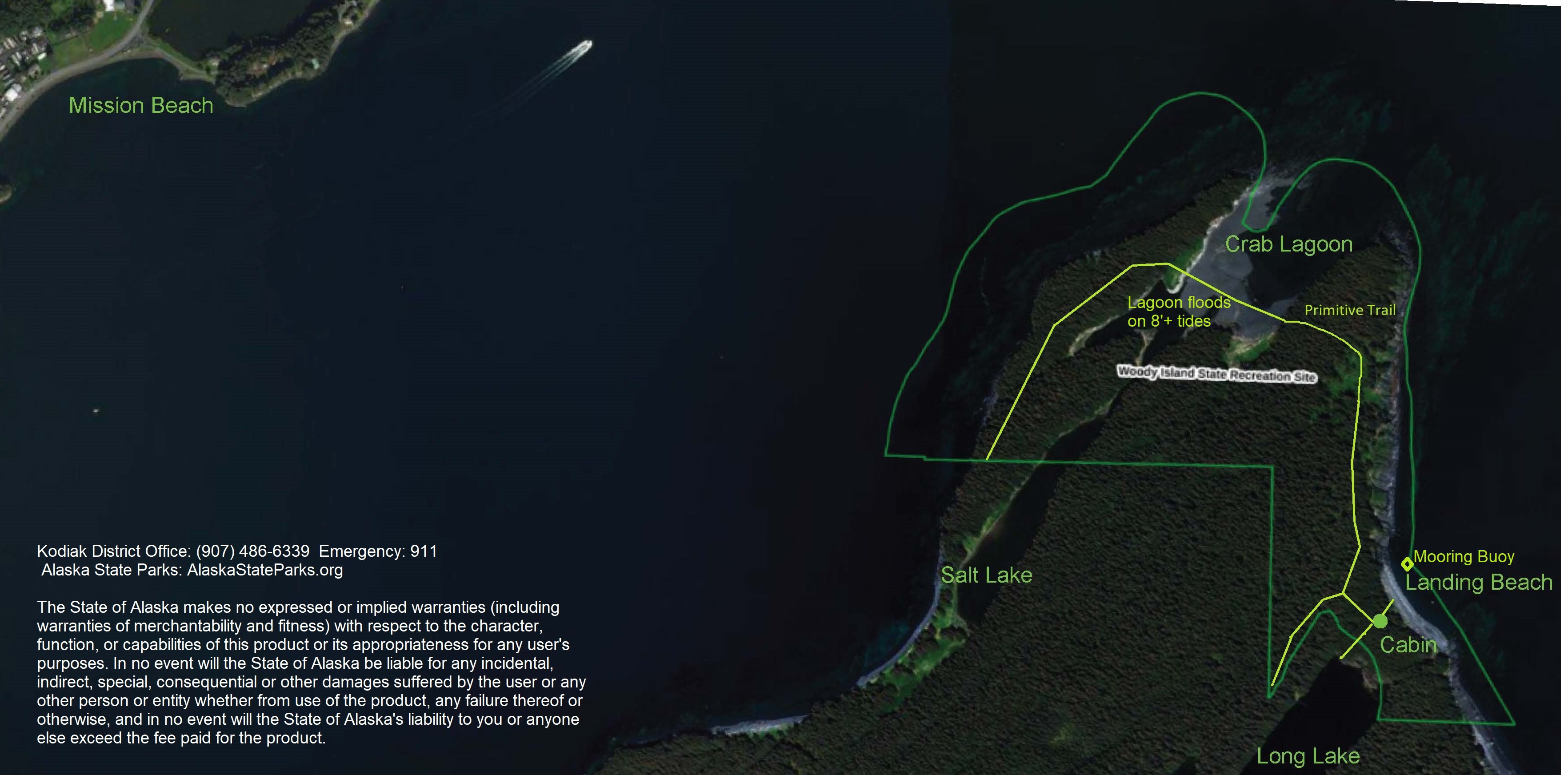 Special Notes:
** Pets must be under control at all times and you are responsible for cleaning up your pet's waste.

Primary heat source at the cabin is woodstove. Plan to bring your own firewood or cut and collect driftwood from beaches or down trees. Only dead and down wood should be cut. Do not cut down trees.

Pallet burning is prohibited.

Water can be collected in the nearby lake or small streams. Water must be treated or boiled.

Average temperatures in the summer are in the 50's and 60's. The coastal climate is cool, and high average rainfall of 60-90 inches creates a wet environment. Have warm clothing and quality rain gear, inclement weather can occur quickly and last for days. Winter snow conditions vary from wet and snowy to cold and clear

Check for Availability on Reserve America
Important Info
Once you make a reservation, you will receive a confirmation e-mail from Reserve America with important information about the cabin. Print out this confirmation e-mail and bring it with you to the cabin. If you do not receive a confirmation e-mail within 24 hours of making the reservation, please contact the reservation call center at 1-844-351-9733 9am-5pm..

Remember that these cabins are not hotels. Always be prepared! Be sure to bring:
Sleeping bag and pad or air mattress
Food
Cookware, dishes, utensils
Cooking stove and fuel
Matches, lighters, paper fire starter
9-volt battery for smoke detectors
First aid items
Plastic trash bags
Jug of water
Saw or ax, just in case
Firewood
Flashlight
Lantern and fuel