Quartz Lake State Recreation Site
Glatfelder Cabin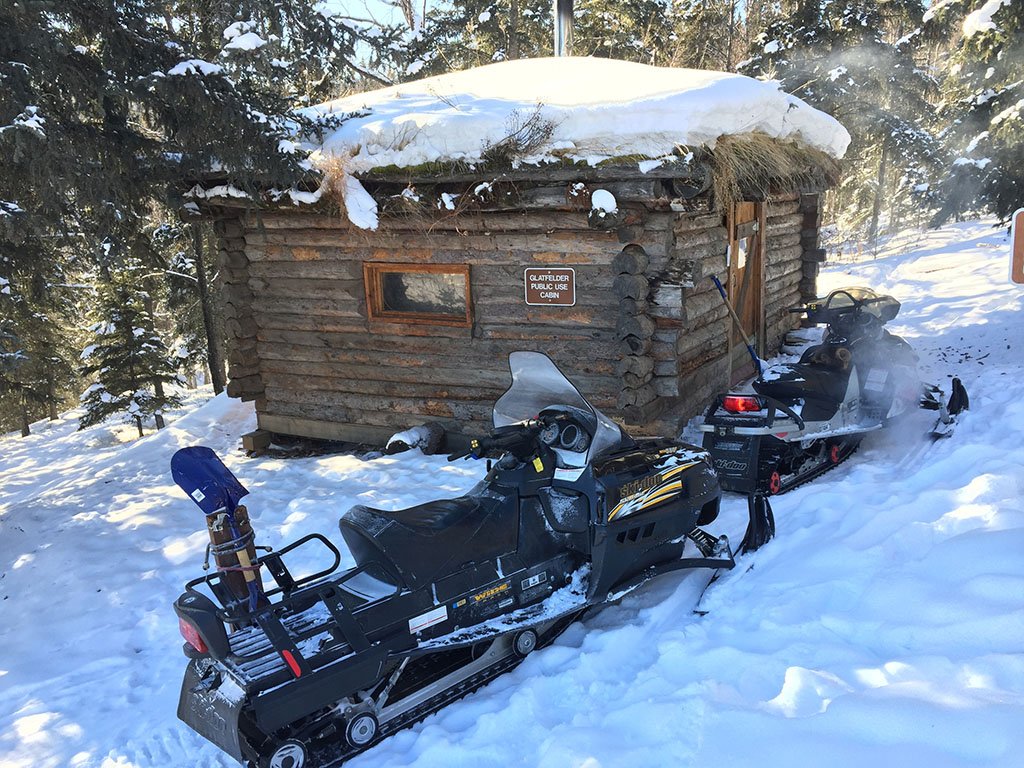 Cabin Specifications
★ Minimum Occupancy: 1 Guest
★ Maximum Occupancy: 6 Guests
★ Site Access Method: Summer - Hike in or Boat in; Winter - Ski, Snowshoe, or Snowmachine
★ Stay Limit: 5 Nights
★ Check-in/out Time: 12:00pm
★ Pets Allowed: Yes**
★ Fees: (see fee page)
★ Cabin Dimensions: 20' x 24'
★ Heating Method: Wood (Bring your own wood)


Amenities
★ Fire Ring
★ Picnic Table
★ Wood Stove
★ Table
★ Seats
★ Broom
★ Axe
★ Saw
★ Ash Scoop

Glatfelder cabin is a half mile walk from the campground and is accessible by boat in the summer. In the winter, the cabin may be accessed by snowmachine or skiing from the frozen lake, or by walking. The road into the recreation area is steep, so please use caution. Tire chains or 4-wheel drive is recommended in the winter. This cabin is available to rent year-round.

Cabin furnishings include plywood sleeping platforms, a kitchen counter, shelves, table and benches, wood stove, fire extinguisher, and an outdoor latrine. Firewood is not provided and can be hard to find at some cabins, so gather dead and down wood on your way in. For water, renters need to melt snow in the winter.

Please help keep it neat and attractive for those who will use it after your visit.

Location:
The turnoff to Quartz Lake is located at Mile 277.8 Richardson Highway, approximately 14 miles northwest of Delta Junction. Follow the access road 3 miles to the Quartz Lake State Recreation Area parking lot. The cabin is located ½-mile form the parking lot along the southwest edge of the lake.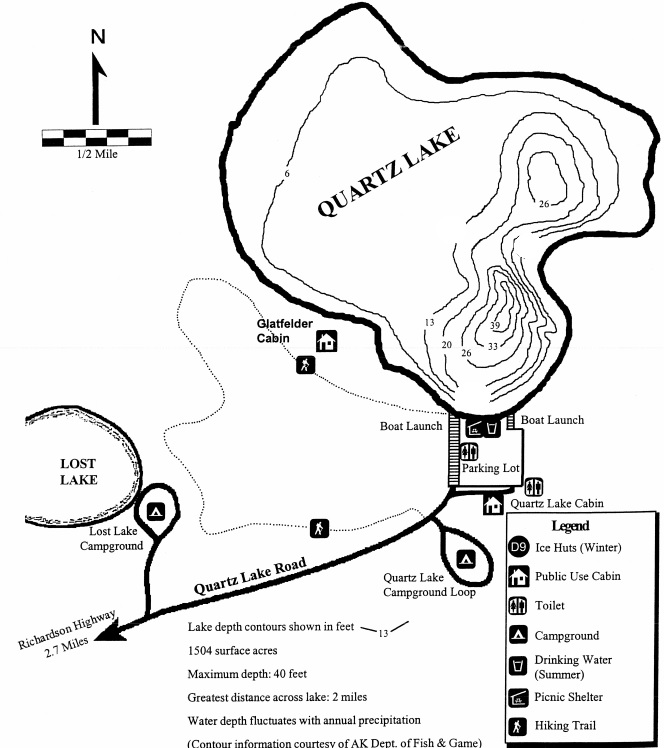 GPS: N 64° 12.37' W 145° 50.17'

Special Notes:
* During the winter months, State Parks offers day use ice fishing huts for rent. Call the Fairbanks office at 451-2653 for more information.

** Pets must be under control at all times and you are responsible for cleaning up your pet's waste.

Pack out everything you pack in.

Check Availablility on Reserve America
Important Info
This cabin has a combination lock on the door. Once you make a reservation, you will receive a confirmation e-mail from Reserve America with important information about the cabin, including a combination for the door lock. Print out this confirmation e-mail and bring it with you to the cabin. If you do not receive a confirmation e-mail within 24 hours of making the reservation, please contact the reservation call center at 1-844-351-9733 9am-5pm..

Remember that these cabins are not hotels. Always be prepared! Be sure to bring:
Sleeping bag and pad or air mattress
Food
Cookware, dishes, utensils
Cooking stove and fuel
Matches, lighters, paper fire starter
9-volt battery for smoke detectors
First aid items
Plastic trash bags
Jug of water
Saw or ax, just in case
Firewood
Flashlight
Lantern and fuel