State Parks Google Earth Trail Maps
The Alaska State Parks Google Earth Trail Maps allow you to visualize the trails in 3D on google earth imagery. Navigate along trails as they cross rivers, climb passes, and summit mountains. See where to camp or stay in a Public-Use Cabin along trail. Figure out how steep a trail really is. Google Earth Map (.kml) Files are divided into individual parks.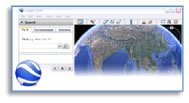 To open kml files, you must have Google Earth on your computer. Google Earth is available for free off the Internet. Click the Google Earth Button to go to the web site, follow the instructions and choose the appropriate type of Google Earth for your computer. Click on the park area links below for a Google Earth Trail Map.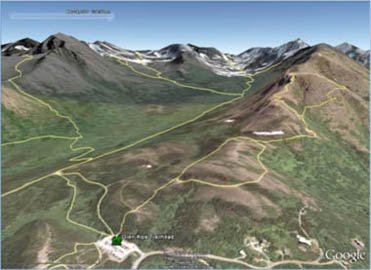 Chugach State Park
Denali State Park
Kachemak Bay State Park
Caines Head State Recreation Area
Hatcher Pass Management Area
NOTE: The State of Alaska makes no expressed or implied warranties (including warranties of merchantability and fitness) with respect to the character, function, or capabilities of this product or its appropriateness for any user's purposes. In no event will the State of Alaska be liable for any incidental, indirect, special, consequential or other damages suffered by the user or any other person or entity whether from use of the product, any failure thereof or otherwise, and in no event will the State of Alaska's liability to you or anyone else exceed the fee paid for the product.