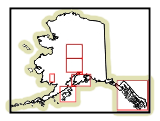 Address:
550 W. 7th Ave
suite 1340
Anchorage, AK
99501-8917
Phone:(907) 269-8731
Fax:(907) 269-8917
Email: Webmaster
Welcome to our Standard Drawings Page...

"The Standard Drawings listed here have been developed for the guidance of employees of the Alaska Department of Natural Resources, Division of Parks and Outdoor Recreation (DPOR); its contractors; and its cooperating Federal, State, and local agencies. These files are not for re-sale. Use of these files is only for persons adequately trained to interpret and adopt them according to local conditions and current applicable codes. The DPOR assumes no responsibility for the interpretation or use of the information by users other than its own employees; the user assumes all liability for the suitability for their use."


*Need help designing interpretive panels?