Northern Region
Chena River State Recreation Site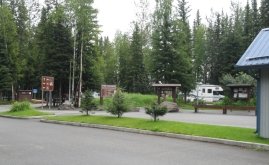 Facilities
★ ADA Facility - Yes
★ 29 Acres
★ 60 Vehicle Campsites
★ Hook-up and Non-Hook-up Sites (See fee page)
★ No RV size limit
★ Camping Limit - 3 days
★ Toilets - ♿
★ Water - ♿
★ Picnic sites (30) - ♿
★ Picnic shelters - ♿
★ Dump station (See fee page)
★ Boat launch (See fee page)

Activities
★ Camping
★ Fishing
★ Trails
★ Picnicking
★ Day Use
NOTICE: the Chena River SRS Campground is CLOSED for all of 2021.

Facilities include over 60 campsites for vehicles, 11 have electric and water hookup, five electric only sites, five walk-in campsites, picnic sites along the river, drinking water, restrooms with flush toilets, dump station, boat launch, and river-side walking trails. For group use by reservation, there is a play field with a shelter.

PLEASE NOTE: There is state park called Chena River State Recreation Area, not to be confused with this park, Chena River State Recreation Site. Chena River State Recreation Area is over a quarter million acres, approximately 30 miles northeast of Fairbanks.

Address:
3530 Geraghty Ave, Fairbanks, AK

Driving Directions:
Fairbanks Int. Airport along Airport Way turn left (north) onto Washington Drive then left on Geraghty Ave. The park is along the river on the right.