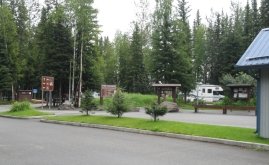 Facilities include over 60 campsites for vehicles, 11 have electric and water hookup, five electric only sites, five walk-in campsites, picnic sites along the river, drinking water, restrooms with flush toilets, dump station, boat launch, and river-side walking trails. For group use by reservation, there is a play field with a shelter.

Some of the campsites and picnic sites, as well as the restrooms, drinking water, and shelter, are ADA accessible.

There is state park called Chena River State Recreation Area, not to be confused with this park, Chena River State Recreation Site. Chena River State Recreation Area is over a quarter million acres, approximately 30 miles northeast of Fairbanks.
---