Mat-Su Region
Nancy Lake State Recreation Area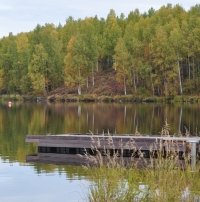 Nancy Lake State Recreation Area is different from most Alaskan park areas. It is one of the few flat, lake-studded landscapes in Alaska preserved for recreation purposes. The recreation area's clear waters are ringed with unspoiled forests, and provide tranquil settings for canoeing, fishing, hiking and camping. In winter, the rolling topography is ideal for cross-country skiing, dog mushing and snow machining.

Campground; in winter the parkway is not plowed beyond the Winter Trail head at mile 2.2. The community of Willow lies two miles north of this junction, and has a full range of services for the traveler.

Cabins are located on Red Shirt, Lynx, Nancy, James, and Bald lakes. The cabins are insulated and equipped with wooden bunks, counters, and wood-burning stoves. Each cabin has an outhouse and an outdoor fire ring.

Occupants need to bring all personal items including drinking water and leave the site neat and clean when they leave. It is best to bring firewood, as finding firewood may be difficult. Only wood that is down and dead may be gathered. Use of the cabins is by reservation only.

Address:
67.2 Parks Highway

Driving Directions:
Nancy Lake State Recreation Area is a ninety minute drive north of Anchorage along the Parks Highway. To enter the recreation area, turn west onto Nancy Lake Parkway at Mile 67.3 of the Parks Highway. From there, the Nancy Lake Parkway travels 6.5 miles southwest to South Rolly Lake.