Mat-Su Region
Matanuska Glacier State Recreation Area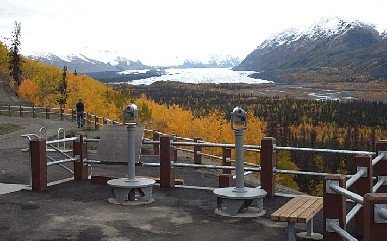 Facilities
★ ADA Facility - Yes
★ 229 Acres
★ 6 Campsites (see fee page)
★ Camping Limit - 14 days
★ Day Use Fee (see fee page)
★ Toilets - ♿
★ Water - ♿
★ Picnic Sites (8)
★ Cabins - contact Long Rifle Lodge 745-5151

Activities
★ Camping
★ Hiking
★ Glacier Trekking
★ River rafting
★ Skiing
★ Snowshoeing
★ Snow machine trails
The Matanuska Glacier State Recreation Site, managed by Long Rifle Lodge, is located one mile south of the Lodge at Mile 101 on the Glenn Highway National Scenic Byway. The recreation site has 12 campsites on a gravel loop road, water pump, toilets, fire pits, and picnic tables. The Edge Nature Trail begins at the rest area and provides a 20-minute walk through the forest to glacier viewing platforms. Summer activities include hiking, glacier trekking and river rafting. Winter activities include skiing, snowshoeing and snow machining.

Matanuska Glacier State Recreation Site is adjacent to the Glenn Highway Scenic Byway at milepost 101. Easy accessibility off the highway provides excellent views of the Matanuska Glacier which creates the headwaters of the Matanuska River. The 300 acre recreation site provides glacier viewing beginning at the parking lot and extends along the interpretive nature trail. Although no access is provided to the glacier from the recreation site, it provides some of the safest and best public viewing opportunities within the area. The site is open until closed by winter snow and ice conditions.

Matanuska Glacier State Recreational cabin and campsites are managed by *Long Rifle Lodge, phone (907)745-5151.

*Note: There is no glacier access from the recreation site.

Address:
Mile 101 Glenn Highway

Driving Directions:
Take the Glenn Hwy. Pass through the town of Chickaloon. Park entrance on the right, at milepost 101 of the Glenn Hwy.