Gold Mint Parking Area and Trailhead
(Hatcher Pass/Mat-Su Area)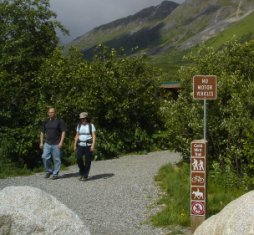 Area Description:
Best known for the popular Gold Mint Trail, the parking area provides year-round opportunities for many activities. During summer months, the Gold Mint Trail gently climbs up the mountain valley. Camping and RV parking is allowed. During winter months, the parking lot is shared by snowmobilers starting up the Hatcher Pass Snowmobile Corridor trail to Archangel Road and Hatcher Pass. Winter skiers also enjoy skiing up Gold Mint Trail, or heading up into the high mountains to explore the high valleys and deep powder.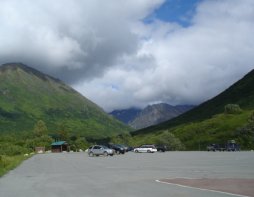 Facilities:
ADA Faciliy - No
10 Campsites ($10) per vehicle
No RV size limit
Daily Parking Fee ($5)
Picnic Sites -
Toilets -
Water (Summer only)
Trails
Activities:
Camping
Day Use
Hiking
Skiing
Snowmobiling
Address:
Mile 13.7 Hatchers Pass Road


Driving Directions:
George Parks Highway, north to Hatcher Pass Road turn right, located at mile 13.7 Hatcher Pass Road.