Kenai Region
Scout Lake State Recreation Site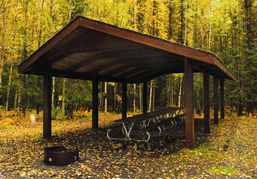 Facilities
★ ADA Facility - No
★ 164 Acres
★ Daily Parking Fee - no charge
★ Toilets
★ Water
★ Picnic Sites
★ Picnic Shelters


Useful Information
Kenai River Special Management Area brochure

Activities
★ Day Use
★ Hiking
★ Trails
Day use only - fishing and trails.

Scout Lake has a picnic shelter available for reservation. It has four picnic tables and can accommodate up to 25 people.
Make a reservation for the picnic shelter

Address:
85 Sterling Highway

Driving Directions:
Take the Seward Hwy South, bear right to the Sterling Hwy at the Seward Cut-off. Located at milepost 85 of the Sterling Hwy.