Kenai Region
Clam Gulch State Recreation Area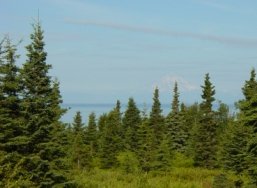 Facilities
★ ADA Facility - Yes
★ 495 Acres
★ 120 Campsites - (see fee page)
★ 35' RV size limit
★ Camping Limit - 15 days
★ Daily Parking Fee - (see fee page)
★ Toilets - ♿
★ Water - ♿
★ Picnic Shelters - ♿


Useful Information
Activities
★ Camping
★ Fishing
★ Hiking
★ Biking
★ Boating
★ Wildlife Viewing
Clam Gulch, as the name implies, is famous for the hundreds of thousands of razor clams that used to be harvested annually from the sandy beaches adjacent to the State Recreation Area. The Department of Fish and Game has closed clam digging for this area until further notice.

Situated on the bluffs overlooking scenic Cook Inlet, the recreation area offers visitors a panoramic view of the Aleutian Mountain Range and its three tallest peaks - Mount Iliamna, Mount Redoubt and Mount Spurr.

Wildlife in the area includes moose, bald eagles, gulls and many small birds and mammals. A wide variety of wild flowers may also be found within the recreation area, including lupine, Jacob's ladder, wild geranium and the prickly rose.

Razor Clams
The razor clam, a filter feeder that relies on plankton for food, is found on sandy tidal beaches from the Bering Sea to Southern California. However, there are only eight known major concentrations of clams on the Pacific Coast, with four of those in Alaska. The beaches from Clam Gulch to Ninilchik are the most popular razor clam beaches in the state.

The life cycle of razor clams is simple and unique. Razor clams usually reproduce first at age four or five and live about 14 to 18 years. Reproduction is triggered when Cook Inlet waters reach a temperature of about 55 degrees. After floating in the larval stage for four to six weeks, the clams form a small shell and settle into the sandy tidal beach. The clams are ready for harvest in about four years.

Off-Road Vehicle Usage
◇ All off-road-vehicles are restricted to the campground loop road, the beach access road and the saltwater beach. Please observe all traffic rules.

◇ Use of ATV's in the campground and on the road to the beach is limited to direct travel from your campsite to the beach and back again.

◇ ATV's are prohibited on Clam Gulch Road from the Sterling Highway to the intersection of the campground loop road and the beach access road.

◇ The speed limit on all recreation area roads is five miles per hour.

◇ All drivers and passengers under age 18 must wear helmets.

◇ Children under age 14 must be directly supervised by a parent or other person over age 21, when driving ATV's.

Address:
117.5 Sterling Highway

Driving Directions:
Sterling Highway to mile 117.5. Turn on Clam Gulch Road.