Bird Creek Campground
(Chugach, Turnagain Arm Region)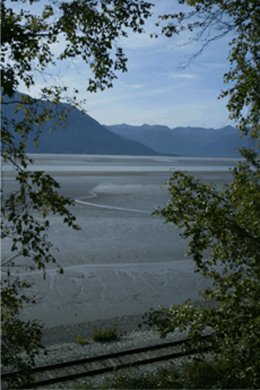 The Bird Creek Campground and its immediate vicinity located south of the Seward Highway and to the north of the Indian to Girdwood National Recreation Pathway is closed by Directors Order to the public as of 20 May, 2011. The park is scheduled to open in the Spring of 2014.

Park:
Bird Creek campground is located south of Anchorage at Bird Creek. The campground offers experiences ranging from fishing, hiking, whale watchig, wildlife viewing, and spectacular sunsets.

All have wooded sites with fire rings and picnic tables, water and latrines. Campground hosts offer assistance and answer questions about the area. Firewood is often available near the host's site for a small fee.

Interpretive Panels: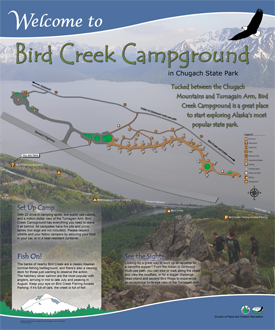 Facilities:
ADA Facility - Yes
495,204 Acres
Daily Parking Fee - ($5)
28 Campsites ($15)
Camping Limit - 7 nights
35' RV size limit
Toilets -
Trails -
Water
Picnic
Activities:
Fishing
Camping
Biking
Hiking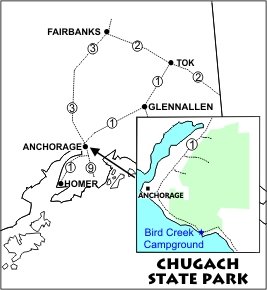 Address:
101.2 Seward Highway
Driving Directions:
Southeast of Anchorage about 20 miles (Mile 101 Seward Highway) just east of Bird Creek Bridge.