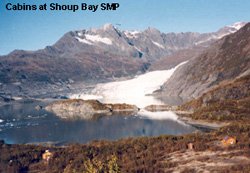 Shoup Bay State Marine Park is located five miles southwest of the Port of Valdez. The primary access is by boat, although an 11-mile trail from Valdez to the park is available. The bay is famous for the 150-foot tidal wave, which supposedly surged in and out of the bay three times during the 1964 earthquake. The bay has changed substantially since then. The Shoup Glacier has receded about a mile and a half changing the terrain, exposing new land and creating a brackish lagoon connected by a tidal river. Be sure to use the USGS map of the area dated 1996, which shows these new land features.

The uplands consist mostly of new growth forest of alder and spruce. A succession of plant life can be viewed on land leading away from the glacier. Most of the surrounding mountain walls are very steep, providing habitat for mountain goats and black bear. Highlights of this marine park include Shoup Glacier, and the black-legged kittiwake rookery in the lagoon. Bald eagles, arctic terns, and many species of waterfowl can be seen here. Please do not disturb the rookery or nesting areas of the birds.

Anchorage is fair to poor in the bay but good for small boats in the lagoon. The lagoon can only be reached during high tide with small boats. Be on the lookout for icebergs allow plenty of room to get around these potentially dangerous navigation hazards. There are good campsites for large groups on the eastern end of the lagoon and at the base of the spit at the eastern edge of the mouth of the bay. Other individual campsites are located around the perimeter of the bay and the lagoon.

Drinking water can be found near the head of the bay. There are three Public-Use Cabins for rent in this park.

Click here for cabin information.

For more information please contact the Kenai/Prince William Sound Area Office at (907) 262-5581.
---