Planning Your Trip to Wood-Tikchik State Park
Access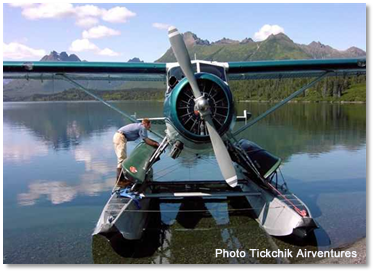 Wood Tikchik State Park is located in a remote part of south west Alaska north of the city of Dillingham and the world famous Bristol Bay. Dillingham is approximately 300 miles south west of Anchorage accessible by commercial air carrier. To visit Wood-Tikchik you will need a great sense of adventure. The park is accessible only by boat, airplane or foot. Air transportation is usually the most practical means of access and several air charter services are available in the local area and most rent camping equipment, kayaks, canoes and inflatable rafts too. Water transportation provides access to a variety of habitats.  Looking for an air taxi?; There are a few permitted air charter and equipment rental companies in south west Alaska to choose from.
Lake Aleknagik State Recreation Site provides water access to the Wood River Lakes system.  Aleknagik is located 23 miles north of Dillingham by road. The Wood River Lakes are interconnected by four shallow, swift moving rivers which often require jet-equipped watercraft to navigate. Many visitors traverse the lake system opting to fly by float plane to Lake Kulik and float the five lakes and four rivers to Aleknagik.
The Tikchik Lakes are accessible primarily by aircraft. Many visitors choose to fly to one of the upper lakes and float to Tikchik Lake or one of the many villages on the Nuyakuk or Nushagak Rivers, where air charter is available for transport back to Dillingham.


Camping
The entire park is open to camping; though, several locations in the Upper Tikchik Lakes require a permit. Visitors interested in camping around Nishlik, Slate, Upnuk, Chikuminuk Lakes or floating the Tikchik River must obtain a permit prior to camping. Camping and float trip permits are and require a $100 fee. Please call the Dillingham Parks Office at (907) 842-2641 for additional information and current permit availability. Permit applications are available online. Please note the use of motorized boats is prohibited on Chikuminuk Lake.

Camping at any location in the park is limited to 10 consecutive days at the same location in a calendar year after which the camp must be relocated a minimum of one mile from that location. Additionally, the stay limit at the Agulukpak River Campground is three nights. Campfires are restricted to portable camp stoves, fire pans, and unvegetated bars or beaches.

To maintain the wilderness character and preserve the ecological conditions of the beaches and forests of the park, visitors are encouraged to practice low impact camping techniques. These techniques include relying on gas stoves for cooking, rather than firewood, and camping on the beach when water levels allow rather than the more sensitive forest floor covering.  Most of the environment in the Park, both above and below water, is fragile and can easily be damaged.

Please remove all trash from the park. Campsites should look the same before and after each use. Sport hunting and fishing are allowed, as is gathering berries, mushrooms and other edibles for personal consumption.  The disturbance, damage or removal of other natural objects including trees, plants, moss, rocks, gravel and minerals is prohibited unless authorized by the director.

Accommodations and Services
Numerous privately-owned parcels exist throughout Wood-Tikchik State Park.  Most parcels are undeveloped, but are often marked in some way.  Several privately owned cabins are found throughout the park.  Please respect private property and do not trespass. If you have questions regarding private property, please contact the State Park office in Dillingham.
Five commercial sportfishing lodges are located within the boundaries of the park. These lodges operate on a reservation basis only, do not cater to drop-in visitation, and do not provide ancillary services to those other than guests.


Safety Considerations
Wood-Tikchik State Park offers a remote wilderness experience. Park visitors should be prepared for emergencies and accident prevention practices are key ingredients to a pleasurable and successful trip. Due to the size of the park, emergency support is likely hours away. Back country users should be prepared to handle their own emergencies. Some tips for a safe adventure include:

File a trip plan. Leave it with a friend, your air taxi, the Wood-Tikchik State Park office, or someone else reliable.  Include trip destination, travel routes, timeline, excepted return date and all survival equipment carried .  Be sure to close the plan when your trip is complete. Back country travelers should never travel alone, especially in winter.

Know your whereabouts.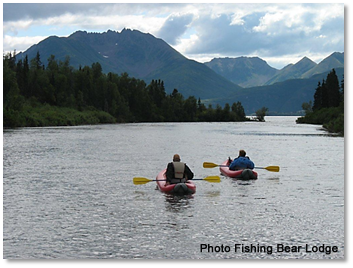 Awareness of your location on a map or GPS unit can be critical in all types of conditions. The use of USGS topographic maps will enhance your appreciation of the park's terrain and help you monitor your location.

Beware of weather. Travelers should always carry warm clothing and quality rain gear, as inclement weather can set in quickly and last for days. Wind on the open lakes can create dangerous whitecap conditions very quickly. Travel close to shore during transitional weather patterns and always wear a personal flotation device. Immersion in cold water may result in exhaustion or unconsciousness within 30 to 60 minutes. Use effective raingear and keep an effective fire starter,  lighter or waterproof matches, available on your person.

Avoid the bears, but be prepared for bear encounters. View bears from a distance and keep a very clean camp. Respect the bears; give them the right of way and make a lot of noise. Do not bury trash; haul it out. Bears have an excellent sense of smell and will likely find anything scented. Avoid camping in the vicinity of salmon spawning streams and other spawning areas when salmon are present. The bears will be there! Take proper precautions when storing food. Bears are found even on the islands. Information about traveling in bear country.


Protect your equipment. Bears and porcupines love to chew on plastic fuel canisters, rafts and skinned kayaks. Bring a patch kit and protect them if possible. You'll be a long way from the road system.


Giardiasis. Treat water by boiling, filtration or chemical tablets to remove Giardiasis and other parasites. The intestinal parasite Giardia lamblia is prevalent in many lakes and streams in Alaska. Giardiasis may be contracted by drinking untreated water in areas of beaver and other water mammal activity. The symptoms are diarrhea and severe cramping, and may appear up to two weeks after exposure.


Fires. Open fires are only permitted on nonvegetative gravel beaches and bars. Use dead and down wood only. Extinguish fires fully and bury completely before leaving the site. The use of portable camp stoves is permitted throughout the park and is encouraged. Live tree cutting is not permitted.


Insects. Although not regarded a safety hazard, mosquitoes and biting flies can diminish an otherwise wonderful trip. At a minimum wear a long sleeved shirt or pack your favorite insect repellent and consider brining a head net for your outing.


Food and fuel. Weather and other unforeseen variables can often extend a trip unexpectedly. Carry extra food and fuel, just in case your adventure lasts longer than planned.


Survival kit and first aid. It is always a good idea to have basic survival equipment when traveling in the backcountry.  Band aids, ace bandage, mole skin, parachute cord, safety pins, a compass, aluminum foil  and waterproof matches will be a good start for your kit.