Historic Preservation Planning
Historic Preservation Planning Quick Links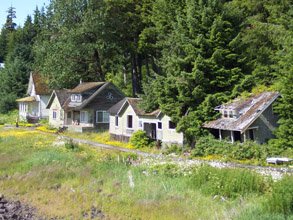 Kake Cannery Supervisor Housing, Kake
Planning is essential to preserve and protect Alaska's important historic and prehistoric places. A preservation plan will create a shared vision and outline critical steps that must be taken to protect our shared history. Preservation planning documents can take many different forms including a statewide plan, local preservation plan, resource specific planning, reuse study, disaster preparedness, and historic structures reports.
---
Statewide Historic Preservation Plan
Saving our Past, Alaska's historic preservation plan is intended to guide preservation activities in the state. Six goals were established in the plan that included: increase public awareness, form and strengthen partnerships, strengthen efforts to study and protect cultural resources, consider cultural resources in the development process, provide incentives to encourage preservation, and appropriately treat historic resources.
---
Local Government Historic Preservation Plans
Many local governments throughout Alaska have developed and implemented historic preservation plans. Oftentimes local government historic preservation plans outline a community's developmental history, identify existing conditions of a preservation program, assess needs, communicate the community goals, objectives and strategies, outline an implementation plan, and establish legal basis for historic preservation. Preservation planning guidance can help local governments, neighborhoods and site managers develop appropriate planning tools for each location.

---
Other Preservation Planning Resources
The Office of History and Archaeology actively conducts preservation planning and participates in plan implementation at various historical parks such as Fort Abercrombie, Fort Rousseau Causeway, Old Sitka and Castle Hill and archaeologically significant areas throughout Alaska. Additionally, OHA coordinates with other state and federal agencies to ensure historic properties are adequately considered in emergency response situation such as oil spills.