State Parks near Juneau
Welcome to the Juneau Area State Parks
Juneau is located in the Panhandle of Southeast Alaska, 900 air miles north of Seattle and 600 air miles southeast of Anchorage. The current population of Juneau is 31,275. There's no highway access to the rest of Alaska or to the Canadian provinces. Juneau is connected by the Alaska Marine Highway and air travel.
Juneau was founded as a gold-mining camp in 1880 and gold is how the city was originally populated.  The city still retains the old-west town features and is nestled between picturesque mountains and stunning waterways. The beautiful Mendenhall Glacier, is one of 38 glaciers flowing from the massive 1,500-square-mile Juneau Ice field.
Point Bridget State Park
This beautiful 2,850 acre state park, located forty miles north of Juneau, offers meadows, cliffs, spectacular views, salmon spawning streams, rocky beaches, and the sea. In the winter the meadows and open forest allow for excellent skiing and snowshoeing opportunities. Point Bridget State Park was created in 1988 by Alaska State Legislature. This was the culmination of a decade and a half of effort by recreations, conservationists and the Juneau Area State Parks Advisory Board to have a state park for the state capitol.

History
Long ago, the Auks, a group of Tlingit Natives, had summer homes and harvested the area's rich natural resources. Point Bridget was named in 1794 by Captain Vancouver, probably for his mother, Bridget Berners. Cowee Creek was named after the Auk Chief who was credited with guiding Joe Juneau and Dick Harris to the gold in Silver Bow Basin in 1880. This led to the founding of Juneau. Gold was found north of Berners Bay and east of Point Bridget, but there is no record of a discovery within the Park. More facility information.

Click here for trail information in Point Bridget State Park.
The numbers on the trail page corresponds to the numbers on the map.

Click here to see a map of Point Bridget State Park.
There are two public use cabins for rent along the trail system in Point Bridget State Park. Click here for more information.



Eagle Beach State Recreation Area
This is an approximately 600 acre unit located at the saltwater confluence of the Eagle and Herbert Rivers. This unit encompasses a campground, 2 day use areas and an extensive trail system. The main day use area is fully accessible with a ¼ mile paved trail and viewing scopes. From this central location you have access to several trails that include some longer US Forest Service trails that extend up the valley 6 miles. The coastal beach is a white sandy beach with an expansive intertidal area that makes for great bird and sea life watching. More facility Information

Eagle Beach Brochure and Map
There are three public use cabins for rent at Eagle Beach. Click here for more information.



Wickersham State Historic Site
In 1984, the house and its contents were purchased by the State of Alaska with the Division of Parks and Outdoor Recreation designated as the managing agency.  The House of Wickersham was the first large Victorian home built on "Chicken Ridge", the "Nob Hill" of Juneau, Alaska and the first floor of the house is managed as a seasonal museum exhibiting  the extensive memorabilia collection of the Judge. More information.



Ernest Gruening State Historical Park
This is the site of the territorial Governor Ernest Gruening's rustic summer home near Dotson's Landing/Amalga Harbor. This site is a beautiful setting showing off Alaska's political and natural history. Territorial Governor Ernest Gruening wrote much of the manifesto for statehood called "The State of Alaska" in 1953 at this site. Governor and then Senator Gruening and his family entertained national and foreign leaders at the cabin, including Adlai Stevenson, Governor Earl Warren, numerous U.S. Senators, and others. This a great location for wildlife viewing (especially waterfowl), fishing and sightseeing. There are spectacular views across Lynn Canal, and the Peterson Creek "Salt Chuck" is a haven for wildlife. More facility Information.
Juneau Cabins
Alaska State Parks has ten public use cabins within the Jueanu area and one near Kechikan. Most cabins sleep from one to ten people. All cabins feature wooden sleeping platforms, heating stoves fueled by either wood or oil, a table and benches and a cooking area. Outhouse facilities are located nearby for easy access. More information about the cabins and to make reservations see our pubic use cabin page. The cabins are rustic, bring your own food, cooking equipment, sleeping bags and water. Map of Juneau area cabins



Juneau Trail System
Juneau Alaska trails offer superb opportunities for hiking, biking and walking. Great mountains for steep hikes and alpine views; hidden coves and lake trails; excellent wildlife watching and spectacular scenery.

Juneau is a rainforest with rain to occasional showers. The Mountains are frequently covered with misty clouds. There are over a hundred trails in the City and Borough of Juneau. Alaska State Park trails are outlined here.

Perserverance/Granite Creek Trail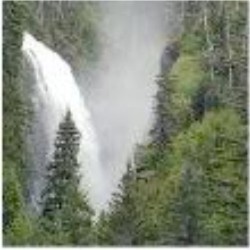 To access the trail from downtown Juneau, take Gold Street to Basin Road and follow it to the end. The trail features old mining ruins, marmots, warblers, wild flowers, and views of Ebner falls. Avalanche dangers exist during the winter and early spring. Be aware of the right side of the trail, which is very steep and hazardous. This trail is excellent for biking and jogging, and within easy walking distance of downtown.

Granite Creek Trail
Begin on the Perseverance Trail at the end of Basin Road. The trailhead is located to the left about 2 miles from the beginning of Perseverance Trail. The trail features wild flowers and berries, Alpine lakes, spectacular water falls, and ends at a beautiful basin. Avoid the trail in winter because of extreme avalanche danger.

Mt. Roberts Trail
The trail begins on Basin Rd., just beyond the wooden trestle bridge. The trail features views of Lynn Canal, bears, marmots, spruce grouse, and wild flowers. The Mt. Roberts Tramway brings thousands of people up this mountain each year. Hikers can pay five dollars for a ride down on the tram. The lower portion of the trail was recently improved, with the SIXTH STREET ENTRANCE NOW CLOSED due to unstable slopes.

Sheepcreek Trail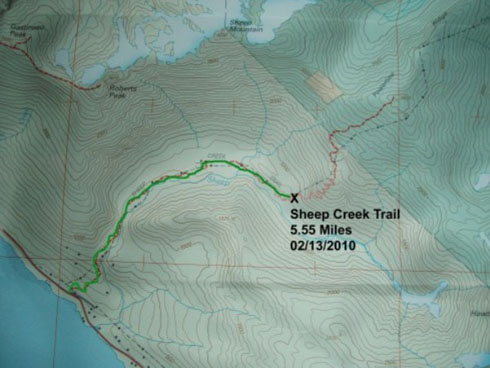 The first half mile, though steep, is wide and well built, with stair-steps installed in sections. Once the trail reaches about 700 feet elevation, it emerges in an open area and follows power lines down to the creek. The trail is mostly level from then on with some steep cliffs to the rivers edge. At the end of the 3-mile trail, a more primitive path continues along the powerlines, toward Powerline Ridge with access to Sheep Mountain or Hawthorne Peak.

It is common to see mountain goats walking along the ridges and black bear foraging for berries throughout the valley. The trail is festooned with wild geranium, columbine, shooting stars, chocolate lilies blueberry and salmonberry bushes. In the summer months the sides of the trail are festooned with wild geranium, columbine, shooting stars, chocolate lilies blueberry and salmonberry bushes.

Mt. Juneau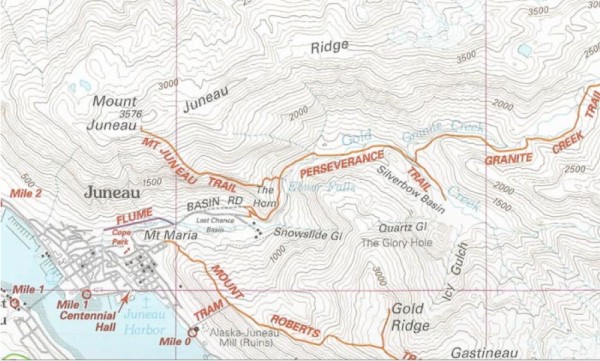 This is a very strenuous hike and very steep in places. I would not try this hike on a rainy day. There are many slick spots and you have to use your hands to climb in some places even on a sunny day. It rises more than 3,500 feet in about 2 miles from a point 1 mile along from the Perseverance trailhead. The trailhead is located to the left about 1 mile from the beginning of Perseverance Trail. Hoary marmots, spruce grouse, and wild flowers and at the top. Many lives have been lost on this mountain because of carelessness. Avalanche danger may persist until late spring, and large snow banks may be present on the steep sections of this trail. (Approx: 7-8 hours round trip; Difficulty: Advanced and strenuous).