Nancy Lake State Recreation Area Summer Information and Activities
Canoe Trail System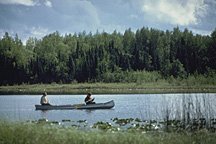 An attraction that the area is well known for is the Lynx Lake Loop canoe trail which travels through an eight-mile chain of lakes. Portages are well-marked with orange, diamond-shaped signs marked with a "P". Wet sections are covered with boardwalk.
Beginning at the Tanaina Lake Canoe Trailhead at Mile 4.5 of the park road, the Lynx Lake Loop is an ideal weekend trip, although it can be easily paddled in a full day. A longer trip can be made by continuing south from Lynx Lake to Butterfly and Skeetna lakes before returning on the same route to rejoin the loop.

An alternative trip for those who want to reach the recreation area by canoe is to travel down the Little Susitna River, at Mile 57 of the Parks Highway in Houston. The river is mostly easy traveling, but some canoeing experience is advisable. Canoers should use a map to be sure of their location on the river and watch for the sign marking the portage to Skeetna Lake. Travel time on the river is four to five hours from the highway to the portage. Canoers should be alert when meeting powerboats. Overnight canoers are requested to use designated campsites along the canoe trail and remember that fires are permitted only in the fireplaces provided. There is a large amount of private land along Lynx Lake and camping is limited to the campground on the northwest shore.

Canoes are available for rent from Tippecanoe Rentals in Willow. Call to have one waiting for you at the trailhead on Tanaina Lake (907-355-6687) .


Fishing
Catches range from fair to good on many of the lakes in the recreation area. Fishing is usually best when the ice first goes out in the spring and just before freeze-up in autumn. The four largest lakes in the area ( Red Shirt, Nancy, Butterfly and Lynx Lakes) are fed by large streams and support rainbow trout, lake trout, whitefish and Dolly Varden. Big and Little Noluck lakes are stocked with rainbow trout fry by the Department of Fish and Game. These lakes produce good catches of up to 14-inch fish. Trout fishing on other lakes can be slow, but the occasional 20- to 24-inch lunker makes the trying worthwhile.
The newest addition to the fishing scene in the recreation area is the northern pike, first noted in Red Shirt Lake in 1980. Fish of up to 30 pounds have been reported in Red Shirt, and up to 15 pounds in Lynx Lake. Many lakes and ponds in the Lynx Lake Loop have populations of northern pike. Also, try fishing in the smaller ponds and lakes not directly on the trails. Explore off the beaten paths and find some great fishing.
Hiking
Trail hiking at Nancy Lake SRA in the summer is limited due to the terrain. The major hiking trail in the recreation area is the Red Shirt Lake Trail. The trailhead is located at the end of Nancy Lake Parkway across from the entrance of the South Rolly Lake Campground. The three-mile trail (one way) generally follows the tops of glacial drumlins and moraines, and occasionally provides a panoramic view of the area's lakes with the Chugach Mountains on the horizon to the southeast. There are eight lakeside campsites at the end of the trail. Bring your own water or purify lake water (by filtering, boiling, or chemical treatment) as there is no well.

There is a 5.5-mile (one way) trail used primarily in the winter that also provides access to Red Shirt Lake. The trailhead is located at mile 5.6 of Nancy Lake Parkway. Winding through varied terrain and ending at the east shore of Red Shirt Lake, this trail offers no amenities at the lake shore and provides no access to the public use cabins. This trail is not yet intended for summer use and has also not been marked for winter use.

Winter cross-country ski trails in the northern part of the recreation area offer summer hiking opportunities; however, there are wet areas to negotiate. Off-trail hikers will find heavy underbrush and wet terrain, but may be rewarded with a small lake all to themselves. Go ahead and explore! Only the Parkway Loop trail is recommended for hiking and has inadequate signage.


Camping
There are two maintained campgrounds with road access, water and latrines. South Rolly Lake Campground, with 96 sites, is located at the end of Nancy Lake Parkway, 6.5 miles off of the Parks Highway. Nancy Lake State Recreation Site, on the northeast shore of Nancy Lake, has 30 sites, and can be reached from mile 66.5 of the Parks Highway.


Summer map of Nancy Lake State Recreation Area.


Summer Safety Tips
Certain dangers are inherent in roadside camping or back country travel. To safely enjoy your visit, make sure you are properly equipped, and observe the safety tips.


Boating Safety
In summer, boating accidents pose a major safety hazard. All occupants of boats, rafts, and canoes must have, and should always wear, an approved personal floatation device. If you capsize, stay with the boat or canoe. High boots and waders are especially dangerous if you capsize, and should not be worn when boating. Keep close track of youngsters at all times, especially near water.


Plan Ahead
Come prepared for the outdoors and rapid weather changes. Bring warm clothing, rain gear, appropriate footwear, extra food and emergency gear. Always inform a responsible person of your destination and expected return. Traveling alone in the back country is not recommended, especially in winter. It is easy to become lost in the dense woods and rolling terrain of the recreation area. Be sure of your location if you venture off the trails.


Bear Awareness
Wildlife, including bears, may be encountered at any time. Bears usually run away, but are unpredictable and can be dangerous. Confrontations can be reduced by several common sense policies.

 Don't leave food or garbage in the open or in your tent. Keep food well wrapped and properly dispose of garbage. In backcountry camping areas there are metal food boxes provided for storing your food.



 Don't surprise bears; Make noise when hiking.



 Don't approach wildlife; They may regard this as a threat. Above all, leave young animals completely alone. Rarely is a young animal abandoned by its mother.



 A pepper-based bear repellent may be a good alternative to carrying a weapon for protection.


Nancy Lake State Park Brochure

See winter information on Nancy Lake State Recreation Area.