Welcome to Kodiak Area State Parks
There are six state parks in and around Kodiak Island. Ft. Abercrombie State Historical Park, Buskin River State Recreation Site, and Pasagshak River State Recreation Site are on the Kodiak road system. Shuyak Island State Park, Afognak Island State Park, and Woody Island State Recreation Site are accessible by boat or float plane.


Click on a park on the map to learn more.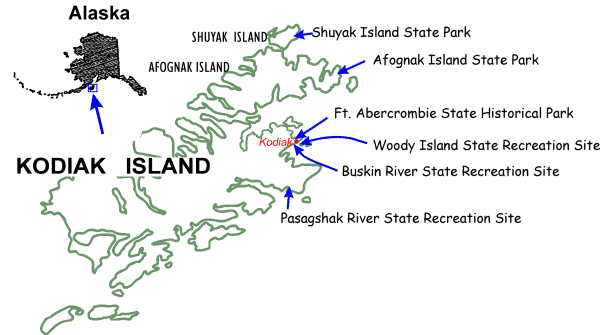 Other helpful links:
Kodiak State Parks Recreation Guide
Kodiak Natural History
Kodiak News
Kodiak Citizen Advisory Board
Friends of Kodiak State Parks
Bear Safety
Ferry Schedule
Guide to Marine Life at Ft. Abercrombie State Historical Park

If you have any questions or would like to request a park brochure, please contact the Kodiak District Office at:

Kodiak District Office
1400 Abercrombie Drive
Kodiak, AK 99615 phone (907)486-6339
fax (907)486-3320
email dnr.pkskodiak@alaska.gov