Fishing at Buskin River State Recreation Site
The Buskin River, located on Kodiak Island approximately 2 miles from the city of Kodiak currently supports the single largest subsistence salmon fishery within the Kodiak/Aleutian Islands Region. The fishery occurs in nearshore marine waters adjacent to the river mouth and targets several species of salmon, although sockeye salmon typically comprise 75% or more of the harvest. During the most recent 5-year period, subsistence users have annually harvested an average of approximately 9,000 Buskin River sockeye salmon.

The Buskin River also contributes significantly to the local recreational fishery and, to a much lesser degree, a local commercial fishery. In recent years, recreational fishing on the Buskin River has represented an annual average of 35% of the freshwater recreational fishing effort in the Kodiak Management Area. Recreational harvests of Buskin River sockeye salmon range between 1,500 and 2,000 fish annually. Coho salmon are another popular species targeted by anglers fishing the Buskin drainage, accounting for an average annual harvest of around 3,000. Current sport fishing regulations allow the retention of 2 Buskin River sockeye salmon and 2 coho salmon per day. Commercial harvests of Buskin River salmon are small, and nonexistent during some years. The combined average annual commercial harvests of each species rarely exceeds 1,000 fish.


Fishing Timetable
| | | |
| --- | --- | --- |
| SPECIES | WHEN | LOCATION |
| Dolly Varden | June, July | Chiniak Bay, Buskin River |
| Pink Salmon | July, early August | Chiniak Bay, Buskin River |
| Sockeye Salmon (reds) | June, July | Chiniak Bay, Buskin River, Buskin Lake |
| Coho Salmon (silvers) | mid-August to mid September | Chiniak Bay, Buskin River, Buskin Lake |
| Halibut | June, July, August | All outside waters |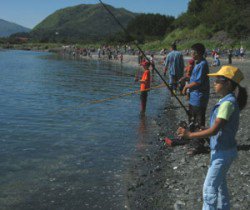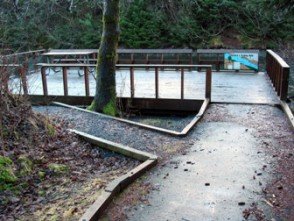 Annual Buskin River Pink Salmon Derby.           Wheelchair Accessible Fishing Platform.