Afognak Island State Park
Identified in 1892 as one of the nation's first conservation areas, Afognak Island was originally designated as the Afognak Forest and Fish Culture Reserve because of its outstanding wildlife and salmon habitat value. In 1908 it was reclassified as part of the Chugach National Forest, then transferred in 1980 to native corporations through the Alaska Native Claims Settlement Act. In 1994, 41,549 acres were sold to the state for parklands to protect and restore habitat lost as a result of the Exxon Valdez Oil Spill (EVOS). In 2001 an additional 33,498 acres were purchased through EVOS funding for habitat protection, to include areas adjacent to the park lands. Afognak Island State Park now incorporates much of the east and north sides of the island, totaling over 75,000 acres. Most of this park is undeveloped and pristine except for an area south of Seal Bay that was partly logged in the early 1990s.

The park is known for its rugged topography, dense old-growth Sitka spruce forests, and salmon spawning habitat. Kodiak brown bear, Sitka black-tailed deer, Roosevelt elk, and the endangered marbled murrelet inhabit the park. Visitors can fish, hunt, hike, or just enjoy the pristine environment. There are two public use cabins in the park. One is on the south shore of Pillar Lake and the other is at Laura Lake, east of Perenosa Bay on the northern end of Afognak Island. Both are restored U.S. Forest Service cabins.

The Alaska Department of Fish and Game operates several weirs on Afognak Island, including sites at Pauls Bay and Little Waterfall Creeks. Alaska Department of Fish & Game weir information.

Notice: Private (native corporation) lands adjacent to the park may require special permits to access. If you plan to enter these areas, contact the appropriate native corporation in advance. Permit requirements are strictly enforced. Alaska Department of Fish & Game land status map.

Pillar Lake Cabin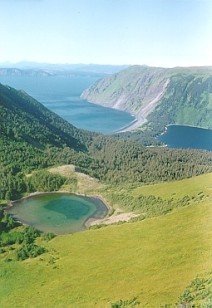 The Pillar Lake cabin is located on the strip of land between Izhut Bay and Pillar Lake in the southeast corner of the island. It takes approximately 20 minutes by floatplane to reach the cabin from the city of Kodiak.

Pillar Lake may freeze as early as November 1, making the cabin inaccessible during winter months. Access by boat is not recommended since the Izhut Bay beach is shallow and subject to heavy surf.

There are no developed trails in the area. However, you can reach alpine areas from Pillar Lake by hiking for a couple of hours through the Sitka spruce forest east of the lake. An outstanding mile-long beach on the ocean is a short walk from the cabin. There are no salmon streams near the cabin, but visitors can fish for Dolly Varden in the lake. Driftwood on the ocean beaches may be used for firewood.

Laura Lake Cabin
Laura Lake is located on the northern end of Afognak Island roughly 2 1/2 miles from the head of Pauls Bay. The cabin can be reached in 35 minutes by floatplane from the city of Kodiak. Access is via floatplane only, since there are no developed trails from Pauls Bay to the cabin. (Densely forested Sitka spruce and rugged terrain make any cross-country travel in this area challenging.

Laura Lake may freeze as early as the November 1, making it inaccessible by floatplane during winter months.

The 3-mile long freshwater lake is part of the highly productive Pauls and Laura lakes salmon spawning system. Red salmon enter Pauls Lake in mid-June and silvers enter during August. These fish must journey two miles through Pauls Lake and up a cascading creek before entering Laura Lake. Because Laura Lake is two miles from saltwater and is at an elevation of 160 feet, salmon struggling to enter the lake are beginning to deteriorate; they are no longer bright in color.

Bears may be encountered at any place during any season. Avoid surprising them and become familiar with precautions to take while in bear country, particularly in this densely forested terrain.

Since there are no developed trails near Laura Lake, visitors may want to bring a kayak or inflatable water craft. The lake has extensive fingers making shoreline walking arduous.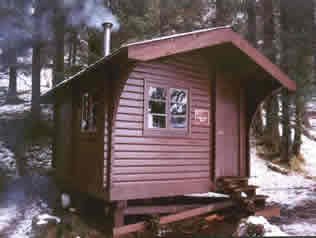 More Laura Lake Cabin Pictures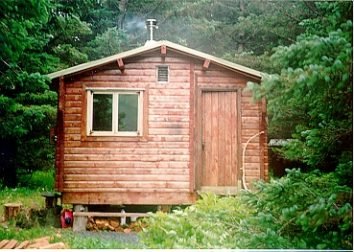 More Pillar Lake Cabin Pictures
Both cabins (Laura Lake, top, and Pillar Lake, bottom) are 12' x 14' panabode structures that sleep up to six people. The charge for either cabin is $45 a night. Visitors can stay in the cabin for up to seven consecutive nights per month.


Cabin Reservation Information
Specifics on Afognak Island cabins
Afognak Island State Parks Cabin Location Map 



What's Provided
• Woodburning stove for heat - firewood must be split. Handsaw and ax provided. (Only dead and downed trees may be used for firewood.) Please restock supply before leaving.
• Limited cooking/eating utensils (frying pans, dishpans, and a large tea kettle).
• Two bunk beds - each with a single on top and a double below at Pillar Lake
• Three single bunk beds at Laura Lake
Fresh water can be obtained from Pillar or Laura Lake. Water must be boiled for five minutes or cleaned with a Giardia approved filter.


You Bring
• Lantern, portable camp stove, and fuel
• Matches in waterproof container
• Cookware and eating utensils
• Water bottle
• Toilet paper
• Extra food, clothing, and fuel; weather conditions can prevent air taxis from flying as  planned
• Sleeping bag and sleeping pad
• Full body rain gear
• Gloves and hat
• Towels
• First aid kit
• Compass
• Topographic Maps: Afognak A-1 for Pillar Lake; Afognak B-1 and B-2 for Laura Lake; plus Afognak A-0, B-0, B-1 and B-2 for entire park


Optional Items
• Small chainsaw for firewood
• Kayak or raft for use on lakes
• AM/FM radio for weather reports
• Marine VHF radio or CB radio - Pillar Lake (at Laura Lake communication may be possible to planes or boats in Pauls Bay)
Getting to Afognak Island
Afognak Island State Park is accessible by air or by water. The public use cabins in Afognak Island State Park can only be reached via float plane. Both Kodiak and Homer have commercial air charter services as well as boat charter services that provide access Afognak Island. As these charter companies can change from year to year it is best to check pricing and availability prior to finalizing travel plans.

Return to Kodiak State Parks Recreation Guide.