Kachemak Bay State Park and State Wilderness Park
Kachemak Bay State Park and State Wilderness Park Planning


Alaska's first state park, and only wilderness park, contains roughly 400,000 acres of mountains, glaciers, forests and ocean. The bay's twisted rock formations are evidence of the movement of the earth's crust. Highlighted by constantly changing weather patterns, the park's outstanding scenery is a backdrop for high quality recreation. Park visitors will find opportunities for fishing, boating, kayaking, hiking, camping and mountain sports.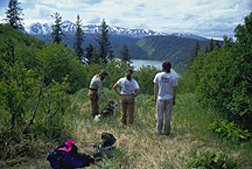 Kachemak Bay is a critical habitat area, supporting many species of marine life. Visitors frequently observe sea otters, seals, porpoise and whales. Intertidal zones offer natural settings for marine studies. Land mammals include moose, black bear, mountain goats, coyotes and wolves. The many species of birds that inhabit the bay, including eagles, gyrfalcons and puffins, make it a popular area for bird watching.

Hiking and camping along the shoreline and in the surrounding forests and mountains are excellent. Above timberline, skiers and hikers will find glaciers and snowfields stretching for miles. Special park attractions include Grewingk Glacier, Poot Peak, China Poot Bay, Halibut Cove Lagoon, Humpy Creek, and China Poot (Leisure) Lake.


Access to the Park
Access to the park is by boat or airplane, as there are no roads to the park. Air charters, water taxi services, and boat rentals are available in Homer. Authorized commercial air and water taxi services.

Commercial operators must have a permit to operate within park units. Authorized commercial tour services for Kachemak Bay.

Note: Access to Halibut Cove Lagoon can be hazardous due to rip tides and shallows. Lagoon access is recommended at high tide, and for shallow draft boats only. Contact park rangers for details.


Park Facilities
◇  Trails - More than 80 miles of trails provide access into the park's backcountry. Trail descriptions

◇  Camping is permitted in most areas of the park. A number of sites have been developed that may include fireplaces, picnic tables, tent platforms, information, outhouses or food caches. Contact park staff for details. Notice: Kachemak Crack Day Use Area and Left Beach Camp Areas.

◇  Public Use Cabins are available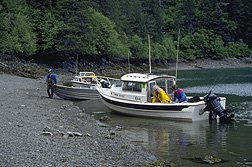 for rent on a reservation basis. The rustic cabins are located in the Halibut Cove Lagoon, Leisure Lake, Moose Valley, and Tutka Bay areas. Information on cabin rentals in Kachemak Bay State Park.

◇  Halibut Cove Lagoon Public Dock is an 80-foot-long floating structure, capable of mooring boats up to 26 feet long. The dock provides access to the Ranger Station, public restrooms, 2 public use cabins, and a major trailhead. Space is limited, and is available on a first come, first served basis.


Planning Update
The Kachemak Bay State Park and Kachemak Bay State Wilderness Park Management Plan is in the processes of being updated. Please visit the park units planning page for more information.
Outdoor Safety
The area's quiet, natural beauty can be deceiving; it can be a harsh and unforgiving place for the unprepared. The following are suggestions to make your trip both enjoyable and safe.



  Travel Plan - Leave a travel plan with family or park rangers, and use trail registers where available.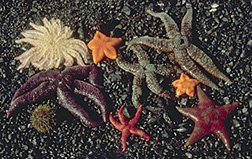 Weather - Kachemak Bay is an arm of the north Pacific Ocean and is subject to severe and unpredictable weather. Visitors should prepare for a cool, wet, windy climate. Bring extra clothing and adequate rain gear.



  Boating Safety - The bay is very rough at times. When conditions are poor, be patient and wait for them to improve, as they often do in the evening. Always carry enough food and warm clothing for an unexpected overnight. Always wear a personal flotation device (life jacket). Flotation devices are required, by law, to be worn by children 13 and under. If you have never operated a small boat in Kachemak Bay, please talk to park rangers about special precautions.



  Navigational Hazards - Numerous hazards exist on the bay. Marine charts show many of these, and should be carried by all boat operators. Refer to Nautical Chart #16645, Gore Point to Anchor Point.



  Tides - Kachemak Bay's tides are the second largest in the world. The average vertical difference between high and low waters is 15 feet, with an extreme of 28 feet. Tidal currents can be very strong, and rapids are often created in narrow passages, such as the entrances to Halibut Cove and Tutka Bay lagoons. Tide books, available at sporting goods stores, are essential. Use the Seldovia tables. Be sure your boat is secure before you leave it.



  Drinking Water - Water is readily available from streams and springs trickling from hillsides. Treat all drinking water by boiling for ten minutes, or with biological filter or chemical treatment.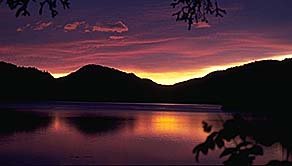 Sanitation - Use latrines when they are available. When they are not, bury human waste 200 feet from fresh or salt water. Please be sure to be away from the beach and/or your campsite. Human or animal waste on the beach or near campsites, is a significant problem.



  Prepare Yourself - Visiting any remote area is an exciting wilderness adventure, but it involves an element of personal risk. Thoroughly prepare yourself with adequate equipment and education. Don't count on being rescued if an emergency arises. You must be able to recognize and avoid hazards, and handle emergencies yourself.



  Bear Barrels

Friends of Kachemak Bay State Park has launched a Bear-Resistant-Food-Container (BRFC) lending program. These bear-proof food storage containers are available to borrow for camping and outdoor adventures, where bear hangs in trees are not an option. Containers should be placed on the ground or under rocks at least 100 yards from camping area.

The BRFC's can be checked out from the following locations:

Homer Fish and Game Office
3298 Douglas Place (behind Alyeska Tire), 907-235-8191

Rental Deposit - $80 (cash refunded upon barrel return)

Size - Two single-person (1 gallon) and two double-person (2 gallon)

Islands and Ocean Visitor Center
95 Sterling Hwy, Office #227, Homer, AK

No Deposit

Contact (907) 226-4689 or (907) 226-4688

Mako's Water Taxi
Homer Spit

No Deposit

Contact (907) 235-9055 

Recommended Use - Camping above tree line areas where bear hangs are not an option. When camping in scrub brush area with only small bushy trees. When you have forgotten to bring/buy rope to do a bear hang or as a backup for just in case.

How to use - Place containers on the ground or under rocks at least 100 yards from camping area.


Help Protect the Park

  Respect private property. Many of the most inviting beaches and camping sites are privately owned, but not all are posted. Please obey "No Trespassing" signs.



  Practice Minimum Impact. Pack out what you pack in. Where latrines are not available, bury human waste a minimum of 200 feet from trails, campsites, streams, and beaches, and pack out tissue. Please do not discharge waste water into streams.



  Fires are allowed only on beaches and gravel bars, in metal fireplaces provided, or with portable stoves. Use only dead and down wood for fires. No open fires above timberline.



  Hunting and fishing are allowed in the park. Consult regulations, Rangers, or the Alaska Department of Fish & Game for information.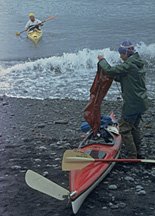 Pets must be leashed at developed facilities, and under control at all times.



  Fireworks and explosives are prohibited.



  Discharge of firearms is prohibited except for legal hunting, and not within a half-mile of a developed facility, such as a campsite or trailhead.



  Permits are required for any activity or assembly of more than 20 people.



  Equipment left unattended for three days may be impounded unless prior arrangements are made with a ranger.



  Selling of any goods or providing services, without a permit, is prohibited.



  Aircraft landings are allowed in Kachemak Bay State Park on gravel bars, salt water, and designated lakes, except for practice landings. Permits are required for other landing sites. Helicopters may not land without a permit.



  Vehicle use. The use of power boats and aircraft is allowed in certain locations, however, the park is closed to all other vehicles, including bicycles, all-terrain vehicles, and snow vehicles.



  Protect Cultural Artifacts. Removing or disturbing artifacts is illegal and is punishable by fine and/or imprisonment.

Kachemak Bay State Park & Wilderness Park Brochure & Map

Be prepared to handle emergencies yourself, but if you find yourself in trouble you can't handle,
contact the following:

Alaska State Troopers: 235-8239
U.S. Coast Guard Auxiliary: CB radio ch. 9, Marine VHF Channel 16
Homer Harbormaster: 235-3160, Marine VHF Channel 16
Kenai Southern District Office: 235-7024 or 226-4688
95 Sterling Highway, Suite 2
Homer, AK 99603
For more information
Alaska State Parks, Kenai Area Office
PO Box 1247
Soldotna, AK 99669
(907)262-5581
For a copy of this brochure, contact the DNR Public Information Center at dnr.pic@alaska.gov
Become a Member of "Friends of Kachemak Bay State Park"