Hatcher Pass Management Area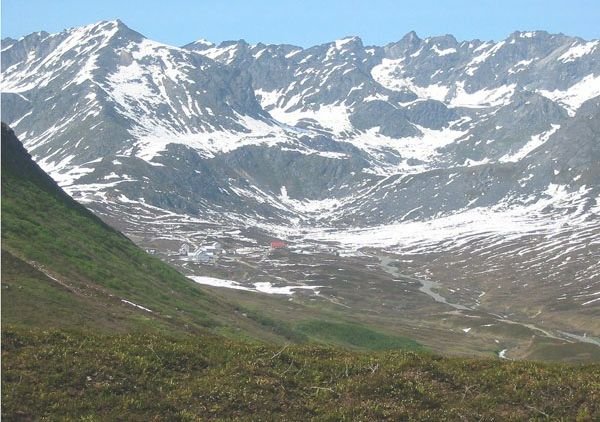 Hatcher Pass Management Area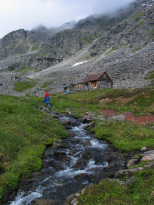 Mining cabin in the upper Independence Bowl area
The 300,000 acre Hatcher Pass Management Area primarily consists of mountainous terrain in the Talkeetna Mountain Range that climb from the 1000 ft. valley floor to summits higher than 6,000 ft. The area includes more than 30 prominent summits and associated glaciers. It can be accessed on paved roads and is only an hour and 20 minutes away from Anchorage, and 20 minutes from either Palmer or Wasilla. The Palmer-Fishhook road north of Palmer from Mile 49.5 Glenn Highway leads to the east side of Hatcher Pass while the Willow-Fishhook Road off the Parks Highway leads to the west entrance. Hatcher Pass offers access to extraordinary mountaineering terrain, beautiful mountain scenery, gold panning, berry picking, hiking, biking and horseback riding in the summer. It also offers mountain skiing, snowboarding, sledding, snowshoeing and snowmobiling in the winter. Hatcher Pass has a rich history of gold prospecting, claims and active mining, and includes Independence Mine State Historical Park.
Hatcher Pass East Management Area Map
Hatcher Pass Motorized/Non-Motorized Map
Land Status
The Hatcher Pass Management Area is not a State Park. It is a mix of state, borough, and private lands with the state being the principal land owner. Alaska State Parks jointly manages the east side of the management area (roughly east of Hatcher Pass proper) with the State Division of Mining, Land and Water. The west side of the management area is managed principally by the Division of Mining, Land and Water. The Government Peak Unit on the east side is owned and managed by the Matanuska-Susitna Borough. Two state park units are included within the management area: Independence Mine State Historical Park and Summit Lake State Recreation Site.   More information on land management and planning for the area can be found here.
Hatcher Pass Management Plan Land Map
Hatcher Pass Road Conditions
Please note that only the Palmer-Fishhook Road from the Palmer side to Independence Mine State Historical Park is paved. This road is open year-round except for the last mile to Independence Mine in winter months. Four-wheel-drive is recommended during the winter which is basically October 1 through May 31. The Hatcher Pass Road from Mile 17.5 to Mile 32.5 is a rough, gravel, narrow and steep road that is not maintained and is not open in the winter. Generally, the road over the Hatcher Pass summit is open only from about July 1 through September 15, depending on snow conditions. In the summer, the road is open to highway vehicles but expect slow passage. Use of RV's or large vehicles are not recommended due to the steep grades, rough roads and tight hairpin corners.
Summer in Hatcher Pass

Hiking Trails
Gold Mint Trail
Access: Mile 14 on the Palmer-Fishhook Road
Travel Means: Foot, bike, ski
Distance: 16 miles round trip
Elevation Gain: 1,000-foot plus gain
Following the west bank of the Little Susitna River to its source in the Mint Glacier Valley, the Gold Mint Trail is relatively easy, but steepens in a glacier-rimmed valley towards the end.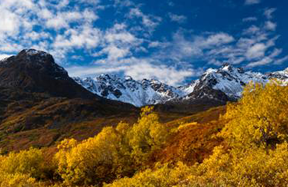 Fall colors along the Reed Lakes Trail, photo by Shawn Biessel
Reed Lakes Trail
Access: Archangel Road
Travel Means: Foot, bike
Distance: 9 mile round trip
Elevation gain: 1,600 feet
This trail follows Reed Creek and passes turquoise lakes, waterfalls and the abandoned Snowbird Mine ending at Upper Reed Lake. The first 1.5 miles are easy and follow an old road to an abandoned cabin. The rest of the trail is challenging and includes a car-sized boulder field marked by cairns.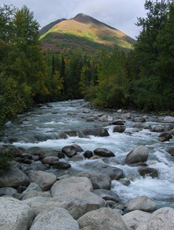 Little Susitna River
Gold Cord Lake Trail
Access: Independence Mine Parking Lot
Travel Means: Foot
Distance: 1.7 miles round trip
Elevation Gain: About 800 Feet
Gold Cord Lake Trail is an excellent choice for families with children or groups with different fitness levels. The final section gains moderate elevation to the lake.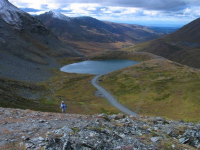 April Bowl Trail looking west at Summit Lake
April Bowl Trail
Access: Mile 19 of the Hatcher Pass Road
Travel Means: Foot
Distance: 2.2 miles round trip
Elevation Gain: About 800 feet
This trail begins with switchbacks, taking you through a small valley with a cirque lake and several ponds. It soon turns into a ridge trail and is extremely narrow and rough, ending at Hatch Peak.
---

Mountain Bike Trails
Gold Mint, Archangel, Reed Lakes, Mile 16 (ski run) trails are all open for biking.  On the west side of the pass, bikes may be used anywhere except on private property.

Horseback Riding Trails
The use of pack and saddle animals is allowed throughout the management area on designated trails except at Independence Mine State Historical Park.  Gold Mint Trail and Archangel Road are open for horse riding on the east side.  On the west side of the pass, horses and other pack animals may be used anywhere except on private property.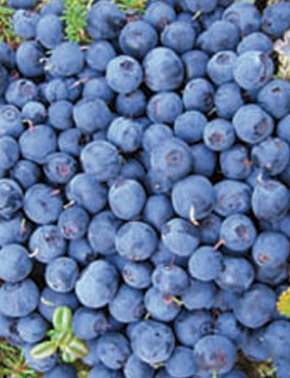 "Blueberries" by Daniel Thompson

Berries Galore
During August, the mountain sides can be seen dotted with people sporting buckets.  Blueberries are plentiful, especially in areas further from the roadway.

Camping
Designated camping is provided at the Government Peak Campground and Gold Mint Trailheads. A small area on the upper Archangel Road near the Fern Mine has a few primitive campsites near the outhouse. No potable water is available. Open ground fires are prohibited unless in steel fireplaces provided. Primitive camping is allowable elsewhere, except within ¼ mile of roadways and main trails. Overnight parking or camping is prohibited at Independence Mine State Historical Park.

Hunting and Fishing
The low valleys of the region provide good cover and habitat for a variety of small game, including snowshoe hares, ptarmigan and grouse.  Moose, black bears and brown bears are the typical big game and can be seen throughout the management area.   Hunters are reminded that firearms cannot be discharged within ¼ mile of a developed facility or road (East side only), due to high public use throughout the area.  The Independence Mine State Historical Park, Summit Lake State Recreation Site and the Northern and Southern Development Areas of the Government Peak Unit are closed to hunting.
The Little Susitna River does support some spawning salmon in the upper reaches, but it is closed to the harvest of salmon in the management area. There are dolly varden and small rainbow trout in some of the clear streams. Willow and Peters Creek on the west side also support dolly varden and rainbow trout.

Recreational Gold Prospecting
Recreational mining is allowed anywhere within the boundaries of the management area except for several valid (active) mining claims. There are many vehicle pull-offs along the road next to the Little Susitna River for easy river access to recreationally mine. Panning for gold is also allowed within the Independence Mine State Historical Park, but only with a gold pan and shovel, and only within creeks.  Before panning please obtain an Independence Mine brochure and speak with the park staff at the mine's visitor center.  Gold panning lessons are available at the historical park during the summer months.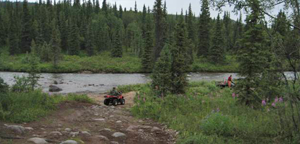 Riding near Peters Creek, west side Hatcher Pass
Recreational gold panning/mining is defined as using light portable field equipment, such as a hand operated pick, shovel, and pan. You may also use a suction dredge with a nozzle intake of six inches or less, powered by an engine of 18 horsepower (except at Independence Mine State Historical Park). Permits may be needed if using a suction dredge in the Little Susitna River.- For more information on permitting, contact the Alaska Department of Fish and Game, Division of Habitat, (907) 861-3200.

Off Road Vehicle (ORV) Trails
The east side of Hatcher Pass is closed to summer ORV use, but the west side is mostly open as a generally allowed use on state lands. See below for exceptions. Many trails are available to ride. See the snowmobiling section for trail names and locations. Many snowmobile trails originate on summer ORV trails, but not all winter trails are passable in the summer.
There are two areas on the west side that have restrictions on ORV use: The Willow Mountain Critical Habitat Area and the Bald Mountain Special Use Area.

Willow Mountain Critical Habitat Area (WMCHA):
The WMCHA was created pursuant to AS 16.20.500 to protect and preserve fish and wildlife habitat In accordance with 5 AAC 95.770. The use of off-road motorized vehicles less than 1,000 pounds dry vehicle weight is allowed in the WMCHA. The dry weight of a vehicle is the weight of the vehicle without passengers and cargo, as specified by the manufacturer. The off-road use of any vehicle in excess of 1,000 lbs. dry weight is not authorized.
The operation of any wheeled, tracked, or other ground effect motorized vehicle (including snowmobiles) weighing less than 1,000 pounds dry weight is subject to the following stipulations:
1. From April 1 to November 30, authorized vehicles shall operate only on designated trails for the purpose of personal transit or recreation. See below map for designated trail locations.
2. From December 1- March 31 vehicles may operate on all habitat land provided there is at least a twelve inch (12") snow cover and sufficient ground frost to prevent the disturbance of the soil surface or plant roots. In addition, ice cover on wetlands or other water bodies must be of sufficient thickness to support the weight-bearing load of the off-road vehicle. In the absence of sufficient snow cover and ground frost, vehicles (including snowmobiles) shall operate only on designated trails.
3. No vehicles leaking fuel, oil, hydraulic fluid, or other pollutants shall be operated in the WMCHA.
4. Harassment of wildlife, including any activity that displaces wildlife, is prohibited, excepting legal and permitted hunting, fishing, and gathering of fish and game.
5. Vehicle use shall not restrict public access to and use of fish and wildlife resources.
6. No vehicle shall be operated in the open waters below the ordinary high water line (vegetation line) of any river, lake, or stream specified to contain anadromous fishes.
7. No material of any kind, including vehicles, waste products, debris, supplies, or equipment shall be stored or disposed of within the WMCHA.
For any questions regarding the WMCHA, contact the Alaska Department of Fish and Game, Division of Habitat at (907) 861-3200.
Willow Mountain Critical Habitat Area Map

Bald Mountain Ridge Habitat Area
The area on Bald Mountain Ridge has special restrictions to protect several important migratory bird nesting areas.   Off-road motorized use, including landing aircraft, is prohibited between May 1 and August 1; during that period, the Alaska Department of Fish and Game, Division of Habitat may issue a permit for motorized use for mineral development, trail construction or maintenance, or another special use if the department determines that the use would not negatively affect tundra bird nesting.
See this map for location.
For any questions regarding the Bald Mountain Ridge Habitat Area, contact the Alaska Department of Fish and Game, Division of Habitat at (907) 861-3200.


Snowbird Hut, photo courtesy of the American Alpine Club/Cindi Squire
Winter at Hatcher Pass
   Special Advisories
*Mile 16 Downhill Ski/Board/Sled Run: The old bridge crossing at Fishhook Creek is washed out. Follow signs for alternate route to the road if the creek is open.
Also skier/snow boarders are advised that construction of the upcoming downhill bike trail conducted during the summer months has resulted in trenching across the main ski run. This may create unexpected dips in the hillside during early snowfalls, but heavy snow should cover them in a short amount of time.

* Recreational Use Boundaries Have Changed
Effective January 20, 2013, the new Hatcher Pass Management Area Regulations went into effect. The changes affect areas open to the use of snowmobiles and are primarily in the Government Peak, Mile 16, Gold Mint, Reed Lakes/Little Susitna, Archangel, and Marmot Mountain areas. Where practical, signage will be placed along the revised boundaries. Recreationists are encouraged to study the maps to assure the area they intend to use is open or closed to their choice of activity. Revised map and more information.

Hatcher Pass Recreational Conflict Report Form
The Department of Natural Resources has developed an on-line form to document recreational use conflicts in certain areas of the East Hatcher Pass Management Area. The form is available to the public at the website listed below.

The form will be used to document user conflicts in specific areas to help land managers understand the type of conflict, time of occurrence, and other specific information that may be helpful for management and planning purposes. It may also be used by park rangers to identify problematic areas where further education, signage, mapping, or monitoring is needed. Please note that the reports may not necessarily result in immediate enforcement or investigation. The forms are designed to be simple for ease of reporting. To maximize their value, please try to include as much specific information possible. The "Incident Specifics" box is where any further information can be added such as a more specific location, descriptions of the offending party (especially if the act was illegal), what you were doing at the time of incident, your contact information or other helpful details. There is a limit of 100 characters in the comment box so please be succinct.

Please note that anonymous reports may not be accepted since there is no way to verify a report as being accurate. Reports are automatically sent to land managers and park rangers via email. Additional information can also be provided to the park rangers by contacting the Mat-Su Area Headquarters at 907-745-8950.
Hatcher Pass Recreational Conflict Report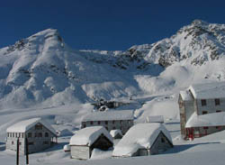 Winter Glory at Independence Mine
Amazing snow is what winter is about at Hatcher Pass.  The area typically receives 5-8 feet of snow on the ground and it can snow any time of year in the high country.

Snowmobiling
Riding in deep powder is one of the area's biggest attractions in the winter.  The Talkeetna Mountains historically capture a deep snowpack making Hatcher Pass one of the premier snowmobiling playgrounds in the state. Riders should note that not all areas are open for motorized use on the east side.   More information on snowmobiling at Hatcher Pass.

Skiing – Skiing – Skiing!!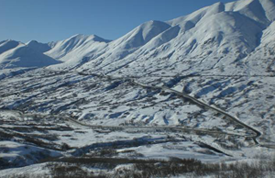 Hatcher Pass Road Switchbacking up the East Side
Winter is a fabulous time in Hatcher Pass country with some of the best snow conditions in the state.   The skiing season often starts in late October with the cross country ski trails in the Independence Bowl being the first to get set, groomed and marked in Southcentral Alaska. These trails provide early training opportunities for local ski clubs and school teams.

Backcountry Skiing and Snowboarding
The High Glacier Peaks area north of Reed Lakes provides hearty backcountry traverses amongst the mountains and glaciers, and are home to several mountain huts. These are multi-day traverses, that are not designated or marked trails and should only be attempted by experienced skiers and climbers. For more information on the hut system, contact the Alaska Mountaineering Club and the American Alpine Club. Alaska State Parks does not manage any of the huts.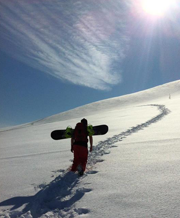 "The Trek"
The Government Peak area is very popular with diverse day traverses and backcountry skiing. The parking area at Mile 10.6 is a popular starting point. The Mile 16 Ski Trail is very popular with both alpine skiers and snowboarders. It starts at Mile 16 on the Hatcher Pass Road and ends at Mile 12. This is a steep, unmaintained freestyle run for the adventurous and not recommended for the novice. Us e at you r own risk and wear appropriate safety gear. Skiers can catch a ride back up to the top and repeat.
NOTE:  Mile 16 Ski Trail shuttle vehicles are not permitted to turn around or park along Hatcher Pass Road between Mile 14.4 (Archangel Road pullout) and the Mile 16 parking area due to avalanche danger through this area.
Snowboarders and backcountry skiers can often find snow above the Summit Lake area from early October through early June.  The road to the summit is closed to highway vehicles in the winter and serves as a perfect corridor for winter travel for all users.  Skiers should take heed that this corridor is open to snowmobiles also.


Cross-Country Skiing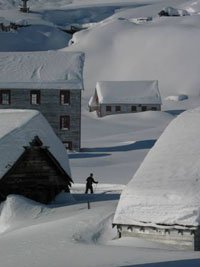 Skiing through the Independence Mine complex
Popular cross-country ski trails include Gold Mint Trail, Archangel Road, Reed Lakes Trail and the road to Independence Mine State Historical Park.  Ski tracks are also set in the open alpine meadows directly east of Independence Mine. Archangel and Independence Mine trails are usually groomed and marked.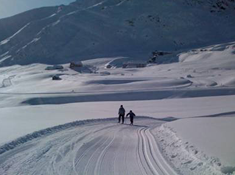 Groomed trails at Independence Mine State Historical Park
Avalanche Safety
Most of the Hatcher Pass Management Area has some level of avalanche hazard.  The risk will vary with slope angle, slope aspect, the quality of the snow pack, winds, and other variables. Backcountry travelers should be familiar with assessing the snow pack stability and evaluating the avalanche hazard on the slopes they will use before they venture into avalanche terrain.
Each member of the party should carry an avalanche beacon, a probe, and a shovel, and know how to use them.  Never travel alone and leave a travel plan with a friend.
For more information on avalanche safety and condition reports at Hatcher Pass, go to http://hatcherpassavalanchecenter.org/.

Return to top of page