Snowmachine and Off-Road Vehicle Use in Chena River State Recreation Area
Snowmachine and Off-Road Vehicle Areas
The recreation area provides many opportunities for use of motorized and non-motorized vehicles in the back country. Signs are normally posted at trailheads and access points which describe whether or not particular vehicles are allowed on the trail. The Chena Hot Springs Winter Trail, which parallels Chena Hot Springs Road, and other trails which access back country cabins are color-coded. Colored reflective diamond-shaped trail markers and mileposts placed along the trail guide you to your destination. The markers work the same as the mileposts on the highways: as you travel toward a cabin or the hot springs, the markers are on your right. Please familiarize yourself with these markers and which trail they represent.

The Chena River State Recreation Area Management plan adopted in 2006 made the Angel Creek Trail open to motorized use in the winter only. This was done to protect sensitive wetlands. The Angel Creek Hillside Trail constructed in 2010, provides year-round access to both the upper and lower public use cabins in Angel Creek Valley.

From April 20th to the Thursday night prior to Memorial Day Weekend, the Stiles Creek, Compeau, and Upper Angel Creek Hillside Trails are closed. The closure allows the multiple-use trails to dry out and prevent damage to the trails.

Motorized traffic on Colorado Creek Trail and the Winter Trail is not advised in the summer, as they are located in boggy lowlands and susceptible to severe rutting and degradation.

Alaska State Parks hopes you get out and enjoy the trail system in Chena River State Recreation Area. These trails offer some of the best riding opportunities the state has to offer.


Rules and Cautions

Operating a vehicle in an area where it is prohibited is a serious offense and reflects badly on legal operators. Off-road vehicles and non-motorized cycles may be operated only ON designated trails. Cross-country operations and bushwacking are not allowed.


Motorized off-road vehicles must have more than one drive wheel or track, and be less than 64" wide. The vehicle must weigh less than 1500 pounds or exert less than eight pounds per square inch ground pressure.


Discharge of a weapon for lawful hunting or trapping is allowed, except within 1/4 mile of a developed facility (campground, trailhead, roadside public use cabin & 33 Mile Maintenance Compound, or Twin Bears Camp). Target shooting is prohibited except at the shooting range at mile 36.4 Chena Hot Springs Road.


Please be cautious of and courteous to other trail users.


Disturbing, damaging or removing natural materials, signs or facilities is prohibited.


Open fires are allowed only on gravel bars and in gravel pits.


Always let someone know where you are going and when you plan to return.


Never travel alone. A party of at least two vehicles is recommended.


Please pack out what you pack in.


Wear a helmet for safety and dress appropriately for the weather, wind chill, and length of trip.


Know your vehicle and keep it in good operating condition.


Carry survival supplies. A breakdown could leave you stranded miles from help.


Please report irresponsible behavior or suspicious activities to a park ranger or the Parks office.


Motorized off-road vehicle operators must be over 14 years old or under immediate supervision of someone over 21 years old.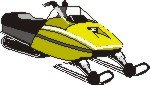 Off-road vehicle use areas:
The following trails are open to motorized off-road vehicles:


Chena Hot Springs Winter Trail (orange markers), which roughly parallels Chena Hot Springs Road from the western boundary (MP 26.1) to the northern boundary (MP 50.7), and designated trails that access the Winter Trail from Chena Hot Springs Road. Not recommended in summer.


The trail that runs south from MP 26.2


Trails in the valleys of Colorado Creek. Not recommended in summer.


Stiles Creek Trail (red markers), which runs along the ridges between the drainages of the east fork of Colorado Creek and Stiles Creek. Seasonal closure during break-up.


Trail south from MP 36.5 to the Chena River


The trails accessing the South Fork from the military reservation


Compeau Trail mp. 29.9 - Seasonal closure during spring break-up.


Anel Creek Shillside Trail mp. 50.5 - Seasonal closure during spring break-up.


Gravel bars and gravel pits

Off-road vehicles (Snowmachines and ATVs) are not allowed on highways or roads. They may be operated only on trails or in areas designated for their use. They are not allowed to operate along the Chena Highway right-of-way ditch.


Return to Chena River SRA Home Page