Birch Lake State Recreation Site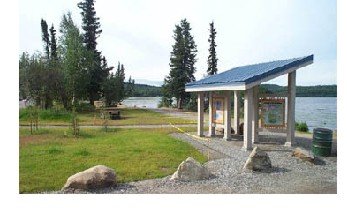 Birch Lake SRA is nestled between a lilypad covered lake and forested wetlands. There are 17 long parking spaces for motorhomes and 3 short parking spaces for smaller self-contained vehicles or for vehicles engaged in tent camping. There are 5 tent camping sites and additional tables, fireplaces, and sitting benches for day use. Boat launch and courtesy dock with ADA Access. No long term docking, approximate 20 minute time limit. Drinking water well, toilet, and caretaker/public use cabin are also available.
Click here for more information on the Birch Lake cabin. Camping is limited to 15 days. Access is from the military recreation area road at Milepost 305.2 of the Richardson Highway.

Users should bring their own firewood, especially in winter for use in the cabin, since there is not much left to scavenge in the surrounding forest.

The lake is popular with fishers, jet-skiers, and water skiers in the summer, and with snowmachiners and ice fishers in the winter. There is excellent fishing all year for stocked species: rainbow trout, king and silver salmon, grayling, and arctic char. Fishing during the open water months is best from a boat. Ice fishing huts are available for rent. Click here for more information on the Birch Lake Ice Huts.