Reservation and Fee Information

Reservation Information

Where to Make a Reservation

Cabin Fees

Please keep in mind...
Reservation Information
Reservations are made through the Reserve America Reservation System. Reservations can extend up to the maximum stay limits which vary from 3 to 7 consecutive nights.
Cabin reservations may also be made online by clicking on the "See Cabin Availability" button, which will take you to the Reserve America Website. On the Reserve America site, click on the 'Check Availability' button to find the cabin you'd like to reserve.
When a reservation is accepted, a combined receipt and permit to use the cabin is issued. Print your permit as you must have this permit with you when occupying the cabin. Permits are issued for non-commercial purposes only, and on a first-come, first-serve basis.

A permit-day begins at 12:00 noon on the assigned day and ends at 12:00 noon on the following day. A detailed map and information pertaining to the specific cabin rented will be available upon making a reservation. Maximum stay limits vary from 3 to 7 consecutive nights. Cabin capacity varies from 3 to 8 people.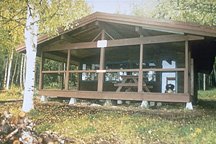 Cabin users are responsible for any damages to the cabins, associated facilities, or park resources. Please report any damages you may find to the local park office or the DNR Public Information Center.

PLEASE REMEMBER to print out your receipt and parking permit when making online reservations. Display the permit upon the dash board of your vehicle.

*Extreme weather in the Northern Region is defined as Minus 30° F for the "North Fork" and "Chena River" Cabins, Minus 20° F for all other cabins and ice huts.



Where to Make a Reservation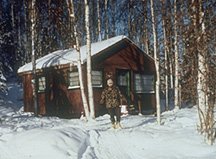 Cabin reservations can be made over the internet on the parks reservation system. Go to Reserve America for more information.


DNR Public Information Center - Anchorage
550 W. 7th Ave, Suite 1360
Anchorage, AK 99501-3557
(907) 269-8400
TDD (907) 269-8411
Fax (907) 269-8901

DNR Public Information Center - Fairbanks
3700 Airport Way
Fairbanks, AK 99707-4613
(907) 451-2705
Fax(907)451-2706
Cabins Fees
For cabin fee information, please visit the Fee Page.
Cancellations
If you need to cancel a cabin reservation made with cabin credits (cabin credits are no longer used), please contact the Public Information Center at (907) 269-8400. If you need to cancel a reservation made after April 1, 2017, please follow the cancellation instructions in the reservation confirmation e-mail provided by Reserve America.
Please Keep in Mind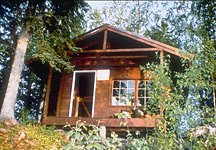 Cabins may be used only by those who have a reservation and have paid the rental fee. You must have your cabin reservation permit with you during your stay at the cabin.



Reservations are accepted only when the full amount is paid. Payment can be made online.



Cabin fees are used directly for maintenance of Alaska State Parks public use cabins.

For additional general information, go to General Information.
For information on individual cabins, go to Cabin Descriptions.