Cabin Descriptions - Mat-Su Area

Denali State Park, near Trapper Creek

The Matanuska Glacier State Recreation Site,
near Matanuska Glacier

Nancy Lake State Recreation Area,
near Willow
---
Denali State Park (near Trapper Creek)
Denali State Park borders the southeast corner of Denali National Park, providing wonderful views of the south side of Denali (formerly Mt. McKinley). The George Parks Highway bisects the state park.

The entrance to Denali National Park is approximately 90 miles north of the Denali State Park. Temperatures in the summer are usually in the 60's, with rare highs in the 80's. However, have warm clothes and quality rain gear, as inclement weather can set in quickly and last for days. Average winter highs range from zero to 30°F, while on extremely cold days the low may reach minus 40°F. Snow begins to accumulate in October and frequently reaches depths of six feet or more.


K'esugi Ken Campground Cabins
These beautiful log cabins were Alaskan-built in 2016 as part of the first phase of the South Denali Project. Future plans will eventually include a visitor center on Curry Ridge. Each cabin has a wood stove, table, benches, and built-in wood sleeping bunks. No mattresses, bedding, or cookware are provided.

Getting There - K'esugi Ken Campground is located at MP 135.4 George Parks Highway. Follow the highway signs to the entrance road. K'esugi Ken Road is two miles long up a curvy hill. All-wheel drive vehicles are recommended during winter months. The cabins are located within the Tent Campground loop.

GPS Coordinates (NAD83): W150° 13.807 N62° 35.464

Important Information
Winter in Denali country is great for snow recreation, but storms can create hazardous conditions. Be prepared in case snow-bound occurs as road clearing make take a few days. Check into weather conditions prior to driving to the park. Bring extra food.

Water is available from hand pumps in the campground during the spring, summer and fall months. No water is available during winter months - plan on bringing your own.

A vaulted toilet is available nearby.

Let someone know where you are going and when you expect to return. Most cell phones work at the cabins.

Cabins may only be used by those who paid the rental fee in advance, and only on the days specified on the receipt. You must have your receipt/permit with you during your stay.

Cabins may not be used for commercial activities.

Cabins may be closed due to weather, maintenance problems, break-up, ice conditions, or other reasons.

For cabin and trail condition updates call the phone number below or visit our website: http://dnr.alaska.gov/parks/asp/curevnts.htm
What to do
K'esugi Ken Campground was constructed in 2016 and includes a recreational vehicle (RV) loop and a walk-in tent loop. The 33-site RV loop can accommodate up to 36 foot vehicles and there are electrical hookups at all campsites. The 10-site tent campground loop includes tables, fireplaces and food storage lockers at each site. Campsites are beautifully landscaped, offer privacy and some have outstanding views of Denali and the Alaska Range. There is a picnic pavilion in the tent loop and a large group campsite that can accommodate groups of up to 50. All sites in both loops are ADA accessible.

NOTE: The campgrounds are closed for the winter and are scheduled to open on May 26 2017.

Trails: There are 2 miles of walking/biking trails through the campground area. The newly built 2-mile Curry Ridge Trail offers hiking or skiing up to the lower bench of Curry Ridge and Lake 1787. More information on this trail will be coming soon.

Cross-Country Skiing: The walking trails and campground roads are groomed for cc skiing, both Nordic and skate-skiing.

Snowmobiling: The groomed winter ski trails are closed to snowmobiles, but areas are open to ride north to Troublesome Creek and beyond. Snowmobiles are allowed for general access to the cabins when sufficient snow is available. When the Chulitna River freezes well, crossing it opens vast expanses to riding in the foothills of the Alaska Range, and the groomed snowmobile trails in the Bunco Lake/Peters hills area. Off-road vehicles are prohibited in Denali State Park.

Hunting: The use and discharge of a weapon for the purpose of lawful hunting or trapping is allowed in Denali State Park, except within one-half mile of a developed facility (K'esugi Ken Campgrounds) or within a quarter mile of the George Parks Highway between mile 132 and 170.

Firewood: May be available to purchase on site; it is recommended to bring at least 4 bundles (available at gas stations, etc.) for the first night. Check the website for current firewood availability at http://dnr.alaska.gov/parks/asp/curevnts.htm.

See the K'esugi Ken Cabin Fact Sheet for more information. Note: You must have Acrobat Reader 3.0 or greater to open these pdf files. Go to the Adobe Acrobat website to download this free software.
Byers Lake Cabins
Byers Lake, located at Mile 147 of the Parks Highway, has a number of park facilities, including cabins, a campground and Kesugi Ridge Trailhead.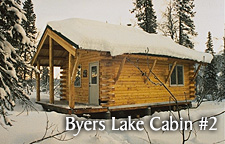 Summer activities include hiking, fishing, hunting, camping, and boating (gas-powered motors are not allowed on Byers Lake). Winter activities include cross-country skiing, snowshoeing, dog mushing, and snowmobiling. The road into Byers Lake Campground is not plowed in the winter. Check http://dnr.alaska.gov/parks/asp/curevnts.htm for current snow and ice conditions. Groomed ski trails may be available when snow conditions are favorable. Visitors and cabin renters must park their vehicles at the Alaska Veterans Memorial and follow the winter trail down to the lake.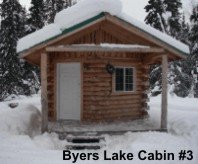 Maximum stay in the public use cabins is 5 consecutive nights. Each cabin has a wood heating stove, bunks, tables, and benches. In the summer, water is supplied by the campground pump or purifying lake water; in the winter, renters must bring their own, or purify lake water or snow. In winter make sure the chimney is free of snow before starting a fire. If you would like to bring in a small generator, Byers Lake

Cabin #3 is wired for electricity. Please bring spare lightbulbs. Firewood is not provided at the cabins. Either bring your own, or arrive at the cabin with enough daylight to find firewood. Wood must be dead and down. Firewood may be available for sale at the new Kesugi-Ken Campground. Check http://dnr.alaska.gov/parks/asp/curevnts.htm for up to date firewood availability. See the Byers Lake Cabin Fact Sheet for more information. Note: You must have Acrobat Reader 3.0 or greater to open these pdf files. Go to the Adobe Acrobat website to download this free software.
Matanuska Glacier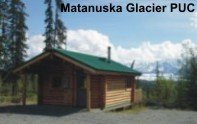 The Matanuska Glacier State Recreation Site, managed by Long Rifle Lodge, is located one mile south of the Lodge at Mile 101 on the Glenn Highway National Scenic Byway. The recreation site has 9 campsites on a gravel loop road, water pump, toilets, fire pits, and picnic tables. The Edge Nature Trail begins at the rest area and provides a 20-minute walk through the forest to glacier viewing platforms. Summer activities include hiking, glacier trekking and river rafting. Winter activities include skiing, snowshoeing and snowmachining. NOTE: There is no access to the Matanuska Glacier from the park.


Matanuska Glacier Cabin(16'x20' with a 6' porch) Sleeps 4 (4 person maximum) with a maximum stay of 5 consecutive nights. See Fee Page for rates. This log cabin has outstanding views overlooking the Matanuska Glacier, the valley below the glacier and the Chugach Mountains. The cabin has electric lights, double beds (no linens), a woodstove, table and chairs. Outdoors are the toilet, a picnic table and fire-ring. The cabin is road accessible year-round. Water is available in summer at the well in the campground nearby; renters need to bring their own water in the winter. Cabin key can be picked up at Long Rifle Lodge any time after noon the day of your reservation. Checkout time is noon. For more information, rates and reservations go to http://longriflelodge.co/ or call (907) 745-5151.

Nancy Lake State Recreation Area (Willow)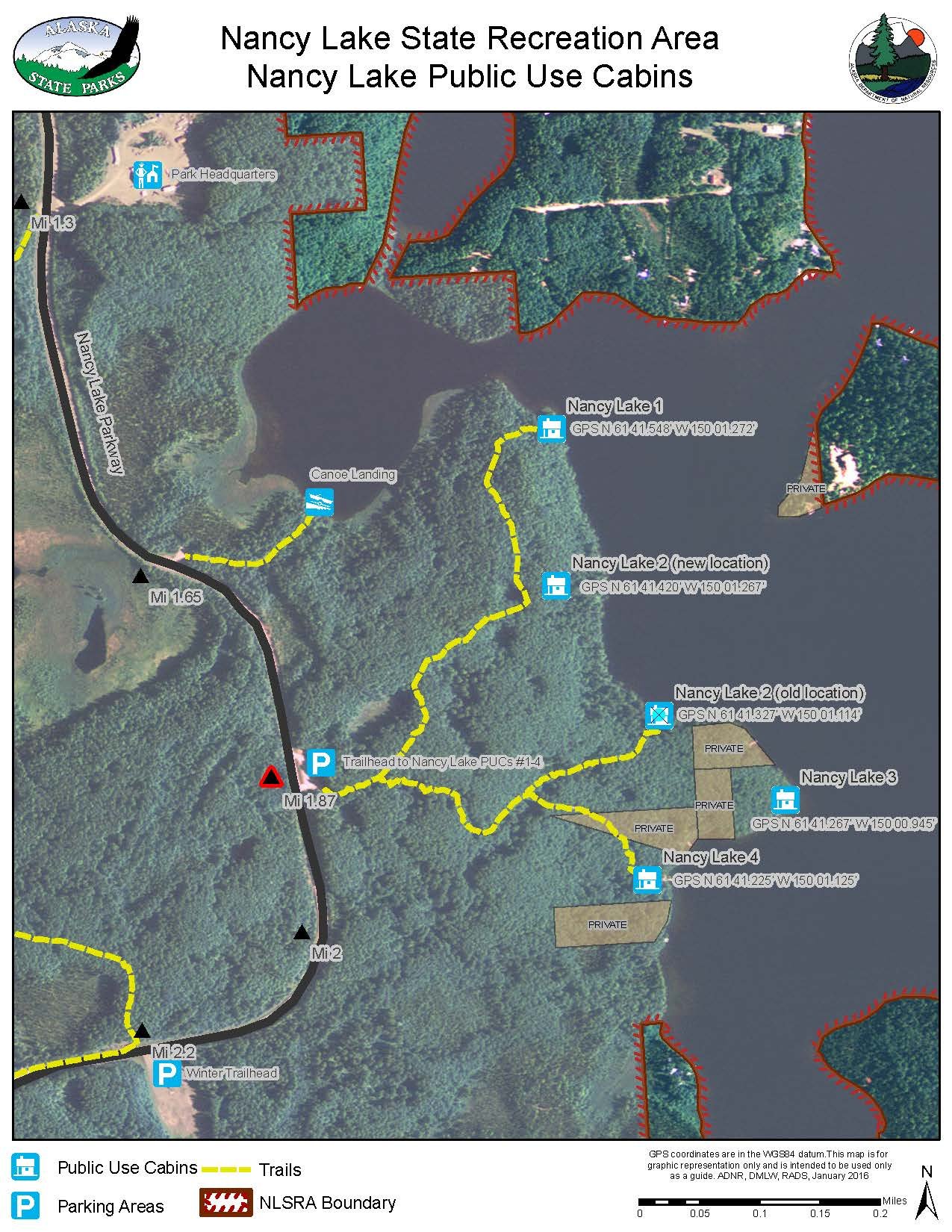 PDF Version of Nancy Lake Cabins Map
Nancy Lake State Recreation Area is one of Alaska's few flat, lake-studded landscapes preserved in its natural state for recreation. Lakes, streams, and swamps make up just over half of this 22,685 acre area which lies between the Susitna River on the west and the Talkeetna Mountains on the east. The setting is great for canoeing, hiking, fishing, and camping. In winter, the rolling topography is ideal for cross-country skiing, dog-mushing, and snowmachining.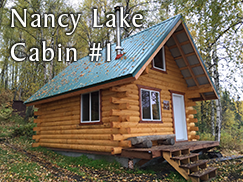 Nancy Lake State Recreation Area is a 75 minute drive north of Anchorage. The community of Willow lies just north of the recreation area entrance at Mile 67.3 of the Parks Highway, and has a full range of services nearby for the traveler. The Nancy Lake Public Use Cabins are located on four of the larger lakes in the recreation area and are accessible by canoe, foot, or floatplane, in the summer, and skis, dog sled, snow vehicles, or airplane in winter. Planes can land on Nancy, Lynx, and Red Shirt lakes year round. In the winter, check ice thickness reports with the local state park office.
The weather in southcentral Alaska during the summer is mild. Temperatures rise into the 70's with occasional highs in the 80's. Nighttime readings, even in July, may dip into the 40's. Winter temperatures can fall to -40F and seldom rise above freezing until mid-March. Come prepared for the outdoors and rapid weather changes. Bring warm clothing, rain gear, appropriate footwear, extra food, and emergency gear.
In the recreation area's combination of lakes, one can find an abundance of wildlife. Fish include rainbow and lake trout, whitefish, northern pike (especially at Red Shirt and Lynx Lakes) and Dolly Varden. Common loons, Pacific loons, grebes, and Arctic terns also make their home in the recreation area. Please give all nesting sites of these birds a wide berth when canoeing or hiking. Beaver, moose, and bears are also common in this area so keep a lookout and follow the bear safety tips.
Please report any bear sightings to the park staff.
Canoes are available for rent from Tippecanoe Rentals in Willow. Call to have one waiting for you at one of the trailheads or lakes (907-355-6687).
Cabins within the Nancy Lake State Recreation Area are rustic. Many are insulated frame buildings and are equipped with wooden sleeping platforms, shelves, tables, a wood-burning stove (for heating only), and chairs or benches. Three older cabins were replaced in 2015 with new 16 x 20 foot log cabins. See below for details. All cabins have a latrine and outdoor fire pit. It is highly recommended that you bring your own firewood, dead and down trees are scarce in the area. Cutting live trees in illegal within the park. The water supply is from the lakes. Please be sure to purify the water before using it. The cabins are generally the same, except for size and location.
To assist in cabin rentals, click here for a Nancy Lake Recreation Area brochure. The map in the brochure includes cabin locations plus winter and summer access routes.
Nancy Lake Cabin Fact Sheet and Map
Note: You must have Acrobat Reader 3.0 or greater to open these pdf files. Go to the Adobe Acrobat website to download this free software.
Access for the cabins on Nancy Lake is similar except for Cabin #3 (see below).
---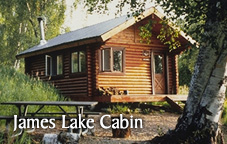 Summer access for the cabins on Lynx Lake and James Lake is via the canoe trail system. The canoe trail involves crossing several lakes and portages between lakes for about 3-4 miles to reach the cabins and takes approximately half a day. Lynx Lake cabins are also accessible by floatplane in the summer. Winter access is by registered snowmobile, skis, snowshoe, or dog sled using the winter trail. ATVs prohibited. Distance varies between 3.5 to 6.0 miles, depending on route and cabin. Lynx Lake cabins can also be reached by plane in the winter. No planes are allowed on James Lake. None of the cabins on Lynx or James Lakes are reachable during freeze up or break up when the ice is too thin to support weight.
---
---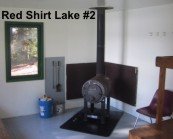 Access for the cabins on Red Shirt Lake is similar to Lynx Lake. Summer access: by floatplane or by a combination of hiking and canoeing. It is a 3 mile hike to Red Shirt Lake from the summer Red Shirt Lake trailhead at the end of Nancy Lake Parkway, followed by crossing the lake to reach a cabin. A canoe must be carried to Red Shirt or rent one from Tippecanoe Rentals (907-495-6688) prior to departure and they will have a canoe at the lake for you. Winter access: by plane or the winter trail for 7.5 to 8 miles, using registered snowmobile, skis, snowshoes, or dog sled. ATVs prohibited. None of the cabins on Red Shirt Lake are reachable during freeze up or break up when the ice is too thin to support weight.




---