Cabin Descriptions - Anchorage Area
Chugach State Park, near Anchorage

Chugach State Park (near Anchorage)
Eklutna Lake Area
Chugach State Park's half million acres are mostly wilderness with rugged mountains, sweeping glaciers, and abundant wildlife. The park sits on the eastern edge of Anchorage and offers a variety of summer and winter activities. Eklutna Lake is near the north end of the park and is located 22 miles north of Anchorage.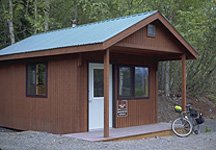 Seven mile long Eklutna Lake is surrounded by glacier carved peaks. The weather changes quickly so be prepared for any kind of weather. The average temperature in the summer and spring can range from 40° to 70° and in the winter can get well below zero. Numerous trails offer hiking, biking, and ATV opportunities in the summer; and snowmachine and cross county skiing opportunities in the winter. Moose and Dall sheep can be found in the area for wildlife viewing. Bears are in the area as well, so please use caution.

This cabin is equipped with wooden sleeping platforms, a wood heating stove, chairs or benches, and a table. A pit latrine is nearby. Water is supplied from the lake in the summer or snow in the winter. Please purify all water before using.

Yuditnu Creek Cabin Fact Sheet (pdf)
Eklutna Lake Trail Map
Note: You must have Acrobat Reader 3.0 or greater to open these pdf files. Go to the Adobe Acrobat website to download this free software.


Click here for more information on Chugach State Park.
Serenity Falls Public Use Hut
The Serenity Falls Public Use Hut is the Alaska State Park System's first multiple party public use hut that is managed on a reservation basis. Guests should expect to share the hut with respect and consideration for others. In fact, the purpose of this facility is to encourage understanding and cooperation among park users and user groups.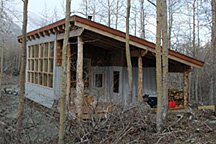 The hut is located near Mile 12 of the Lakeside Trail in the Upper Eklutna Lake Valley. During summer months, access to the hut is by foot, bicycle, or ATV (ATV use is only permitted Sunday through Wednesday, April 1st through November 30th only). Winter access is by ski or snowshoe. The use of snow vehicles is permitted seven-days a week once the director has determined that there is sufficient snow coverage to protect underlying vegetation. The hut is remote and you should be prepared accordingly. GPS N61 17.654', W 148 58.402'.

Wooden sleeping bunks are provided. You will need a sleeping pad and sleeping bag. A shared wood stove is available to keep the hut warm. For cooking, bring a camp stove to cook plus plates, cups and other eating and cooking utensils. Water can be obtained from the river or Serenity Falls Creek across the river from the hut. Bring a water filter or plan on boiling your water before drinking. A latrine is available for hut guests. Sitting benches and tables area available in the front room. A stainless steel kitchen counter can accommodate up to two groups preparing food at one time. A fire pit and picnic tables are available outdoors. Dead and down trees may be cut for firewood. To guarantee enough firewood for your trip, plan to bring your own.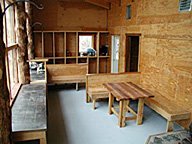 Presently there are no restrictions on renting the Serenity Fall. However, rental restrictions may be imposed as the use of the hut increases or if privileges are abused. A single bunk rents for $10/night; a double bunk is $15/night. Sleeping bays range from $25 to $45/night. The cost to rent the entire hut is $115/night.

The hut can accommodate up to 13 guests, if the three double bunks each accommodate two guests. Hut reservations are from noon to noon. Hut guests are responsible for cleaning up after themselves. This is especially important in a hut.

Reservations can be made only in person with cash, check, money order, travelers' checks, or credit card (MasterCard or Visa) at the DNR Public Information Center at 550 West 7th Avenue, Suite 1260, Anchorage, AK 99501. Information on the availability of bunk space is not available through this website, but you may call 907-269-8400 to check if a date is available.

Serenity Falls Cabin Fact Sheet (pdf)

Eagle River Nature Center
The Friends of Eagle River Nature Center is a non-profit organization that manages the Nature Center and the surrounding area. The Nature Center is located at mile 12 of Eagle River Road in Eagle River Valley. The Nature Center has a cabin and a yurt for rent. The Center also has nature programs, guided hikes and various other services. Call the Nature Center for a program and fee schedule.

Access: Approximately 1.25 miles from the Nature Center along the Iditarod Trail, past the Four Corners intersection to rock fall area next to freshwater pond. The yurt is approximately 2 miles from the Nature Center along the Albert Loop Trail. Both are accessible by foot year round. No bicycles or motorized vehicles are allowed. Both are secured by a lock and is accessible only by permit holders.

Cabin Description: Sleeps 8 persons on wooden sleeping platforms. Cabin includes wood stove and firewood, table, benches, porch and a 3-candle lantern. The latrine is located approximately 0.1 miles from the cabin. A nearby water source is available, but water should be purified before drinking. Please note: Candles for the lantern are not provided. Lantern candles may be purchased at sport stores or the Nature Center.

Yurt Description: Sleeps 4 persons - 2 on a wooden bunk and 2 on camp mattresses provided. The yurt includes a wood stove and firewood; portable chair (2) and table; bear proof container and porch. The latrine is located below the cabin. Nearby water source available, but the water should be purified before drinking.

Reserving Cabin or Yurt: Cost of the cabin or yurt is $65/night for non-members and $55/night for members of the Nature Center. Yurt reservations are from 2 p.m. to noon of the following day. The price includes parking at the Nature Center for that same time period for up to four cars. Reservation limit is 7 consecutive nights and may be used for non-commercial purposes only. Reservations may be made up to one year in advance on a first come, first serve basis, and are made through the Nature Center. For more information, contact the Center (see address and phone number below) or click here to check their web site. No refunds for cancellations. No date changes are allowed.
Eagle River Nature Center
32750 Eagle River Road
Eagle River, AK 99577
(907) 694-2108