Cabin Descriptions - Anchorage Area
Chugach State Park, near Anchorage

Chugach State Park (Eklutna Lake Area)
Yuditna Cabin
Description: (12' X 16') Sleeps 6 (maximum 8) The cabin is located at the mouth of the Yuditnu Creek on Eklutna Lake. It is equipped with wooden sleeping platforms, a wood heating stove, chairs or benches, and a table. A pit latrine is nearby. Water is supplied from the lake in the summer or snow in the winter. Please purify all water before using. GPS N 61 23.465', W 149 03.557'.

Recreation: Trails for hiking, skiing, ATV use (sun-wed), bicycle and horses. Boating and fishing.

Fee: $40 non-peak / $50 peak per night

Heat: Wood stove provided. Bring your own wood.

Stay Limit: Maximum stay of 3 consecutive nights and/or one weekend per month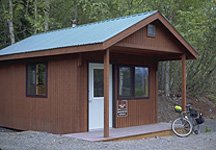 Location: 45 minutes north of Anchorage.

To Find It: 3 miles from the Eklutna Lake trailhead via the Lakeside Trail by foot, bicycle, or ATV (Sunday through Wednesday April 1 through November 30 only). Look for the turnoff to the cabin past the 2 mile post. The cabin can also be reached by boats that can be hand carried to the water

Yuditnu Creek Cabin Fact Sheet (pdf)
Eklutna Lake Trail Guide Map

Note: You must have Acrobat Reader 3.0 or greater to open these pdf files. Go to the Adobe Acrobat website to download this free software.


Click here for more information on Chugach State Park.

Serenity Falls Public Use Hut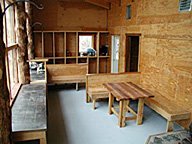 Description: The Serenity Falls Public Use Hut is a multiple party public use hut that is managed on a reservation basis. Guests should expect to share the hut with respect and consideration for others. Sleeps upto 13 guests. Hut is located near Mile 12 of the Lakeside Trail in the Upper Eklutna Lake Valley. It is equipped with wooden sleeping platforms, a wood heating stove, chairs or benches, and cooking area. A pit latrine is nearby. Water is supplied from the nearby creek in the summer or snow in the winter. Please purify all water before using. A fire pit and picnic table are available outdoors. The hut is remote and you should be prepared accordingly. GPS N61 17.644', W 148 58.537'.

Recreation: Trails for hiking, biking, horses and ATV (sun- wed), snowmobile (when open). Nearby Ice Climbing.

Fee: A single bunk rents for $10/night; a double bunk is $15/night. Sleeping bays range from $25 to $45/night. The cost to rent the entire hut is $115/night.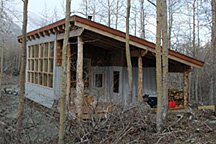 Heat: A shared wood stove is available to keep the hut relatively warm. Dead and down trees may be available to burn but to guarantee enough firewood for your trip, plan to bring your own.

Stay Limit: Currently None.

To Rent: Reservations can be made only in person at the DNR Public Information Center at 550 West 7th Avenue, Suite 1260, Anchorage, AK 99501. Information on the availability of bunk space is not available through this website, but you may call 907-269-8400 to check if a date is available. Serenity Falls Cabin Fact Sheet (pdf)
Eklutna Lake Trail Guide Map



Eagle River Nature Center
The Friends of Eagle River Nature Center is a non-profit organization that manages the Nature Center and the surrounding area. The Nature Center is located at mile 12 of Eagle River Road in Eagle River Valley. The Nature Center has one cabin and 3 yurts for rent. The Center also has nature programs, guided hikes and various other services.

Access: All four facilities are within 2.5 miles of the Nature Center and are accessed via the Iditarod Trail. All are accessible by foot year round. No bicycles or motorized vehicles are allowed.

Please visit the Eagle River Nature Center Yurt information website for more information: http://www.ernc.org/river-yurt.html
Eagle River Nature Center Trail Guide Map
Eagle River Nature Center Brochure