Perseverance Trail
(Juneau Region)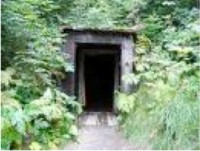 Trail:
Aside from being one of the most scenic and well-used trails in Juneau, Alaska, the Perseverance Trail is one of the three most historically significant trails in our entire state along with the Chilkoot and Iditarod Trails. The original route, used by natives for goat hunting, fishing and berry picking, was later to become the first road in Alaska after Joe Juneau and Richard Harris found gold in the Silverbow Basin in the 1880's.

Many mountain and stream views, including good view of Ebner Falls. Lush forest vegetation and rocky outcroppings.

To access the trail from downtown Juneau, take Gold Street to Basin Road and follow it to the end. The trail features old mining ruins, marmots, warblers, wild flowers, and views of Ebner falls. Avalanche dangers exist during the winter and early spring. Be aware of the right side of the trail, which is very steep and hazardous. This trail is excellent for biking and jogging, and within easy walking distance of downtown.


Facilities:
Access:

Travel Means: Foot

Distance: 3 miles
Elevation Gain:

Difficulty: Moderate
Address:
Take Gold St. to Basin Rd. Follow it to the end.