ALASKA GROWN SOURCE BOOK | 2014 Edition SIGN UP
Do you want your farm business or related agriculture service business to be included in the 2014 Alaska Grown source book?
Farmers:
Agriculture Service Providers (such as accountants, insurance agents, cooperatives. etc)
Please send printed copies to:
Jacquelyn Schade
1800 Glenn Highway, Suite 12
Palmer, AK 99645
ALASKA GROWN SOURCE BOOK | 2012 - 2013 Edition
The Alaska Division of Agriculture publishes the "Alaska Grown Source Book" in response to numerous requests from the public and industry. This Directory depends on the response of producers, and does not claim to include all producers or sellers.

The Division of Agriculture is not responsible for changes from the growers as to what products they may have available. If you are aware of an omission or error, please contact the Division of Agriculture at (907)- 745-7200

Download the Source Book

To receive a copy of the sourcebook in the mail, please contact Rebecca Jeffers at 907-761-3850.

Browse the Source Book

The area from Talkeenta south to Portage, including the Matanuska-Susitna Valley, Anchorage and extending west to Bethel and King Salmon.

The area north of Paxon and Talkeetna, including Nenana, Delta Junction and Fairbanks.

The area south of Portage on the Kenai Peninsula, including Soldotna, Kenai, Homer and Kodiak.

The area beginning in the Copper River Valley and covering all of South East Alaska.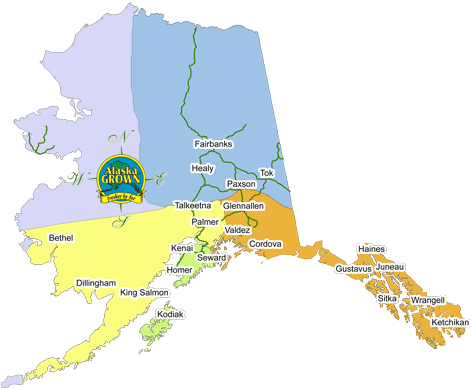 ---