Susitna Basin Recreation Rivers Management Plan
Latest News
Advisory Board Appointed
In November of 2021, Governor Mike Dunleavy re-established the Susitna Basin Recreation Rivers Advisory Board after 30 years of inactivity. Establishing this board is the necessary first step to begin revisions to the Susitna Basin Recreation Rivers Management Plan that was adopted in 1991. For more information related to the advisory board, visit:
Overview
In Spring of 1988, the Recreation Rivers Act passed designating six, mile-wide river corridors: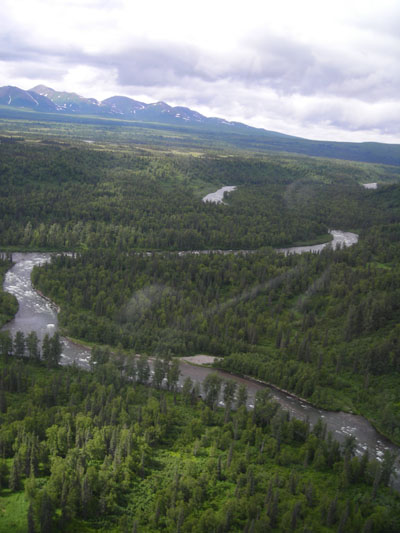 Alexander Creek, Deshka River (Kroto Creek / Moose Creek), Lake Creek, Little Susitna River, Talachulitna River and Talkeetna River. The primary purpose of establishing the six recreation rivers is the maintenance and enhancement of the land and water for recreation. The first management plan for the recreation rivers was adopted in 1991. The management plan describes how the Department of Natural Resources (DNR) will manage approximately 243,000 acres of state-owned land along 460 river miles within the Susitna Basin. The plan does not make management decisions for private, native or borough lands.

Much has changed in the 30 years since the first plan was adopted. DNR is starting a revision of the management plan to update resource information and address changing recreational and economic use. A robust public process will be employed to gather information and create a shared vision for future management of the Recreation Rivers.
Planning Process
The planning process is a multi-step process for collecting information and knowledge and developing a plan that meets the needs and desires of stakeholders. Below is an overview of the process.
Step 1 - Identify Issues
Step 2 - Gather Information
Step 3 - Prepare and Evaluate Land Use Alternatives
Step 4 - Prepare Draft Plan
Step 5 - Public Review of Draft Plan
Step 6 - Prepare Final Plan
Step 7 - Approve Plan
Step 8 - Legislature Reviews Plan
Step 9 - Adopt and Implement Plan
Prior Management Plan
For More Information
Contact
Rob E. Earl
Alaska Department of Natural Resources
550 West 7th Ave., Suite 1050
Anchorage, AK 99501
907.269.8533
rob.earl@alaska.gov
Shelby Burridge
Alaska Department of Natural Resources
550 West 7th Ave., Suite 1050
Anchorage, AK 99501
907.269.8593
shelby.burridge@alaska.gov